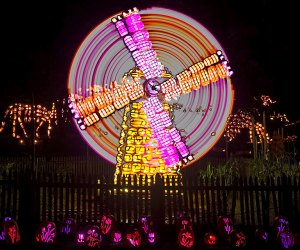 Great Jack O'Lantern Blaze Long Island Wows Visitors
While much of Long Island has opened up and returned to some sense of normalcy, my little family has continued to keep things close to home. With Halloween on the horizon, we decided to pack ourselves up to visit The Great Jack O'Lantern Blaze Long Island.
The event at Old Bethpage Restoration is produced by the Historic Hudson Valley, the group behind the uber-popular, long-time running, sells-out annually Great Jack O'Lantern Blaze at Westchester's Van Cortlandt Manor.
Featuring more than 7,000 hand-carved pumpkins in scenes scattered through the pathways, orchards, and grounds, the Great Jack O'Lantern Blaze Long Island is an amazing feat of artistry worth adding to your fall bucket list. Read on for the details on this must-visit attraction, which overflows with local history, artistic designs, and spooky Halloween fare.
RELATED: Guide to Halloween Fun For Long Island Kids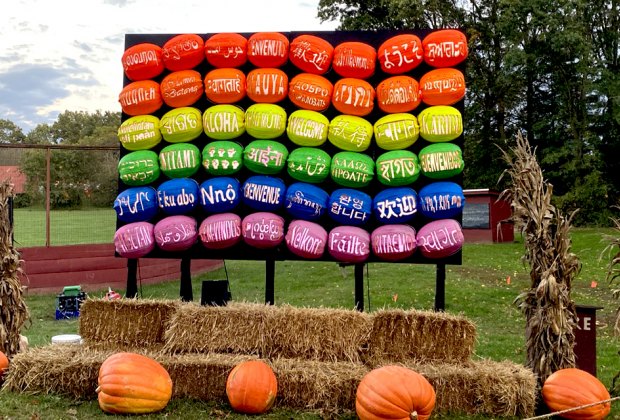 A rainbow pumpkin flag greets visitors at the entrance.
What is immediately obvious upon entering the display is this outing works for everyone. Audible wows could be heard from kids, teens, and adults alike as the giant rainbow flag greeted them at the entry. Made of multi-colored pumpkins with words of welcome in 48 languages, it's a beautiful reminder of our community's diversity. People all around immediately pointed out the words they knew, and I challenged my son to find "welcome" in our own second language. The path into the park is lined with traditional jack-o'-lanterns carved into happy, funny, and spooky faces. Honestly, for my kids—ages 18 months and 4 years—that would have been enough, but the scenes grew more impressive as we walked.
RELATED: The Best Halloween Events for Long Island Families in 2020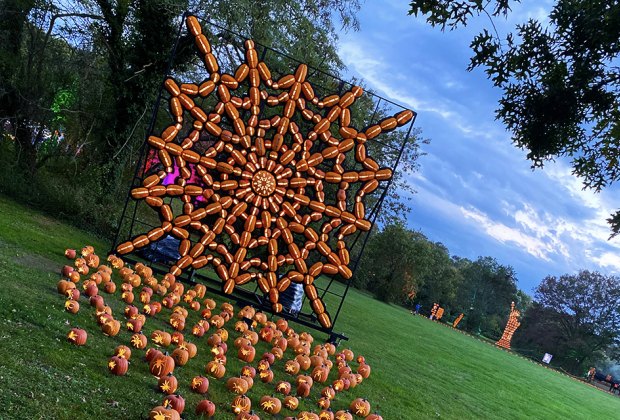 The giant jack-o'-lantern spider web is cool and creepy.
While my kids weren't all that interested in the carved displays about Long Island's claim to fame as the host to the first trans-Atlantic flight or the U.S. Open, they loved the enormous spider web, giant sea monster, dinosaurs, and the moving carousel made entirely of pumpkins. You might have some head-scratching moments as I did wondering whether the pumpkins were indeed real. Some of the intricate displays are crafted from Funkin "art pumpkins." But, whether the gourds are real or not, all the pumpkins in the exhibit are hand-carved.
RELATED: Easy Pumpkin Carving Stencils and Ideas for Halloween

Witches boil up a brew in a jack-o'-lantern cauldron.
With little kids in tow, we opted for the earliest viewing at 6:30pm to get home before bedtime. While the walking tour isn't scary in the slightest, the 6:30 show allows kids to start the tour while the sun is still up and end in the dark. I'm sure we missed out on a little magic. The intricately carved details are far more pronounced in the dark, but my kids didn't seem to notice. They were totally enthralled and excited by each new scene we stumbled upon. For families with older kids, I definitely recommend a post-sunset visit.
RELATED: Top Pumpkin Patches and Farms for Long Island Kids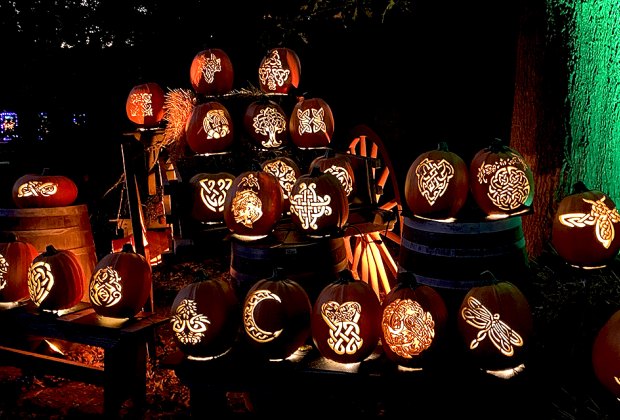 For the best view of the intricate details, book your tickets for after dark.
The Blaze takes place entirely outdoors and is a touch-free experience. I appreciated how conscious of social distancing the whole experience was. Masks are required at all times by patrons over the age of 2, even while taking photos, and there are staff members spaced regularly to remind people to keep at least 10 feet apart.
Know Before You Go
The Great Jack O'Lantern Blaze Long Island runs Wednesdays through Sundays through Sunday, November 1. Tickets must be purchased online in advance.
Ticket prices start at $24 and vary by date and time.
The Great Jack O'Lantern Blaze takes about 45-minutes to walk through.
If you plan on bringing a stroller, it's not all smooth sailing on the paths. You're better off with a stroller with good suspension as opposed to an umbrella stroller.
Unless noted, photos by the author