How to See the Great Jack O'Lantern Blaze on Long Island in 2021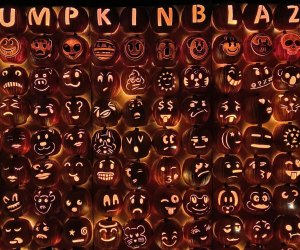 Since 2005, The Great Jack O'Lantern Blaze has been a must-do Halloween attraction for our neighbors in Westchester County, its popularity multiplying annually along with its sizable, stunning installation. In 2020 the Blaze added a second location at Old Bethpage Village Restoration on Long Island.
Read on for the inside scoop on Long Island's own Great Jack O' Lantern Blaze, which opens on Wednesday, September 22, and learn why this visually striking, aesthetically inspiring walk-through exhibit belongs on your fall bucket list. Stay tuned to our Halloween Guide for more seasonal, spooky fun.
As darkness falls, a massive exhibit of intricately carved pumpkins forming various spectacles illuminates to dazzle visitors. You'll see sculptures made out of sequenced carved pumpkins, with added effects like colored lights, background music, and some are even set in motion.
While many of the Long Island displays will be familiar to those who have visited the Westchester installation—such as the pumpkin Statue of Liberty—there will also be regional differences, like a pumpkin lighthouse and a pumpkin lunar module, an ode to Grumman Aerospace Corporation's role in the space race.
In all, some 7,000 carved pumpkins are used at The Great Jack O'Lantern Blaze, though full disclosure: Many are craft pumpkins. It takes the work of 1,000 volunteers to carve and prepare the display. Tickets, which begin at $32 and are already on sale, support the Historic Hudson Valley, a nonprofit organization that offers educational and entertainment opportunities at the properties it preserves.
The Long Island installation runs Wednesday through Sunday nights through Sunday, November 7. Based on the annual sell-out situation in Westchester, we suggest booking your timed-entry tickets now. If your schedule is unknown, Flex Anytime Tickets are an option. These $99 tickets provide one-time access on any night at any time, no reservation required.
While the Blaze isn't inherently scary, young children or those with sensory issues might be overwhelmed by the darkness, crowds, and special effects.
The Great Jack O'Lantern Blaze has instituted a series of COVID-19 safety measures. Capacity is limited, masks are required for everyone indoors, and unvaccinated visitors are asked to wear them at all times. Ticket-buyers must abide by the Historic Hudson Valley's COVID Courtesy Code.
RELATED: Fall Activities We Can't Wait to Do with Kids on Long Island, 2021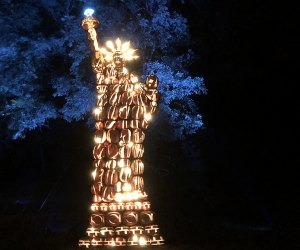 See Lady Liberty in jack-o-lantern form at the Great Jack O'Lantern Blaze at Old Bethpage Village Restoration. Photo by the author
Know Before You Go
No tickets will be sold on-site. Be sure to purchase your timed-entry tickets ASAP. If you need to change your plans, tickets can be exchanged for an alternative date up to 72 hours before your scheduled reservation. A $2.50-per-ticket exchange fee is assessed. Note, however, that it may be difficult to find a desirable alternative with availability.
The Great Jack O'Lantern Blaze is held rain or shine, and unused tickets will not be refunded.
Allow approximately 45 minutes to complete the self-guided tour, in addition to the transition time for arrival and queuing up.
Visitors experience the Blaze by walking along a trail in a single direction. Those wishing to stop to take pictures are asked to stick to the right to allow others to pass.
Parking is FREE and opens to visitors 30 minutes before scheduled entry. Anyone arriving earlier will be turned away. Walk-ins are not allowed; everyone must arrive by car.
Strollers are welcome, but wide ones might not work well along the pathway.
Dogs are not allowed.
Drinks, snacks, and souvenirs are available for purchase.
If you're traveling from NYC, you can take the Long Island Railroad to the Bethpage station (about a 50-minute ride) and then a 12-minute cab ride to Old Bethpage Village Restoration.