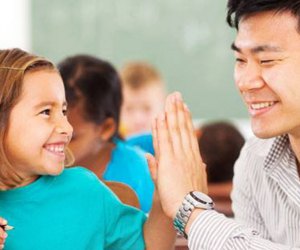 Spanish, French and More: Foreign-Language Classes for Kids on Long Island
Learning another language can be beneficial. Research has shown that language learning can improve memory and problem-solving skills. It can help you multitask; performance in other academic areas is improved; and it can help us navigate and communicate in our increasingly diverse communities, workplaces, and schools.
Learning a new language can be fun. However, if you have less than fond memories of sitting through high school Spanish or French classes, don't fret. There are a number of schools in Nassau and Suffolk counties that offer classes—including mommy/daddy-and-me—to expose your child to a new world of words and phrases. It's easier for babies and young children to master another language than it is for teens and adults. Learning with your child can be a bonding experience and something that you can share for years to come.
Depending on the school, classes are offered in levels from beginners to advanced. Prices for classes vary by school; contact each directly for costs.
And be sure to look at our classes and enrichment guide for more ways to learn what your kids might enjoy.
Islandwide
Spanish Immersion Workshop — Garden City, Manhasset, Dix Hills
38 Old Country Road, Garden City
1845 Northern Boulevard, Manhasset
400 Deer Park Ave., Dix Hills
The Chiquitos program is for kids ages 1½-3 years. Classes start off with a caregiver present, but as the child begins to feel more comfortable and interact with the teacher independently, partial separation is encouraged. The Chicos program is geared toward older children who can attend classes without a parent.
Nassau
All About Spanish — North Bellmore
1894 Newbridge Road
This school offers a mommy/daddy-and-me class for kids ages 1-3, as well as a class for kids 3-5, where parental involvement is optional. All classes use music, dancing, and other stimulating activities to teach the Spanish language.
Berlitz – Garden City
350 Old Country Road
Instructors use the Berlitz Method of language teaching and offer after-school classes, summer immersion programs, and online and in-person private tutoring. Children ages 4 to 18 can learn French, Spanish, German, Mandarin, Korean, and Arabic, among other languages.
German-American School — Franklin Square, Garden City
Holzheimer Street, Franklin Square
Cambridge Avenue, Garden City
This school provides after-school lessons that follow the public school calendar. It is accredited by the New York State Board of Regents, and programs are offered for children in grades K-10. The playgroup class for children 5-6 reviews the basics of the German language, including the alphabet and sound production. There is also singing, drawing, and crafts to reinforce learning.
Plainview Chinese Cultural Center — Syosset
227 Michael Drive
Designed for both native speakers as well as second language learners with no prior experience, this program is unique in that it is taught using a bilingual format. Children and adults can learn and practice Mandarin during classes held on Saturdays. Cultural programs such as Chinese yo-yo, Chinese chess, abacus, and art are also offered.
Spanish All Year — Westbury
154 Post Avenue
This school offers a 45-minute interactive class that gives parents tools they need to help their child pick up Spanish. Music, dancing, and games make the learning fun. There is also a Spanish-immersion preschool program that teaches the language through active learning. School-aged kids can attend the weekly after-school program that uses art, cooking, and literature for fun ways to learn the language.
Suffolk
JP Language Institute – Melville
200 Broadhollow Road
This school offers eight foreign-language courses, translation services, and an international cultural studies program. At the school in Melville, students from beginner to advanced can learn in weekly after-school or weekend classes. In addition to languages such as Chinese, Italian, German, and Japanese, classes in Chinese calligraphy, origami, and oil painting are also offered.
Long Island French — Sayville
​225 Greeley Ave.
Instructor, Ms. Karine, offers French-language classes for children all year long. Classes last an hour and include songs, games, crafts, and stories to engage little ones. Ms. Karine also offers yoga classes for children.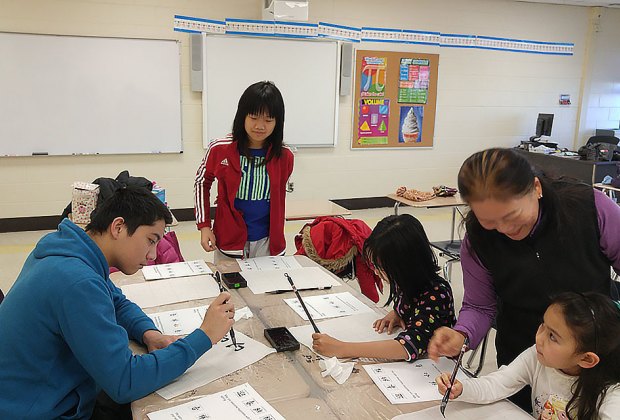 Learn the art of calligraphy as well as Chinese at the Long Island Little Dragons Chinese School.
Long Island Little Dragons Chinese School Inc. – Centereach
10 43rd Street
Students are assigned to a class by their level of familiarity. Children with or without prior Chinese-language background are encouraged to attend. The program runs during the school year, but a weeklong summer camp is also offered that includes cultural classes such as yo-yo, paper folding, calligraphy, and watercolor painting. Classes are held at Dawnwood Middle School in Centereach.
St. Paraskevi Greek Orthodox Shrine Greek School – Greenlawn
1 Shrine Place
Children learn the Greek language, history, and traditional songs and dances. Classes are held on Saturdays from 9:30am to 1pm for children in kindergarten to seventh grade. A sibling tuition discount is available.
School Nova — Stony Brook
100 Nicolls Rd.
Formerly School Plus, School Nova offers Russian-, French-, and Spanish-language classes for children 4 years and older. Classes are small and offer the opportunity for enrichment in addition to basic acquisition. Classes are held in the Physics Building at Stony Brook University.
Thinking Italian — Melville
445 Broadhollow Rd.
The school offers classes for adults and children all year round. Taught by native-speaking teachers, the "Girotondo" program for children uses music, movement, interactive exercises, and arts and crafts to get kids immersed and learning.
A version of this post was originally published in 2014 and was updated in August 2018.
Photos courtesy of the schools