Fun & Free Easter Weekend Events for LA Kids: All About Eggs and Bunnies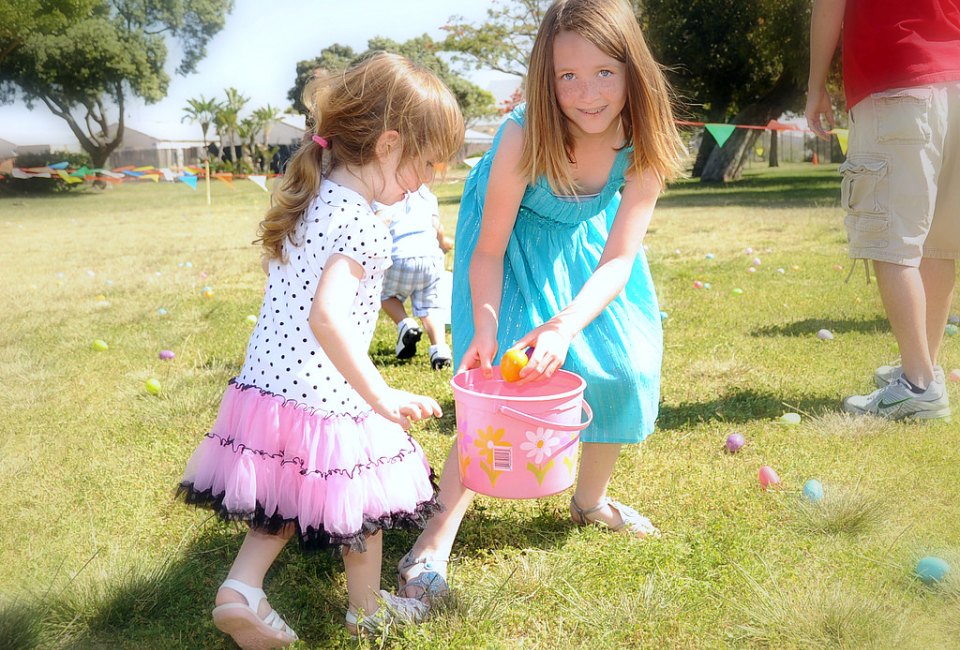 4/18/19
- By
Toby B
Everywhere you look, there's an Easter egg hunt to be found. Under that tree: an egg hunt. Behind the bushes, there's one more. In fact, I see dozens of them, and you can find them in our Easter egg hunt round-up! Grab your basket and collect them all (but make sure you leave enough for the other mommies).

See, here's the deal: There is literally an egg hunt on every block, every corner, every square inch of Los Angeles this weekend. And every egg that you find? You open it up and—surprise!—it tells you about another egg hunt. Some egg hunts are in gardens; some are in malls; some are on the farm; some come with breakfast. (Eggs and breakfast? Weird.)

Actually, the trick this weekend is going to be not finding an egg hunt. There are a few other things out there: you might luck onto bubbles and Bolero, pachyderms and penguins, Earth Day and natural wonders, ice tales and dog tails and fish laying eggs...
...
...
...did someone say ... eggs?
Eggs. Eggy egg eggs. Lots and lots of eggs.
Hop on over to our most egg-citing picks for this weekend…

Photo courtesy of Kidspace Children's Museum
ALL WEEKEND
Big Bunny's Spring Fling - Griffith Park
Hop on over to the LA Zoo for fun with The Big Bunny. Kids can enjoy up close bunny encounters, performances, photo ops, and more.

Bubblefest XXI - Santa Ana
Bubbles! Bubbles! The spring break favorite teaches the science of bubbles with all the spectacle of a Vegas-style show. Catch it before it pops!

Easter on the Farm - Moorpark
There's a farm full of fun at the annual Eggs-travaganza at Underwood Family Farms. Animal shows, tractor-drawn wagon rides, face painting, eggy games, balloons, mazes, and a visit with the Easter Bunny are all included with admission.

Renaissance Pleasure Faire - Irwindale
M'Lords. M'Ladies. M'Bunnies. And on Easter Sunday, m'kids get free admission.

LA Spring Fair - South El Monte
Admission to the largest Spring Fair in LA includes unlimited rides and entertainment.

Classic Movie Clowns (Aero) - Santa Monica (thru Sat) and (Egyptian) Hollywood (starts Sun)
American Cinematheque shows the kiddos how it's done, with screenings of golden age classic comedies, from Chaplin to the Marx Brothers.
Dumbo - Hollywood​
The big-eared pachyderm is preparing to fly out of the El Capitan after this weekend. Perhaps his flightless friends can hitch a ride: Disneynature continues its Earth Day tradition with morning showings of Penguins.

Disney on Ice: Worlds of Enchantment - (Long Beach)
This Disney on Ice show combines the elements of four favorites - Cars, The Little Mermaid, Toy Story, and Frozen - in one extravaganza.
Exhibit: Dogs! A Science Tail - Exposition Park
Because it's not all about bunnies.

Kiddee Matinees - Hollywood
The New Beverly gets in a seasonal mood with matinee screenings of Hop.

Catch Disney's live-action re-imagining of "Dumbo," photo courtesy of Disney Enterprises.
SATURDAY APRIL 20
Kidspace Egg Hunt - Pasadena
The kid-centric museum holds hunts for different age groups in the Arroyo Adventure.
Blessing of the Animals - Downtown
Family pets can be blessed, and kids can enjoy a petting zoo and pony rides.

Easter Eggstravaganza - Orange
Easter festivities reach a peak at the Irvine Park Railroad.

TSFY: Toyota Symphonies for Youth - Downtown
The final show of the season introduces young audiences to Ravel's Bolero.

Earth Day Celebration - Santa Monica
Heal the Bay celebrates the day communities from around the world come together to help heal our planet.

Free Entrance Days in the National Parks - Multiple Locations
It's National Park Week! They're letting you in free!
Venice Oceanarium Grunion Party - Venice
Yes, the grunion are crawling onto the beach to hide their eggs but, no, it is not part of an Easter Egg Hunt!
Searching for Egg Hunts? Here are a few (many more on our calendar!)
Egg Bowl - Pasadena
It's the Rose Bowl of egg hunts (and not just because it's at the Rose Bowl).
Egg-ceptional Celebrations - Arcadia
The Arboretum offers continuous egg hunts and take-home crafts.

Spring Egg Hunt & Healthy Kids Day - Monrovia
The Easter fun in Recreation Park includes timed egg hunts, a petting zoo, Monrovia Reads book distribution, and a visit from the Spring Bunny!
BHCP Easter Egg Hunt - Baldwin Hills
Baldwin Hills Crenshaw Plaza hosts an egg hunt in Center Court, plus bunny photos, face painting, and more.
Gilchrist Farm Egg Hunt and Spring Fling - Santa Clarita
One of the benefits of an egg hunt on a farm is the animals: Gilchrist Farm's petting zoo features chicks and baby goats, and a special "Hug a Bunny" zone.
Los Encinos Living History Day Easter Egg Hunt - Encino
In addition to egg hunts for kids from toddlers to age 10, the afternoon includes traditional games, a blacksmith, old-time music, tours of the historic adobe, and performers in period costume.

Easter in the Park - Culver City
The free fun in Tellefson Park offers egg hunts for kids, a giant slide and jumper, crafts, prizes, and carnival games. Free clothes are offered to those in need.
Easter Egg Hunt + Bob Baker Marionette Show - Pasadena
This egg hunt comes with a puppet show!

The hunt is on for Easter eggs at Grand Hope Park. Photo courtesy of New City Church of Los Angeles
SUNDAY APRIL 21 - EASTER
Bugs Bunny Cartoon Classics - Santa Monica
The Aero celebrates Easter Sunday with an egg hunt paired with a family matinee of classic Warner Brothers cartoon shorts starring the ultimate bunny.
Easter Fest & Egg Hunt - Downtown
EasterFest in Grand Hope Park promises thousands of eggs to be found - plus a bouncy house, face painting, and games.

Eggstravagant Easter Sunday Celebration - Long Beach
Would you like (an egg hunt) on a boat? With brunch, of course.

Easter Lunch Train - Fillmore
…or lunch on a train with the Easter Bunny?

Easter Brunch - Arcadia
... or in a garden? Gardens are nice.
Easter Pawty - Altadena
Party at the home of all things bunny, aka the Bunny Museum.
As always, there are many more activities listed on our daily events calendar. Whatever you choose to do this weekend, we wish you Happy Easter and Passover, and we hope you have a spectacular time! May your basket be overflowing!
Sign up for the Mommy Poppins Newsletter today!
i