Culver City - Small Town Life in the Big City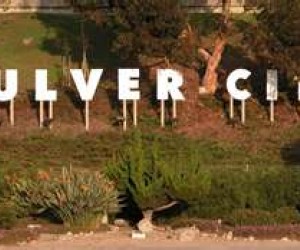 I was ready to pack up and leave LA. My lovely little rent controlled apartment in Santa Monica turned condo, and after years of bliss by the sea, the thought of living anywhere else seemed absurd. But I still needed to find the next city I would call home. Little did I know that an ad for a Culver City rental would completely change my plans.
How was it possible that I'd never visited these picturesque, tree-lined, walkable streets before? What I quickly learned was that Culver City is a small, family-friendly town tucked into the sprawling metropolis that is Los Angeles.

Whether it's at a local town hall meeting or the annual Fire Department pancake breakfast, there's always a reminder that we're invested in where we live. But today's Culver City is a lot different than the city I moved to 14 years ago. What was once a downtown where crickets chirped and tumbleweed blew after 6pm (I kid you not; I saw an actual tumbleweed blowing downtown once), is now a bustling destination at all hours with folks heading to a movie or play, or meeting friends at one of the many restaurants now lining our sidewalks. I just discovered the Downtown Business Association now offers a "Third Wednesday" event where businesses present live music, drink/dine specials and promotional freebies, which makes for a fun evening out. Free 2-hour parking is offered at any of the three downtown public parking lots.

We rarely get into our car on the weekends. Like most neighborhoods in Culver City, we have multiple parks close to our house so an afternoon picnic or frisbee game is just a quick walk or bike ride away. If we're looking for more exercise, we can always ride the car-free Ballona Creek bike path 8 miles down to the ocean. There is also the very popular stair walk up to the Baldwin Hills Scenic Overlook, arguably the best city vista in town. Much like ascending a Mayan temple, these stairs definitely get our hearts pounding in a "Am I that out of shape?" way. A traversing trail is a lower impact option up or down the hill. Park on the street at the bottom of the hill to avoid lot fees at the top.

When we've got our dogs in tow, the Culver City Dog Park, complete with doggie drinking fountain, is where we take our pooches to meet and greet. If we need to cool off, we'll jump into The Plunge, our local outdoor public pool, or run through the lion fountain next to the Culver Hotel, our foremost historic landmark. On the rare occasion we actually don't feel like being outside, the Eco Station is a fun mini-zoo day inside, learning about exotic wildlife, from rare birds to wildcats.

Even grocery shopping is made easy with our weekly farmers market. Every Tuesday afternoon we walk to the market for our fresh veggies and fruit (and kettle corn when I can't help myself), then over to Trader Joes for whatever else is still needed (like free coffee).

Our summer is definitely not complete unless we've hit certain events around town. For a pleasant afternoon under the trees, the Culver City Public Theatre offers free family community theatre every weekend. The Actors Gang Theatre also puts on a free outdoor kid-friendly Shakespeare play every weekend in August (luring kids to enjoy Shakespeare with free popsicles) and an annual holiday show with local elementary school students in the cast.

Since my son could toddle, we've walked over to City Hall for the summer music concert series on Thursday evenings. While he enjoys watching the musicians play, I'm enchanted with the dancers of every age moving their hips to the salsa, swing, or whatever flavor beat has them in the groove that week. The City also presents outdoor screenings of films made by Culver City studios. We've got Dr. Jekyll and Mr. Hyde on our calendar for Sept. 17th.

We have events we look forward to every year around town. My son likes Fiesta La Ballona, Culver City's annual fair since 1951, for the rides and snow cones, and I like listening to the live music and strolling the booths (The Culver City Library booth had a fabulous $1 paperback sale this year). We also look forward to the annual Art Walk, where our plethora of art galleries open their doors for show, providing free entertainment, snacks and drinks. Since our bedtime schedule doesn't allow for many gallery-opening events, this is a great way to get a dose of local art and culture.

It used to be the only thing I complained about was the lack of easy public transit options to greater LA destinations, but even that will now be remedied with the public metro rail line opening soon blocks from our house. It's good to be home.