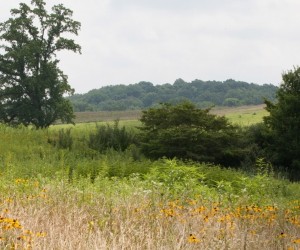 Weekend Fun for Philly Kids: Outdoors, Pirates, Trucks August 15-16
It seems to happen every year. Back to School sales featuring school supplies, uniforms and backpacks infiltrate on the last remaining weeks of summer fun. Fortunately, this weekend's Event Calendar provides plenty of opportunities to enjoy summer before school schedules take over.
Savor the beautiful summer landscape at Longwood Garden's Meadow Days, learn about the life of a pirate during Fort Mifflin's Pirate Days or see trucks and cars up close at Chester County's Touch A Truck event. Or, perhaps you'd like to check out a summertime festival since the Festival of India, Watermelon Festival and Caribbean Festival are all happening this weekend.
If you are still trying to plan your weekend, read on to see our top picks, many of which are free. And, don't forget to check out our August GoList. There is still plenty of summer left, no matter what the Back to School ads say. Enjoy!
All Weekend
Peach Fun Days- Yardley, PA
It's the last weekend for Peach Fun Days at Shady Brook Farm. Kids can enjoy inflatable fun, wagon rides and peach-picking.
Watermelon Festival- Robbinsville, NJ
Oasis Family Farm hosts its Watermelon Festival and offers a variety of activities such as wagon rides, sand art and a watermelon-eating contest.
Saturday, August 15
Pirate Day- Philadelphia, PA
Learn about the life of a pirate and how the Delaware River played an integral part in piracy through Fort Mifflin's Pirate Day celebration. Visitors can enjoy living history displays, guided tours and children's activities.
Festival of India- Philadelphia, PA
Immerse yourself in the culture of India as Great Plaza at Penn's Landing features this free family festival where guests can enjoy music, art and cuisine.
Family Fishing Program- Green Lane, PA
Cast a line at Green Lane Park's Deep Creek Lake and see what you can catch. Rangers are on hand to help participants understand basic aquatics and fishing techniques.
Laerenswaert "Worth Learning" Series- Worcester, PA
Families that visit Peter Wentz Farmstead can learn how the colonists washed clothes and kept house then compare their methods to the ones we use today... and be grateful.
Sacred Writings Exhibit- Philadelphia, PA
As Philadelphia prepares for Pope Francis' visit, Penn Museum features an exhibit, Sacred Writings: Extraordinary Texts of the Biblical World, which highlights ancient literature still being studied today.
Meadow Days- Kennett Square, PA
During Longwood Garden's Meadow Days, guests to this remarkable garden can explore the vast open area discovering nature along the way. Kids can play a nature seek-and-find as well as hike the trails.
World Helicopter Day Celebration- West Chester, PA
It is World Helicopter Day and the American Helicopter Museum is ready to celebrate with unique activities, hands-on demonstrations and helicopter rides of course!
Splash in the Square- Philadelphia, PA
Franklin Square hosts Adventure Aquarium for a day filled with fishy fun. Children can expect to see live animals, participate in hands-on activities and play games to win prizes.
Sunday, August 16
Touch A Truck- West Chester, PA
Get up close to cars, trucks and emergency vehicles at Touch A Truck Day held at the Chester County Government Services Complex.
Caribbean Festival- Philadelphia, PA
Celebrate the 14 islands that make up the Caribbean at Great Plaza's Penn Landing. Guests can expect music such as reggae and cool jazz, dancing performances and Caribbean cuisine.
Open Arms- Family Evening- Cherry Hill, NJ
The Garden State Discovery Museum hosts an opportunity for families with children on the autism spectrum to visit the Museum in a calm, inviting and safe atmosphere.
Dragons and Damsels- East Norriton, PA
Go on a nature hunt for dragonflies, damselfies and other creepy crawlies at Norristown Farm Park. Be sure to bring along a bug jar or net to take a closer look.
Photo credit: Longwood Gardens