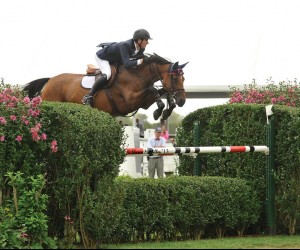 Weekend Fun for LI Families in the Hamptons & North Fork, August 27-August 30
All weekend
Hampton Classic Horse Show - Bridgehampton. The world's top equestrians saddle up in one of the circuit's most prestigious events.
Saturday, August 29-Sunday, August 30

Riverhead Railroad Festival - Riverhead. The 25th annual tribute to train travel features model trains, replica train cars, traditional railroad music and food.
Thursday, August 27-Saturday, August 29

"Lollipops for Breakfast" - Sag Harbor. Little Sylvie makes her own ideal lollipop from scratch in this children's puppet show.
Thursday, August 27

"Bug" Lighthouse Cruise - Greenport. Enjoy one of the few offshore lighthouses in the world open for public visit.

Town of Southampton Snapper Derby -Hampton Bays. There's competition in four age groups for these crafty critters – juvenile bluefish that come of age in late August.

Life in Antarctica - Greenport. What's life like at the bottom of the Earth? Here's your child's chance to learn.
Friday, August 28

Peconic River Moonlight Cruise -Riverhead. A 90-minute getaway for mommies and daddies. Enjoy wine, food and scenery.

Green Time and Family Time -Bridgehampton. Simple and creative ways to bring ecology into your child's life.
Saturday, August 29

Big Duck Rubber Duck Race - Flanders. Prizes awarded to the first-, second-, and third-place finishers in the second annual celebration of the Big Duck.

Dig Into Geology - Bridgehampton. In this kids' tour, volcanoes are cool.

Open Studio at Parrish Art Museum Water Mill. Tour the galleries and create art in a series of hands-on activities.

Sidewalk Art and Ice Pops -Montauk. Use sidewalk chalk for your own outdoor drawing, and cool off with an ice pop too.

Sturgeon Moon Hike -Bridgehampton. This Native American fishing tradition recalls the August full moon, when sturgeon were at their most plentiful.
Sunday, August 30
Narrow Lane Cleanup - Bridgehampton. Volunteer to help the Southampton Trails Preservation Society clean up its adopted road.

Garden Buds Nature Program - Riverhead. This garden program is rooted in imagination, exploration and discovery.
Photo: Hampton Classic Horse Show