Disney Princess Subscription Boxes Arrive Just Before Holidays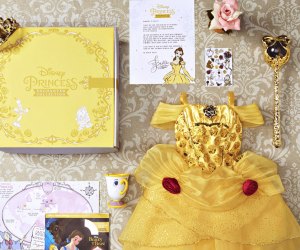 Disney has just launched a brand-new princess subscription box filled with tiaras, tulle — and fairy tales, of course. With the holidays right around the corner, and many kids (not just ours, right?) already working up their wish lists, we suspect this latest, kid-targeted subscription service will land at the top of a few most-wanted toys' lists.
Promising to deliver this Disney magic straight to your favorite princess-loving kid's door for either a year, six months, or month-to-month, the first boxes will make it in time for Christmas delivery, we're told.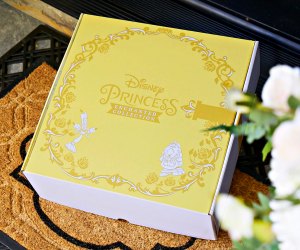 Boxes ship every other month in a beautiful box designed specifically for each princess.
The Disney Princess Enchanted Collection Subscription box, available online at shopDisney, was first released November 6, 2018, and if you sign up now, the first box will be delivered in December. Each box features one Disney princess. Kids who subscribe this year will enjoy boxes featuring Belle, Moana, Ariel, Jasmine, Aurora (Sleeping Beauty), and Cinderella.
Parents can choose from two subscription levels—Enchanted or Deluxe. Both boxes include an authentic Disney store costume, a read-along storybook and CD, princess stickers, activities, a video greeting from the princess, and a couple of surprises. The boxes also carry an offer for $10 off your next $50 purchase at shopDisney and Disney stores. Additionally, the deluxe box includes two to three princess toys or accessories. For example, the December, deluxe Beauty and the Beast-themed box will include a Chip teacup, tiara, and golden scepter.
Choose the child's costume size, from size 3T to big girls 9/10, when placing the order, and Disney will let you adjust the size throughout the year for a growing kid.
Wondering if the box might be redundant for kiddos who already have an abundance of princess paraphernalia? We chatted via email with Jackie Feldman, senior manager for licensing and franchise communications at Disney, and she said the boxes are sure to delight even the most diehard Disneyphiles.
"The box itself is special," she said. "The surprise and delight of the unboxing element, the empowering activities that promote family togetherness, and the special video greeting from the Disney Princess herself all provide a special experience."
RELATED: Take a Disney Cruise with Beauty and the Beast

Each box comes with a princess costume sized to fit your little fan.
Sound like the perfect gift for a Disney princess in your life? Here's the lowdown on pricing and ordering:
The subscription boxes are available to order at shopDisney.com
The Enchanted Box starts at $49.99 per box (valued at over $65)
The Deluxe Box starts at $74.99 per box (valued at over $100)
Shipping and handling are included in the price
Boxes ship every other month for six total boxes a year
There are three payment choices: one year (six boxes), six months (three boxes), and box-to-box (renews every other month but can be canceled at any time)
If you are hoping for more Disney franchise subscription boxes (say Star Wars, perhaps), you might just be in luck. Feldman told us that Disney is very excited by the initial fan interest in the Enchanted Collection Subscription Box, so there might be new themed boxes in the future.
All photos provided by Disney