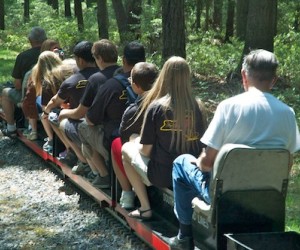 Train Museums, Exhibits and Rides on Long Island
(Photo courtesy Long Island Live Steamers)
All aboard! Long Island is a great place for little train lovers. You can learn about the Long Island Railroad Theodore Roosevelt road into Manhattan, at the Oyster Bay Rail Road Museum's preview center and how the Viriginia Railway changed America's landscape at the All Aboard! exhibit at Planting Fields Arboretum. Long Island Live Steamers welcomes families to ride the steam, diesel, and electric trains at Southaven County Park on the second and last Sunday of each month beginning May 19th. Families can also ride the World's Fair Long Island Railroad Park Train at the Railroad Museum of Long Island's Riverhead location. At the Wantagh Museum you can tour the Jamaica Railroad Car, the Wantagh Station, which has been restored to its 1904 appearance and the original Wantagh Post Office. Most of these locations are accessible by train, so why not climb aboard the good ol' LIRR and experience Long Island trains both past and present. The LIRR offers a family fare on weekends which allows up to 4 children to ride for 75 cents when accompanied by a fare-paying adult. Children under 5 always ride free.
Oyster Bay Railroad Museum
102 Audrey Ave., Oyster Bay
516-558-7036
Saturdays and Sundays 11am–4pm
Cost: donation requested
Visitors can view a model electric train and play with a wooden railway set. Take turns blowing a train whistle and view artifacts from the museum's growing collection. The museum is currently housed in an interim facility on Audrey Avenue. A thorough visit to the museum would take about 20 to 30 minutes. For more to do in Oyster Bay check out our previous posts on the waterfront and museums, or combine the visit with a trip to Planting Fields All! Aboard exhibit nearby.
Getting there by rail: The Oyster Bay stop is the last stop on the Oyster Bay line.
OUR LATEST VIDEOS
All Aboard! A Railway Fortune at Planting Fields
Planting Fields Arboretum
1395 Planting Fields Rd., Oyster Bay
516-922-9200
Open 9am-5pm daily
Admission $8/car
This temporary exhibit is being housed at the Manor House in Planting Fields. It consists of three rooms displaying a working O-gauge model of the Virginia Railway and toys and artifacts from the railway era in the early 1900's. While there are objects and displays that will be attractive to children there is also a lot of written content for adults. Allow about 15–20 minutes at the exhibit but spend the day on the grounds, they are spectacular this time of year. Bring a picnic lunch or eat at Periwinkles Café. Take a self-guided tour through the formal gardens. Many of the plants and trees are marked with identification plates. There are two greenhouses; the main greenhouse containing many rainforest plants and a camellia greenhouse housing the largest collection of camellias under glass in the northeast.
Long Island Live Steamers
Southaven County Park
Howie Carpluk Memorial Rd., Brookhaven
631-345-0499
Open May 19th–late October
Second and Last Sunday of each month
10:30am–3pm
Tickets are free but donations are requested.
This nonprofit live-steaming railroad operates on 8.5 acres of park land. Families are invited to ride the steam, diesel and electric trains as they travel through the tranquil woodland setting of Southaven Park. Bring food for a picnic or enjoy something from the snack bar. Those who arrive early can watch the trains steaming up. Enjoy hiking, camping and freshwater fishing at Southaven County Park.
Wantagh Museum
1700 Wantagh Ave., Wantagh
516-826-8767
Sundays 2–4pm from mid-April to mid-November (hours are subject to change because the museum is staffed entirely by volunteers)
Cost: donations accepted
The Wantagh Museum is composed of three structures; Wantagh Station, the Jamaica Railroad Car, and the original Wantagh Post Office. You can tour the Jamaica car, which was a parlor car complete with solarium, cooking facilities, and ice-cooled air-conditioning. Built in 1912 the car was quite extraordinary for its time. Visitors can also walk through the post office and see the historical photos on display.
Railroad Museum of Long Island
416 Griffing Ave., at the tracks in Riverhead; 4th Street at the tracks in Greenport
631-477-0439
631-765-2757
Saturdays 10am–4pm
Adults $7, children 5–12 years $4, under 5 free. Admission is valid for both the Riverhead and Greenport sites
Visitors can ride the 1964–65 World's Fair Long Island Railroad Park Train, see the Lionel Historic Layout and climb aboard a LIRR caboose and a 1960's Pullman Standard coach car.
Ride the Greenport Scoot between the two sites.
Weekends only Memorial Day through Columbus Day
LIRR Fares
Adults: $3.00
Up to 4 children ages 5-11 ride for 75 cents with an adult paying full fare
Take the Long Island Railroad through the picturesque north fork wine country. Ride on the upper level of the train, pack a lunch and enjoy spectacular views as you travel through a region of Long Island that still looks much as it did in the 1930's.
Originating in Riverhead: Arrive when the museum opens at 10am. Enjoy the museum sights, then cross the street to board the eastbound 11:25am train to Greenport arriving at 12:05pm. You can either return to Greenport on the 1:11pm train, or spend a few hours visiting the historic village of Greenport and return to Riverhead on the 6:11pm train arriving at 6:50pm. Caution:if you plan to return to Riverhead after 4pm, do not park in the RMLI parking lot as your car will be locked inside the fence. Be sure to double check train schedules as they are subject to change. Click here for more great things to do in Riverhead.
Arrive at the Greenport site at approximately 12noon. Then take the 1:11pm train to Riverhead arriving at 1:50pm. Tour the RMLI Riverhead site and return to Greenport on the Eastbound 4:25pm train. This is the only train returning to Greenport for the day. For more ideas of what to do in Greenport check out our posting.