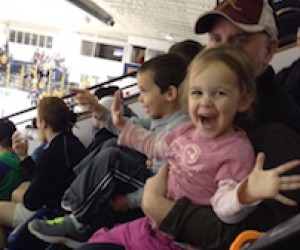 Sports Fan Clubs for Boston Kids: Red Sox, Celtics & Other Local Teams
Kids love to be part of something special, especially when it's created just for them. Thanks to local sports teams, children can become card-carrying members of exclusive kids' clubs designed to enhance the experience of attending local professional and collegiate athletic events, from basketball to hockey to everything in between. These clubs combine kids' love of sports with the excitement of belonging to a group all their own, so you've got a win-win!
The Junior Terriers Club
Boston University
Fill out a membership form and for $10 your bouncing basketball fan can become a member of the Junior Terriers Club at Boston University. Membership includes free admission to all regular-season men's and women's home basketball games, a Junior Terriers Club T-shirt, a membership card, invitations to exclusive member pizza parties and other events, player and coach meet and greets and a chance to be a ball boy or ball girl. The Junior Terriers Club is for kids up to grade eight.
The Junior Warrior Club
Merrimack College
Sign up to be a Junior Warrior and receive a slew of exclusive benefits, like a T-shirt, a signed birthday card from the Merrimack Warriors, priority for the birthday party room during hockey season, a Junior Warrior membership badge, opportunities to meet the athletes and coaches, a monthly Junior Warrior Club E-Newsletter, invitations to special events and free general admission to all Merrimack athletic events when accompanied by an adult. Call ahead for hockey tickets, which are subject to availability. Premium games are excluded. The Junior Warrior Club is for kids ages 13 or younger and the membership fee is $15.
Crimson Kids Club
Harvard University
Your young sports fan will cheer on the Crimson in style with membership in the Crimson Kids Club at Harvard University. Sign up for $15 and receive an official membership badge, a GoCrimson.com lanyard, free tickets to select games, a Crimson Kids Club T-shirt, a glow in the dark wristband and exclusive invitations to youth events.
Red Sox Kid Nation
The Boston Red Sox
Root, root, root for the home team with a free (yes, FREE!) membership to the Boston Red Sox Kid Nation. The free membership includes up to three stamps in the Kid Nation Passport Program, one free ticket to a home game for each member, access to exclusive events, a 10 percent discount at the Red Sox team store for 2015 and an email newsletter.
If you have a young Fenway fanatic in your life, surprise him with the All-Star Membership add-on for $39.95. This includes up to nine stamps in the Kid Nation Passport Program, an exclusive player backpack, a Red Sox jersey, an athletic rope necklace, a Red Sox ripcord bracelet and early entrance into the ballpark to watch batting practice.
Before taking your little ones to a game, you may want to check out these tips for taking kids to see the Red Sox.
Junior Revs Club
New England Revolution
Join the free Junior Revs Club and your soccer fan will become a special part of the New England Revolution, our own professional soccer team. Junior Revs members receive a membership card and certificate, the Junior Revs newsletter and super swag such as lanyards, posters, and other Revs rewards, just for being a member. The more games you attend, the more rewards you get come season's end.
Club Green
Boston Celtics
For $20, Club Green Kids get a membership card, a special video welcome from Lucky the Leprechaun, plus a few things to show off their Club Green Kids pride, including a keychain, watch and shoelaces. The Celtics also offer Family Packs, which include game tickets for the whole family and cool stuff for the kids. Read about the experience and what you can get with the family-friendly game packages here.
Wildcat Kids' Club
University of New Hampshire
Parents: purchase a youth season ticket package for any one of the UNH Wildcats' sports teams and your child will automatically become a member of the Wildcat Kids' Club. Club members receive a membership card and lanyard, team posters, a special dinner from the Weathervane Seafood Restaurant, a Kids' Club T-shirt, admission to UNH team clinics and, of course, admission to the main events themselves. The Wildcat Kids' Club is offered to children ages 3-12 and packages start at $25.
Kids' Club
Pawtucket Red Sox
Young baseball fans can enjoy the excitement of the major leagues with a minor league price with the Pawtucket Red Sox. And becoming a member of the Kids Club makes the experience that much better. Kids Club members receive an official membership card, free admission to three designated Kids' Club PawSox games, an autograph session with a player prior to those games, invitation to private player meet and greets with players and coaches and a subscription the "PawSox Patter" newsletter. Fill out your info now for an invitation to join for the upcoming season.
---