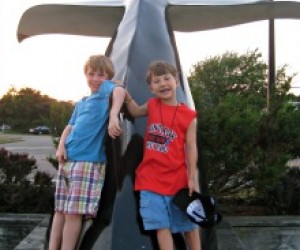 NYC Labor Day Weekend Family Getaways: Nearby Destinations for Weekend or Day Trips
Labor Day, the unofficial end of summer, is fast approaching. While there are certainly plenty of ways to enjoy one last blast of summer right here in NYC, the three-day weekend is the perfect time for a quick family getaway before school starts.

Whether you're looking for a spectacular day trip or a multiday break, our tri-state area sites in New Jersey, Long Island, Connecticut and recently launched Westchester County have been covering the best things to do and places to go in their respective locales all season. In just one click, you can find out everything you want to know about visiting the Poconos, the Jersey Shore and other family hot spots with kids. We're highlighting six awesome areas for a Labor Day getaway, all within comfortable commuting distance of New York City. For even more family travel inspiration, check out our NYC Day Trips Guide, which includes a post about car-free Labor Day getaways, and our Travel site, which has a roundup of Labor Day weekend vacation deals.
The Poconos – North Eastern Pennsylvania
Located right across the Delaware River, the Pocono Mountains are one of my favorite places for a weekend getaway. The "Niagara of Pennsylvania," Bushkill Falls, offers great kid-friendly hiking (my son hiked the falls here when he was just in pre-K) and incredible views of eight difference waterfalls. Animal lovers will enjoy Claws "N" Paws Animal Park, a mini-zoo of exotic creatures where you have the once-in-a-lifetime opportunity to feed a giraffe. Another family fave of ours is the Quiet Valley Living Historical Farm where you can tour 18th-century buildings and meet barnyard animals. For a more active outing, walk or cycle the Lehigh Gorge State Park Trail, 20 or so miles of old rail bed converted for recreational use—my eight-year-old did the whole thing this summer! While much of the Poconos is doable as a day trip, if you decide to stay for the weekend, there are tons of hotel options. Check out our Poconos Family Travel Guide for reviews of some of the region's famous resorts including what my family calls "kiddie Vegas:": the Great Wolf Lodge.

The Jersey Shore – Southern New Jersey
Looking for an end-of-summer blowout with sand, surf and family fun? Then the Jersey Shore is your go-to spot. For a day trip, drive or take the Seastreak Ferry to Sandy Hook National Seashore. For a weekend jaunt, head all the way out to picturesque Cape May or any of the beaches along the way. The shore is packed with family-friendly attractions like lighthouses, mini-golf courses and whale-watching cruises, and Mommy Poppins NJ has the scoop on all of them. If you stay for the weekend, be sure to visit the seafood shacks, old-school diners and other family-friendly dining destinations in the region. Before you head out, read this informative post about changes at some of the beaches post-Hurricane Sandy.

The Skylands & Northern Jersey – Northern New Jersey
If you head north in NJ (instead of south to the Jersey Shore), you'll find beautiful forested parkland. There are some amazing day trip destinations in this area, all within 90 minutes of NYC by car. Hike, swim or boat in Hackettstown's Stephen's State Park. My family enjoys Stokes State Park up in the rural Skylands region, where you'll also find the boulder-filled Jenny Jump State Forest and High Point Park, which features the highest point in the entire state plus a 20-acre swimming hole. Campgaw Mountain and the Meadowlands are both closer to NYC and offer short hikes perfect for little ones. If you do head to the Meadowlands, set aside time to visit Secaucus' Field Station: Dinosaurs, a prehistoric-themed park featuring animatronic dinos. You can find additional destinations in our New Jersey Day Trip Guide.

Long Island Beaches – Eastern Long Island
If you're up for braving nonstop traffic, a trip to Eastern Long Island is a great way to cap off summer. While most people head to the Hamptons, my family's favorite LI destination is Montauk. We often go for the day via the LIRR. The stress-free trip leaves us within walking distance of the public beach and allows us to mellow out on the way home. The End, as the area is known, has tons more than just the beach. You can check out our Long Island site's Hamptons & East End Family Guide to find out about the historic Montauk Lighthouse, family-friendly dining, mini-golf, great public pools, whale watching and deep-sea fishing. If you plan on doing anything beyond chilling at the shore though, you will probably need a car and an advance reservation at a hotel. Only the beach is doable in a day.

Another cool destination is the nature-filled Shelter Island, located right between Long Island's two forks. My family enjoys hitting its trails on foot or bike at the Nature Conservancy's large Mashomack Preserve. The isle also offers beaches, family-friendly dining, lodging and a peaceful laid-back vibe.

The Connecticut Shore – Eastern Connecticut
Just a little more than two hours away by car, Mystic makes for a good day trip. But it's a little ambitious to hit all of its major attractions including the Aquarium, the Seaport and the beach in just one day (especially if your kids won't leave the beluga tank—like mine on our last visit). So either choose one activity or stay the weekend. No matter how long you stay in Mystic, be sure to plan your visit wisely. In my experience, holiday weekends are especially crowded so arrive at the tourist attractions early. The nearby Long Island Sound beaches in Groton and Eastern Connecticut are also fun, especially if you're looking to just relax and avoid the hordes. Find more great trip ideas in our Connecticut Day Trip Guide.

Westchester & Orange Counties & the Hudson Valley – Upstate New York
A trip to the woods offers a nice respite from the hot and humid days of summer. Head to one of Westchester County's close-to-home parks for some low-key hiking. Or travel further afield to Minnewaska State Park in the funky college town of New Paltz, a favorite hiking and biking destination for my family. There are a couple of awesome festivals in New York State that are close enough to do in a day, like the New York Renaissance Fair in Orange County's Tuxedo Park. I have been too many times to count and it is always a rollicking experience. You can even get there via mass transit. There is also the more agricultural Duchess County Fair in Rhinebeck, NY.

Check out our NYC Day Trips Guide for additional getaway ideas for Labor Day weekend and beyond.