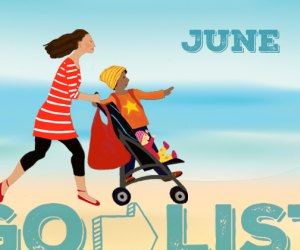 June GoList: Best Things To Do with Philly Kids This Month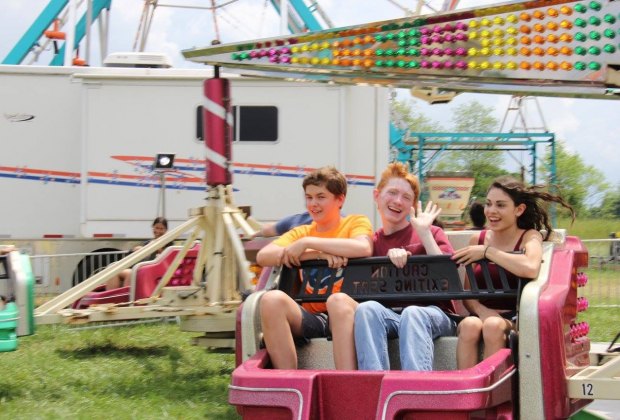 There's more than just berries at the Brandywine Strawberry Festival! Photo courtesy of the Brandywine Strawberry Festival
1. Brandywine Strawberry Festival - Coatesville, PA
May 30-June 2
Families can enjoy rides, games, live entertainment and more at this affordable festival. Little ones can enjoy moonbounces, inflatables, and carnival games in Strawberryland while big kids can delight in rides and amusements geared to tweens and teens.
2. Philadelphia Chinese Lantern Festival - Philadelphia, PA
Through June 30
Glowing light fills Franklin Square as the Philadelphia Chinese Lantern Festival returns for another season. Guests can expect to see 30 all new culturally-inspired lanterns and performances as well.
3. Flag Fest - Philadelphia
June 9-June 15
Flag Fest 2019 kicks off with Betsy Ross raising the flag over the House at Stars & Stripes Saturday. Throughout the week, there are family-friendly activities in which to participate.
4. St. Anthony's Italian Festival - Wilmington, DE
June 9-June 16
Fun and food await families at St. Anthony's Italian Festival. Guests can enjoy rides, entertainment, performers, and a host of activities. Visitors of all ages can try delicious Italian cuisine. The festival opens at 2pm on the weekends and at 5:30pm on the weekdays.
5. Kidchella - Philadelphia
June 14
This rain-or-shine kids music festival is back for another great summer of music. Each month over the summer, Kidchella provides visitors to Smith Memorial Playground with a line-up of two nationally acclaimed performances as well as youth performers. For the June event, The Pop Ups + Alex will perform. The Youth Arts Zone opens at 4 PM and includes food trucks, youth performances, and art stations. The main concert takes place at the playground. Bring blankets to enjoy the music!
6. Enchanted Summer Day - Winterthur, DE
June 15
Dust off those fairy wings and elf ears for a true celebration of summer in Winterthur's Enchanted Woods. Children can participate in crafts, storytellling, and more. These activities are included with paid admission
7. Day Out with Thomas - Ronks, PA
June 22-June 30
All Aboard! Thomas the Tank Engine is rolling into the station at Strasburg Rail Road. The "Day Out with Thomas" event includes a train ride with Thomas, the chance to meet Percy, and a variety of themed Thomas & Friends entertainment.
8. Totally Turtles Weekend - Philadelphia, PA
June 22-June 23
Explore the Academy of Natural Science as it celebrates all things turtle! Visitors can discover how this amazing order of hard-shelled survivors lived in the past and thrives in the present. Children can expect special crafts, demonstrations, face painting, and touchable specimens.
9. Juneteenth MusicFest & Parade - Philadelphia, PA
June 22
The Philadelphia Community of Leaders presents the fourth annual Philadelphia Juneteenth Musicfest and Parade! Guests are invited to honor and celebrate the legacy of enslaved African ancestors who endured and fought for freedom. The parade features over 3,000 marchers, floats, bands, and more.
10. Vintage Baseball at Its Best - Schwenksville, PA
June 23
The Athletic Base Ball Club of Philadelphia plays 1864 era base ball for all to enjoy. Enthusiastic ladies and gentlemen are invited to cheer the teams. Kids enjoy playing "Town Ball," a fun activity that was the precursor to baseball. The Pennypacker mansion is ready for guided tours which are free. A food vendor is available to serve lunch and refreshments. Handicapped parking & restroom facilities available.
11. Wilmington Pirate Festival - Wilmington, DE
June 29
Families can enjoy this free festival presented by Kalmar Nyckel Foundation. Guests can expect a day filled with pirate and maritime-themed activities such as scavenger hunts, face-painting, crafts, costume contests, live music, and gun firing.
12. Philly @ the Movies: Rocky - Philadelphia, PA
June 30
As part of the Wawa Welcome America! celebration, guests can enjoy a free showing of Rocky with family and friends at the Philadelphia Museum of Art. Arrive early to take part in a Rocky and Creed look alike contest, entertainment, and trivia.
Enjoy the oldest folklife festival at Kutztown. Photo courtesy of the Kutztown Folk Festival
13. Kutztown Folk Festival - Kutztown, PA
June 30-July 8
The oldest continuously operated folklife festival, The Kutztown Folk Festival is a week full of entertainment for families. Guests can expect to learn about the traditions of the Pennsylvania Dutch and their way of life. In addition, the festival features a wide variety of Pennsylvania Dutch food, folk artists and traditional American craftsmen, antiques and collectibles, entertainment, music,dancing and a wide range of children's activities.
Be sure to subscribe to our email newsletter to get our weekly roundups of events delivered to your inbox.