5 Patriotic Day Trips to Historical Sites Near Philadelphia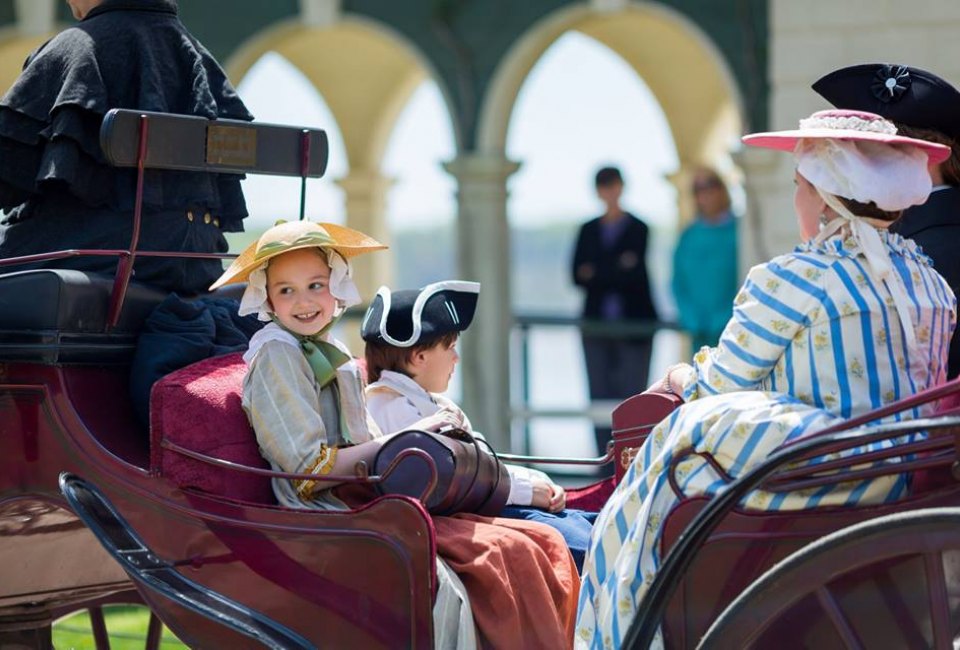 5/19/18
- By
Christine Mooney
No doubt, Philadelphia is chock full of history. From the Liberty Bell to the Franklin Mint, spooky old cemeteries and an abandoned penitentiary to battlegrounds and museums, much of America's earliest history has roots right in the heart of the Delaware Valley.
But for families looking for places they might not have already explored or some fun, interesting, and mentally inspiring summertime excursions, we've rounded up five history-inspired day trips within a few hours' drive of Philly. Consider this your historical day trip bucket list. No matter where you pick first, we wish you safe (time) travels!
Washington Crossing Historic Park - Washington Crossing, PA
Drive Time from Center City: 50 minutes
Washington Crossing Park marks the spot where, you guessed it, General George Washington made his historic crossing of the Delaware in the winter of 1776. Today, this park makes the history come alive with ongoing and special events, such as the Washington Crossing Reenactment each Christmas Day, the Sheep-to-Shawl Day, and Colonial Days Camp. Visit the restored colonial village and soldiers' graves, take a guided tour of many of the buildings onsite for a nominal fee, or hike the extensive 500-acre park.
And just a few minutes' drive from the town of New Hope with its many restaurants and shops, plus the New Hope & Ivyland Railroad, makes Washington Crossing the perfect day trip locale.
Want to spend a little more time in the area? Check out our list of 25 Things to Do in Bucks County with Kids for more ideas.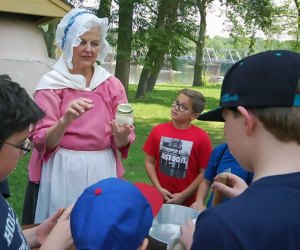 Photo courtesy of Washington Crossing Historic Park
Hopewell Furnace - Elverson, PA
Drive time from Center City: 75 minutes
Hopewell Furnace, and other "iron plantations" like it, helped push America into the Industrial Age. For nearly one hundred years spanning the 18th and 19th centuries, Hopewell was a working iron furnace. Now, it is a cultural and historical gem, tucked into the rolling hills of Chester County. Butted up against French Creek State Park, visitors can take a self-guided walking tour of the community built around the furnaces, participate in living history demonstrations that occur throughout the year, and watch a 15-minute theater program about Hopewell.
For a small fee, visitors can pick apples during the fall season. And don't forget about the National Park's Junior Ranger Program. This initiative, geared towards kids aged 3-14, is available at every U.S. National Park. Depending on age and skill level, Junior Rangers find clues and answer questions about the park and then return to the Ranger Station at the end of their trip to have their answers checked. Then, they'll be eligible for an official Junior Ranger badge for Hopewell Furnace. This, along with the National Parks Passport, is a great way to check off all your parks trips around the country.
Want to do a little swimming or hiking? French Creek State Park, located next door. The swimming pool is open from Memorial Day to Labor Day, and hiking trails are available yearround.
Exploring Hopewell Furnace. Photo courtesy of Cleo McCall - Flickr
Annapolis, Maryland
Drive Time from Center City: 2 hours
Home to the U.S. Naval Academy, Annapolis, Maryland is bursting with maritime, African American, and American history. Use City Dock as your base and stroll along the water. Kids will like watching the boats maneuver around "Ego Alley."
From there, you can easily walk over to the U.S. Naval Academy Grounds, or if you'd prefer to take a seafaring voyage, consider boarding a ship with the Chesapeake Pirates, a family-friendly pirate adventure that kids are sure to love as they get a fun taste of the pirate life. Once aboard the ship, everyone sails out from the dock, searches for sunken treasure and fires the water cannons. These excursions are geared towards kids aged 3-10. If that doesn't work for your family, there are water taxis available to see Annapolis from the Chesapeake Bay.
City Dock also has ice cream shops and restaurants, such as Boatyard Bar & Grill, that are family-friendly and within easy walking distance.
Sail the high seas with Pirate Adventure of the Chesapeake. Photo courtesy of Pirate Adventures
Washington, D.C.
Drive Time from Center City: 2.5 hours
While there's enough to do and see in our nation's capital for a week's trip, if you strategically choose a few spots to hit up, you can see a lot of history in D.C. in just one day. Teeming with museums, check out the ones you wouldn't find in your own hometown, like the International Spy Museum where you can complete a mission while touring the facility and even have dinner with a spy, or Newseum, which showcases kid-friendly interactive exhibits of some of the world's biggest news events throughout history.
Want to get outside? Take a stroll or ride a bike along the National Mall during the day, from Capital Hill to the Jefferson Memorial and Washington Monument, and then, if there's time, come back in the evening when everything is lit. And for a special treat, request a tour into the White House itself (just write a letter to your Member of Congress with at least 21 days' notice).
For dinner, head down the National Harbor for a variety of restaurants, a 180-foot ferris wheel, and a carousel, all along the scenic Potomac River.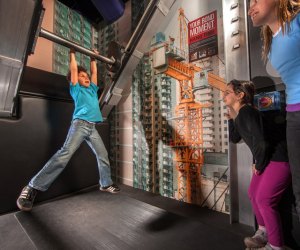 Enjoying the interactive James Bond exhibit at the Spy Museum. Photo courtesy of the Spy Museum
Mount Vernon, Virginia
Drive Time from Center City: 2.75 hours
This 260-year-old estate belonged to our nation's first president. Guests should expect to spend three hours touring the grounds, home, outbuildings, and hands-on discovery center, which offers the same themes of colonial life, African-American history, dress, music, and culture as the rest of the estate but with young children in mind. Listen to stories, hear Revolutionary War songs, and meet Martha Washington during your visit, and don't forget to check their robust calendar of events before you go so you can make the most of your trip.
Ticket pricing for access to the estate, gristmill and still-functioning distrillery varies by age, but children aged five and under are free and tickets for children aged 6-17 are $9. For another vantage point, consider a narrated 45-minute sightseeing tour by boat, which takes guests out on the Potomac River to view Mount Vernon for an additional fee. Also note, there is a restaurant on site with moderately priced entrees but no dedicated kids menu. However, only a few miles north is Old Town Alexandria, where there are tons of restaurants and a fun atmosphere to walk around.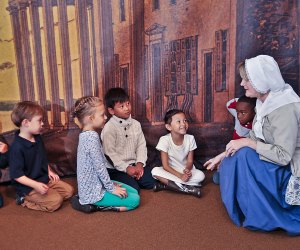 Discover living history at George Washington's home at Mount Vernon. Photo courtesy of Mount Vernon
Top photo courtesy of Mount Vernon
Sign up for the Mommy Poppins Newsletter today!
i