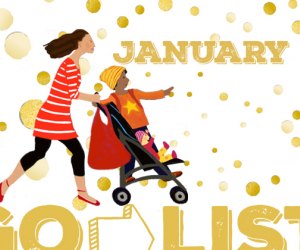 January GoList: The Best Things To Do With Long Island Kids
Meteorologists tell us January is the coldest month on Long Island. It's also one of the longest.
As we endure a seemingly endless run of Arctic days and nights, it might be natural to fall into a post-holidays depression. After all, once the tree comes down, what do we have to look forward to but three months of head colds and commuting nightmares, right?
Not so fast. While January presents its challenges, parents with a little imagination can find plenty of ways to stave off cabin fever, which is where we come in.
Find a sledding hill and challenge the local powder. Indulge your inner Olympian with a day at a local ice rink. Stimulate young intellects with a trip to a nearby children's museum. Our guide to indoor play spaces on Long Island can provide even more inspiration.
Our January GoList is laced with events from New Year's Day and Martin Luther King weekend right through to the end of the month.
In the meantime, you can always sign up for our FREE newsletters to get posts like this delivered to your inbox.
Hey, by the time the month ends it's but two days until Groundhog Day, where we hope Malverne Mel has good news for lovers of an early spring.
Now on to what's happening.
Celebrate the Arrival of 2020 – Islandwide
Tuesday, December 31, 2019-Wednesday, January 1, 2020
The new year comes in grand style across Long Island with New Year's Eve events planned in Bellmore, Garden City, Merrick, North Merrick, Cold Spring Harbor, Port Jefferson Station, Riverhead, and elsewhere. On Wednesday, enjoy first-day events in Lloyd Harbor, Jones Beach, Montauk Point, Oakdale, and Riverhead.
Children's Theater – Islandwide
All month long
Chilly January is the ideal month for indoor entertainment This year, children can enjoy Annie through January 19 at the Smithtown Center for the Performing Arts; A Fairytale Winter in Bellmore through January 5; Frosty the Snowman through January 5 at the Bayway Arts Center in East Islip; Little Red Riding Hood beginning January 18 at Theatre Three in Port Jefferson, the Rainbow Fish Musical beginning January 18 at Bellmore Movies, Disney's Frozen Jr, at the Engeman Theatre, and more.
TMB Model Train Club Open House — Farmingdale
Saturday, January 4-Sunday, January 5
Model train enthusiasts will thrill to this 4,000-square-foot display that features 10 trains running on 19 square miles of track. Enjoy the 3 scale miles of underground "subway," a fully operational logging line, and the famous train layout that was featured in the Blue Comet episode of the HBO series The Sopranos.

Stroll the boardwalk to see the holiday lights. Photo courtesy of the event
Last Chance for Holiday Activities —Islandwide
Saturday, January 4-Sunday, January 5
The Christmas break this year is a full two weeks for most Long Island school districts. Families can take advantage of that bonus weekend by enjoying some extended holiday activities before they close down for the year. Enjoy Boardwalk Lights in Long Beach, the Magic of Lights at Jones Beach, and holiday theater in Bellmore and East Islip.
Princess Breakfast at the Mansion — Glen Cove
Sunday, January 5
Treat yourself and your little angel to a full breakfast at one of Long Island's premier catering venues. singing, storytelling, and, of course, picture taking with her favorite princesses. The breakfast buffet includes waffle and omelet stations, chicken fingers, a fruit platter, and a dessert station with hot chocolate with marshmallows.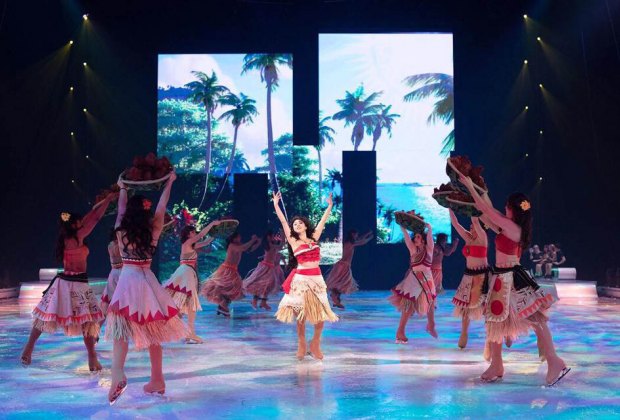 Disney on Ice: Dream Big comes to the Nassau Coliseum. Photo courtesy of Disney
Disney on Ice: Dream Big — NYCB Live at Nassau Coliseum, Uniondale
Thursday, January 9-Sunday, January 12
Join your favorite Disney characters, including Anna and Elsa, Moana, and Miguel, in a journey of belief. Share magical moments filled with thrilling ice skating and beloved songs and stories sure to give kids a reason to believe.
January STEM / STEAM Events — Garden City, Port Washington
Saturday, January 11-Sunday, January 12
Kids can don their thinking caps and investigate the worlds of Science, Technology, Engineering and Math in a weekend of hands-on activities at the Long Island Children's Museum. Meanwhile, on Sunday enjoy a multicultural STEAM experience in Port Washington that includes storytelling, art, science and even cooking.

The Magic of Alexo is a stunning magic show for all ages. Photo courtesy of the event
The Magic of Alexo — Bellmore
Sunday, January 12
The celebrated magician puts together a show full of illusions, laugher, thrills, and family fun at The Showplace at Bellmore. Alexo allows kids to create their own magical experiences to be shared with the magician and the audience. Alexo also performs at Bayway Arts Center in East Islip on Monday, January 20.
Winter Fun Run Series — LI State Parks
Sundays, January 12, 19, 26 and February 2
Kids have cabin fever? Why not get them up and running in a series of 5K events across the Island, where medals are awarded in a dozen age categories, including 12-and-younger. Hot chocolate, granola bars, juice, fruit, bagels, and doughnuts are available free after all races. January 12's race is at Heckscher State Park, East Islip; January 19 is at Robert Moses State Park; January 26 is at Sunken Meadow State Park and February 2 is at Jones Beach.
Frozen Family Science Night — Garden City
Friday, January 17
Enjoy hands-on family fun, including a live interactive planetarium experience, as the Cradle of Aviation celebrates the Disney film. Kids can conduct experiments, learn new STEM skills, and take photos and sing with your princesses, Elsa and Anna.
Martin Luther King, Jr. Events — Islandwide
Monday, January 21
On the national holiday, celebrate the life and legacy of the great civil rights leader at events at the Center for Science Teaching & Learning in Rockville Centre. Explore the center's acreage and farm animals and learn about the legacy of Dr. King.