Outdoor Dining on Long Island: Where to Eat in an Igloo, Greenhouse, and More Family-Friendly Setups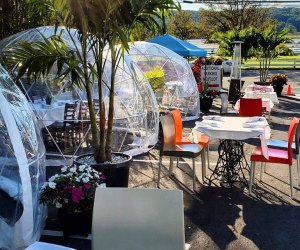 1/20/23
- By
Jaime Sumersille
Looking for the best outdoor dining options on Long Island that are still viable in the dead of winter? Read on for our top picks.
The Long Island restaurant scene is creative. From heaters and fire pits to mini greenhouses and igloos, these family-friendly local eateries are thinking outside of the box and making it fun to eat outdoors even when temps are below freezing.
While these outdoor dining options come with perks like fairy lights, Bluetooth speakers, plush seating, and more, they also come at a hefty price tag, in most cases, and they might be best saved for a special occasion. Plan in advance, too, as reservations are generally required and often sell out.
Find more family-friendly eateries in our Restaurant Guide, plus plenty of seasonal fun in our Winter Fun Guide.
Subscribe to our newsletters to get stories like this delivered directly to your inbox.
Where to Enjoy Outdoor Dining in Nassau County
An igloo that fits five and various personal tents are decorated in a winter wonderland theme. Outdoor heaters keep guests warm as they enjoy hearty Italian favorites. Sweet bonus: Each meal is finished with a complimentary swirl of cotton candy. Reservations are strongly encouraged.
Private igloos on the beautifully decorated patio of this Nassau county restaurant hold up to eight guests. Reservations are required and go quickly, but cancelations and last-minute openings are often listed on Pietro's Facebook page.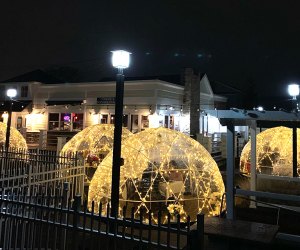 The igloos at Smuggler Jack's in Massapequa are nestled canal-side and feature heating and lighting.
The five heated igloos are nestled canal-side at this South Shore eatery and boast a dedicated server during your 2-hour reservation. Suitable for up to eight people, igloos can be rented for lunch, dinner, and Sunday brunch. Rental prices range from $60-$125, depending on your date. Dine on casual American fare, including steak, seafood, pasta, and more. The first round of drinks is on the house!
This Oyster Bay eatery offers private igloos with indoor and outdoor space featuring televisions, couches, and Adirondack chairs. There's a guaranteed minimum spend of $200 on Friday and Saturday nights.
RELATED: Winter Fun List: 25 Things To Do With Long Island Kids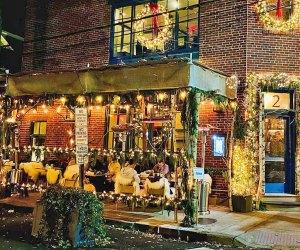 Enjoy outdoor, heated dining at 2 Spring.
This New American restaurant offers an outdoor patio, covered with scaffolding and decorated with woodsy twigs, dried flowers, fairy lights, and more to accommodate groups of up to six. Plush, comfortable seating includes fancy pillows and sheepskin throws. The enchanting setting is heated for comfort, too. Outdoor seating is weather dependent, so it's best to call ahead.
Where to Enjoy Outdoor Dining in Suffolk County
Known for its panoramic views of Cold Spring Harbor, this restaurant has fresh-caught seafood specialties and other yummy food options. The on-site, heated igloos can comfortably fit up to eight people. There is a 2-hour time limit and a minimum check amount of $200.
This Stony Brook eatery has been serving patrons since the 1930s. Mirabelle now has igloos on the patio for guests to enjoy Wednesday through Sunday. Reservations for a two-hour rental are required, and there's a minimum food and beverage spend of $150.
8. The Oar – Patchogue
Get cozy along the Patchogue River, where a pair of igloos share the deck at The Oar. There are firepits and heaters nearby, but guests are encouraged to bring their own blankets and cozy up with a seasonal menu that has been crafted for this space. The cost is $75 for two hours Tuesday through Thursday; $150 for Friday through Sunday. The restaurant also offers a tiny igloo for two that rents for $50 Tuesday through Thursday and $100 Friday through Sunday. All rentals include a round of drinks and there's a two-hour time limit for patrons.
Enjoy a magical evening under the stars at this western Suffolk vineyard. Igloos are $150 for up to 10 people and are available to book online. While you're there, be sure to order the cauliflower pizza, which, like the view, is out of this world.
Guests can control their own heaters, lights, and music inside each of the greenhouses at ITA Kitchen. Serving up innovative, Italian-American fare, this eatery is located in the heart of the town's village.
Photos courtesy of the restaurants