Outdoor Dining on Long Island: Where to Eat in an Igloo, Greenhouse, and More Family-Friendly Setups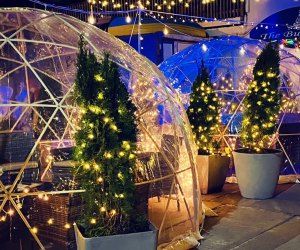 While indoor dining is still permitted across Long Island, patrons' hesitancy to dine inside has restaurants getting creative with their outdoor dining options. From heaters and fire pits to mini greenhouses and igloos, these family-friendly local eateries are thinking outside of the box!
While these safer outdoor dining options come with perks like fairy lights, Bluetooth speakers, plush seating, and more, they also come at a hefty price in most cases and might be best saved for a special occasion. Plan in advance, too, as reservations are generally required and must be booked by calling ahead, rather than using an online portal.
A few outdoor dining etiquette tips to keep in mind: Restaurant seating must be arranged in a socially distant manner, with at least six feet between tables unless physical barriers are used. Employees must wear masks at all times, while patrons ages 2 and older must wear masks anytime they are not seated at their tables. You may be given single-use menus or asked to pay with a credit card to minimize contact, too.
Find more family-friendly eateries in our Restaurant Guide, plus plenty of seasonal fun in our Winter Fun Guide.
Editor's note: Keep in mind, COVID cases have been steadily rising in New York. While we are trying to promote safer activities that occur outdoors or with social distancing guidelines in place, please keep your family and others safe by always wearing a mask and maintaining an appropriate distance.
All restaurants on our list have publicly posted protocols detailing their between-party sanitizing procedures, including disinfecting with cleaning supplies or fogging machines.
RELATED: 10 Inexpensive Winter Weekend Getaways for NYC-Area Families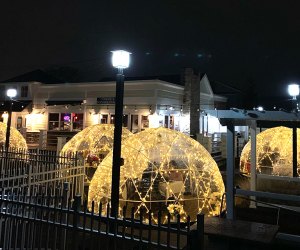 The igloos at Smuggler Jack's in Massapequa are nestled canalside and feature heating and lighting.
Where to Enjoy Outdoor Dining in Nassau County
The heated igloos are nestled canal-side at this South Shore eatery and boast a dedicated server during your 2-hour reservation. Suitable for up to eight people, igloos can be rented for lunch, dinner, and Sunday brunch. Rental prices range from $60-$125, depending on your date. Dine on casual American fare, including steak, seafood, pasta, and more. The first round of drinks is on the house!
This New American restaurant offers an outdoor patio, covered with scaffolding and decorated with woodsy twigs, dried flowers, fairy lights, and more. Plush, comfortable seating includes fancy pillows and sheepskin throws. The enchanting setting is heated for comfort, too.
Various sized igloos and personal tents are decorated in a winter wonderland theme. Outdoor heaters keep guests warm as they enjoy hearty Italian favorites. Sweet bonus: Each meal is finished with a complimentary swirl of cotton candy. Guests must spend $50 per person on the weekends. Reservations are strongly encouraged.
RELATED: Winter Fun List: 25 Things To Do With Long Island Kids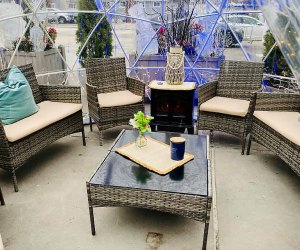 Heated igloos at Point Lookout's Buoy Bar include interactive lighting and a special sharing menu.
Private igloos overlooking the Reynolds Channel at Buoy Bar are available via reservation only and can accommodate 4-10 guests. Heated interiors include lounge seating and interactive lighting. Special menu items—like a giant pretzel or mini-taco platter—are designed for sharing, and there is a minimum order of three food items required. The 2-hour experience costs $150 to rent but includes the first round of drinks!
Each two-hour ($150 Sundays-Thursdays with a four-guest minimum; $200 Fridays and Saturdays with a six-guest minimum) rental includes a round of drinks and has a specially curated seafood-centric quick bites and apps menu. Bonus: Outside of the igloo, kids eat FREE on Sunday evenings with the purchase of an adult entree!
RELATED: Outdoor Dining Igloos, Cabins, Yurts, and More Creative Setups at NYC Restaurants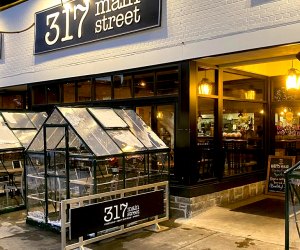 Small glass greenhouses line the sidewalk outside of 317 Main Street in Farmingdale.
Where to Enjoy Outdoor Dining in Suffolk County
Mini greenhouses line the sidewalk outside of this eclectic gastropub and can accommodate between four and six diners. Each enclosure is heated and equipped with Bluetooth speakers to stream your choice of tunes. The restaurant offers breakfast, lunch, dinner, and weekend brunch. The menu is filled with specialty dishes created by television's "Chopped" champion, Chef Eric LeVine.
Known for its panoramic views of Cold Spring Harbor, this restaurant has fresh-caught seafood specialties as well as land-lovers fare. The on-site, heated igloos can comfortably fit up to eight people. There is a 2-hour time limit and a minimum check amount of $250 from Tuesday through Thursday and $350 on weekends and holidays.
RELATED: 15 Winter Walks For Long Island Families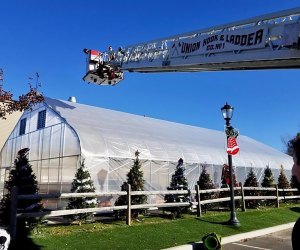 Restoration Kitchen & Cocktails erected a massive, custom-built greenhouse in its parking lot for outdoor dining.
This massive, custom-built 72-by-34-foot greenhouse was erected in the gastropub's parking lot. Its 25-foot-high ceiling accommodates a ventilation system to pump fresh air in and out of the facility. The menu boasts shareables, salads, sandwiches, and quesadillas. Feel-good bonus: As a nonprofit eatery, Restoration regularly supports a rotating list of local charities.
Full of lush outdoor furniture, each heated igloo is also decorated and can accommodate up to eight people. The cost is $150 for two hours and includes the first round of drinks with the purchase of food. A special food menu is available, and a server is dedicated to each igloo.
Get cozy along the Patchogue River, where a pair of igloos share the deck at The Oar. There are firepits and heaters nearby, but guests are encouraged to bring their own blankets and cozy up with a seasonal menu that has been crafted for this space. The cost is $75 for two hours Sunday through Thursday; $150 for Friday and Saturday. On the weekends, the fee includes the first round of drinks.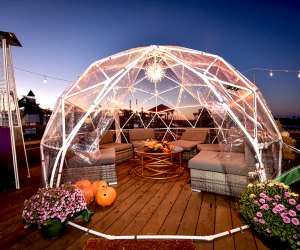 Wave's igloos are perched alongside the Port Jefferson harborfront.
The Danfords Hotel restaurant, Wave, created an igloo-only menu full of small bites, like flatbread pizza, a pulled-pork mac-n-cheese empanada, and more. Perched alongside the Port Jefferson harborfront, igloos accommodate up to six people and boast a fireplace-style heater, Bluetooth speaker, and quaint decorations. The cost is $150 for 2-hour rentals, plus a $100 minimum food and beverage purchase.
Guests can control their own heaters, lights, and music inside each of the igloos and greenhouses at ITA Kitchen. Serving up innovative, Italian-American fare, this eatery is located in the heart of the town's village. There is no fee/minimum Monday through Thursday in all units, however Friday through Sunday reservations start at $150
Photos courtesy of the restaurants