Gluten-Free/Allergy-Friendly Places for Tasty Eats in Connecticut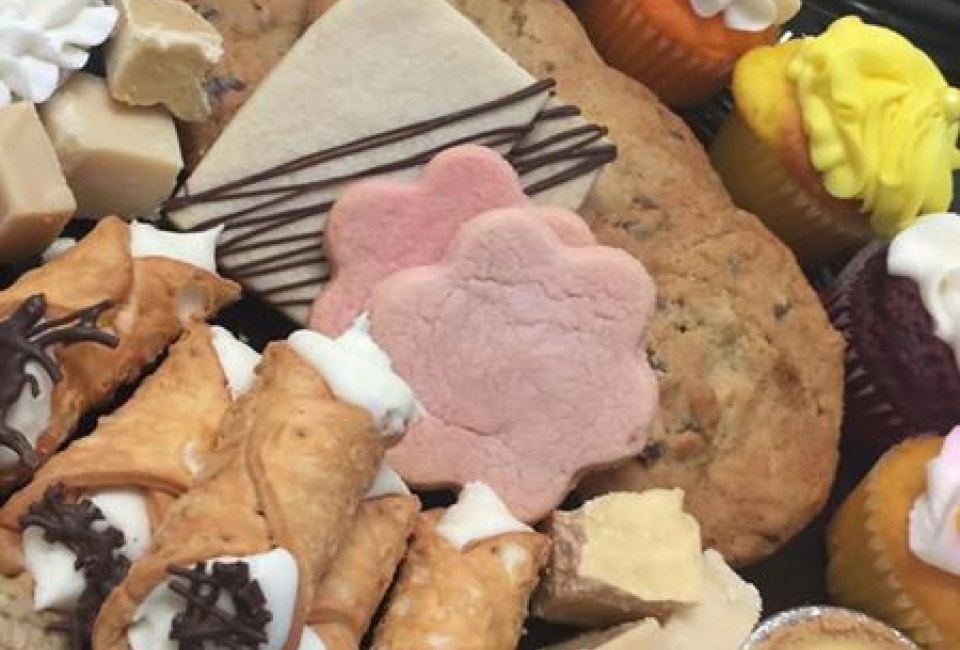 1/14/17
- By
Erin McNamee
Going out to eat should not be stressful, but when someone in your family has a food sensitivity or even worse, allergy, it can feel like more of a chore than a pleasant experience.
This list includes places to grab food in Connecticut that are both kid and allergy friendly. We've also made special note of those that are 100% gluten-free or have a dedicated fryer to prevent cross-contamination. With a little planning, you should be able to find a restaurant that everyone in your family can enjoy! Note: always speak up about your allergies right away to make sure an establishment can cater to your needs.
Sweet Beet - Granby
When it comes to healthy eating it doesn't get much better than the Sweet Beet in Granby. The entire shop is gluten-free, vegan, dairy-free, egg-free, soy-free, peanut-free, and nonGMO. Coolers are stocked with grab-and-go meals that you can bring home or that the staff will heat up for you to enjoy there. Enjoy paleo-friendly soups, made-to-order salads, and meals such as cottage pie (vegan shepherd's pie) and rutabaga lasagna with nut-free pesto and house-made vegan ricotta. Kids also love to pick out desserts from the bakery case.
498 Salmon Brook Street, Granby, CT 06035 860-653-2338
Divine Treasures - Manchester
Vegan chocolates and treats. They make non-dairy cheeses too made from soy and nuts! Professional Chocolatiers work on-site. None of their products are made with dairy milk - although some are manufactured in Europe with milk chocolate. Cross contamination is an issue for peanut and tree nuts. Check out their website to see photos of all their products.
404 Middle Turnpike West, Manchester, CT 06040 860-643-2552
Maggie McFly's, Manchester and Glastonbury
Maggie McFly's is a kid-friendly chain that offers a variety of foods for those with dietary restrictions. The menu notes gluten-free items and specifies that a dedicated fryer is used to avoid cross-contamination. Kids can find gluten-free versions of chicken tenders, pizza, pasta, burgers, grilled chicken dinner, and cheesebread rolls. The main menu also contains an extensive selection of gluten-free items including specialty pizzas and burgers.
194 Buckland Hills Drive #1023, Manchester, CT 06042 860-432-8255
40 Glastonbury Boulevard, Glastonbury, CT 06033 860-633-1104
Burton's Grill, South Windsor
Burton's Grill in South Windsor offers a more sophisticated dining experience but is still appropriate for kids. The menu already offers a large variety of items that are naturally gluten-free and that can be modified to be gluten-free. Servers and chefs are trained in handling dietary restrictions; notify them of any sensitivities and extra care will be taken when preparing the meal. Burton's also has the B Choosy Kids Menu in which kids put together their meal by choosing a protein and its preparation, and then 4 sides from any of the 4 categories (grains, fruits, vegetables, and dairy). This does not include drink or dessert.
Promenade Shops at Evergreen Walk, 100 Evergreen Way, South Windsor, CT 06074 860-432-4575
Backstage Pizza, West Hartford
For a gluten-free pizza night, check out Backstage Pizza, tucked into the shops of West Hartford Center. The small outdoors patio is fun for families on a warm evening (there is also limited indoor seating). The thin crust pies are available with a certified gluten-free crust as well as vegan faux meat options. Gluten-free beer and vegan wine options for grown-ups and gluten-free and vegan cookies for dessert round out the meal.
968 1/2 Farmington Avenue, West Hartford, CT 06107 860-232-2228
Bartaco, West Hartford
For the adventurous child, check out Bartaco in West Hartford. The entire menu is gluten-free unless noted otherwise, leaving a great variety to choose from. Will your child eat wild boar or ceviche? If not, have no fear -- there are also simple tacos that should do the job. Order a bunch of small plates and enjoy sampling the creative Mexican cuisine without fear. While Bartaco is open late night, the lunch and early dinner crowd is family-friendly.
971 Farmington Avenue, West Hartford, CT 06107 860-586-8226
P.F. Chang's, Farmington
Dining at a Chinese restaurant can be tricky for someone with gluten intolerance because gluten is lurking in most soy sauces. P.F. Chang's, however, has an extensive gluten-free menu for when you want your Asian fix. Food is prepared in a separate area of the kitchen with utensils and woks used only for gluten-free food preparation and served on a special plate with the P.F. Chang logo so that you know it was specially prepared.
West Farms Mall, 322 West Farms Mall Space F226, Farmington, CT 06032 860-561-0097
Dee's One Smart Cookie, Glastonbury
Before food intolerances and allergies were well-known, Dee's was leading the way, offering baked goods free of gluten and major allergens in a dedicated gluten-free, soy-free, peanut-free and tree nut-free facility. Most items are also dairy-free, egg-free, and vegan. Cake, cupcakes, breads, muffins, cookies, doughnuts, bagels -- if it's a baked good, it's here in gluten-free form. Dee's also sells a wide variety of gluten-free pastas, flat-bread pizzas, and granola. Pick up goodies directly from the bakery or special order a cake for your special occasion. Orders can be customized to accommodate additional allergies/dietary requests.
398 Hebron Avenue, Glastonbury, CT 06033 860-633-8000
Moneta Moments Bakery - Windsor
Celebrating their 5th anniversary, Diane's granddaughter suffers from many food allergies. So she and her daughter Veronica turned to baking and creating many allergen friendly tasty treats. Her full time focus is offering delicious 100 percent peanut and nut free cookies, cakes, pies, cupcakes, and other amazing desserts. Upon request, the bakery will also create items excluding other allergens.
1077 Palisado Avenue, Windsor, CT 06095 860-298-0202
Pure Love Gluten Free Bakery - Avon
Come and get tasty treats from a fully certified gluten-free bakery. About 75 percent of their offerings are also vegan and soy-free and as well as some nut-free items. They offer English muffins, rolls, pizza dough and baked goods as well as locally made products.
136 Simsbury Road, Avon, CT 06001 860-409-0302
It's Only Natural Restaurant - Middletown
Is your family Vegan? Voted Connecticut's Best Vegan Restaurant every year since 1992, this restaurant is located in the heart of Middletown. ION offers great items for kids like vegan Shepherd's Pie, Lasagna and Cheese Quesadillas. They do use gluten, soy and nut items on their menu.
606 Main Street, Middletown, CT 06457 860-346-9210
Gluten Free Oasis Bakery - Brookfield
FO offers baked goods, breakfast and lunch Monday through Friday and Saturdays too. Specializing in breads, their menu includes cheese breads, rolls, breakfast sandwiches and an assortment of lunches. You can even buy frozen and ready to bake items to bring home. Their store front location is 100 percent gluten free!
594 Federal Road, Brookfield, CT 06804 203-885-0314
Claire's Corner Copia - New Haven
Well established vegetarian restaurant in business since 1975, offers customers organic, gluten-free and even kosher meals. Bring your kids in for a real New Haven experience that includes a fruit smoothie or a yogurt parfait. For dessert, try a gluten-free vanilla or chocolate cupcake!
1000 Chapel Street, New Haven, CT 06510 203-562-3888
Fragrant Basil Juice Cafe - Norwalk
Gluten free, dairy free smoothies are available at this colorful, fun cafe. Lots of fresh ingredients on site and many different smoothies and meals to choose from. They serve breakfast and lunch and also provide a children's menu which offers things like vegan cheese, homemade almond butter, and organic chocolate.
11 Main Street, Norwalk Connecticut 06851 203-939-1440
Georgie's Diner - West Haven and Shoreline Diner - Guilford
Georgie's Diner and their sister location, the Shoreline Diner, offer vegan, gluten-free classics. Try the butternut squash and tofu or maybe the gluten-free french toast. Kids will love the Nutella GF french toast or the sweet potato fries.
42 Elm Street, West Haven, CT 06516 203-933-1000
345 Boston Post Road, Guilford, CT 06437 203-458-7380
Originally published: 6-4-2015
Photo Credit: Moneta Moments
Sign up for the Mommy Poppins Newsletter today!