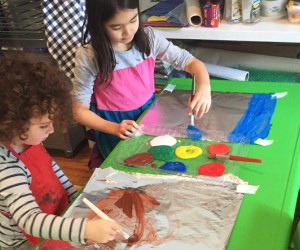 Giocare Play Spot: New Kid Playroom Opens in South Park Slope
We love checking out NYC's newest and coolest indoor play areas, so we couldn't wait to drop in to the recently opened Giocare Play Spot in South Park Slope, Brooklyn. Catering to infants, toddlers and preschoolers, Giocare offers drop-in play sessions, classes, storytimes and more.
We've got the scoop on Giocare and everything you need to know before you go—just in time for an NYC winter when we're all looking for new boredom-busting play ideas.
Giocare Play Spot was conceived by local mom and early childhood educator, Ellen Grayce Cerniglia. Pronounced "Joh-KAH-reh," Giocare stems from an Italian verb meaning 'be at play.' Inspired by her belief that children learn best through unstructured free play, Cerniglia told us she opened Giocare late last year to give local neighborhood families a place where kids can safely play and explore. She also runs a preschool and a summer camp program.

RELATED: Brooklyn Play Spaces and Kiddie Gyms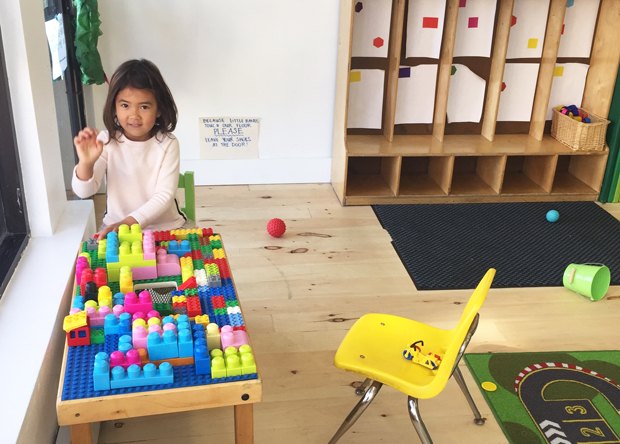 Free play includes building blocks and Duplos.

The play area is located on the first floor of a three-story mixed-use building. Encompassing 1,000 square feet, Giocare is on the smaller side, but kids will find lots to do. The play area consists of one large, bright room with toys and books laid out along the perimeter. Here kids busy themselves with books, musical toys, blocks, trains and cars.
RELATED: Brooklyn's Best Drop-In Storytimes for Babies and Kids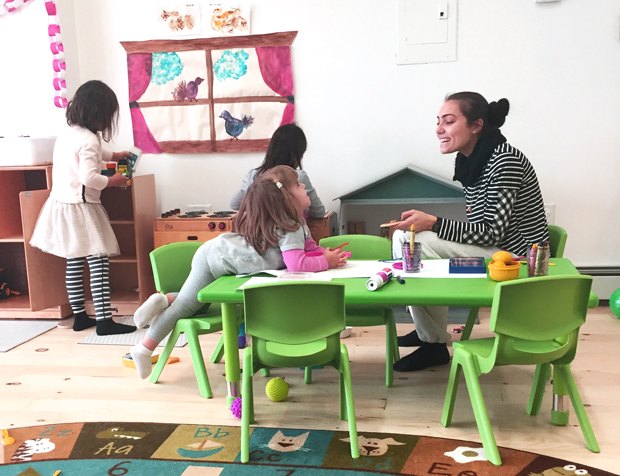 Kids stay busy in the kitchen and creating art.

A dedicated art area with various craft supplies and a small kitchen set in the back round out the space. Take full advantage of the art space during drop-in art sessions when an art teacher leads kids in guided art projects, which are often showcased later on the studio walls.
Giocare also offers drop-in sessions for a story hour, weekday drop-in play just for toddlers and a whole host of classes. Drop-in play starts at just $10 per session, a bargain compared to the going rate at fancier indoor playgrounds for tots.
A number of classes are also offered, including On The Move Baby Time, Walkers Time, Step Up To Preschool, music and a bilingual musical class. Check the website for classes offered, full schedule and pricing. It also rents its play space for weekend activities and birthday parties.
While my 5- and 7-year-olds had no trouble finding toys to play with, the sweet spot is really from ages 0-5. Giocare is considering expanding with afternoon and weekend drop-in hours to accommodate older children.
Visiting Tips
Giocare offers stroller parking outside the entrance, within a fenced-in area.

Small cubbies are located just inside the entrance, perfect for storing shoes, coats and bags.

Two bathrooms are available and a changing table is located in the corner of the playroom.

Giocare does not have snacks or drinks available to little ones, but parents enjoy complimentary coffee and tea.
Giocare is located at 655 6th Avenue, on the corner of 18th Street in South Park Slope. The closest subway stop is probably the 15th Street F/G at Prospect Park, but locals may prefer the 7th or 5th Avenue buses—​or a stroller walk.
Top photo: Creating masterpieces on tinfoil. All photos by the author.