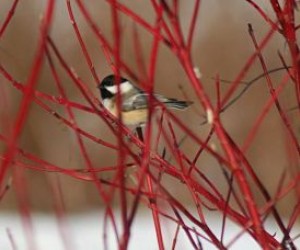 Free Snow-packed Family Fun: 6 Creative Ideas for Boston Families
Local mom and "Outdoors with Kids Boston" guidebook author, Kim Foley MacKinnon, shares her best family outing tips and picks with you as part of our guest blog series with the Appalachian Mountain Club's Kids Outdoors Boston free online community.
There's no need to look farther than a neighborhood park or your own backyard for free snowy family fun. With a few supplies you probably already have in your house, you can offer up any number of ideas for winter days when the kids can't come up with their own entertainment.
Familiar Places, Transformed
I'm a big fan of looking at everyday places in a new light. Once everything is covered in snow, it's a whole new world out there.
The "same, old" playground is a winter wonderland when the slide is covered in snow and jumping off the swings lands you in big piles of snow.
Turn your backyard (or, better yet, an open public space like a baseball field) into a snow maze. Gather buckets, bins, and other containers to make snow "bricks" or to dig out tunnels. More likely than not, once other kids see what's happening, they'll want to join in to make it even more elaborate. When that happens, your job is done. Get the hot chocolate ready for when they come inside hours later.
Animal Adventures
Not all animals hibernate in winter. It can be fun to see what creatures come out when it's cold.
Fresh snowfall is perfect for looking for animal tracks, even if you live in the heart of the city. Head to a local park right after a snowfall to look for animal tracks. For more tips on tracking, see Stories in the Snow: Tracking for Kids.
It can be easier to spot birds in winter, when the trees are bare. To lure birds to your backyard, and to help out our feathered friends, make a simple pine cone birdfeeder with peanut butter and birdseed. Encourage the kids to keep a journal to keep track of what they see.
The Snow Games
Are your kids fans of The Hunger Games series? Even they haven't read the books or seen the movies, they probably know that competition plays a big part in the story line. Create your own—less lethal—winter games. Start with these ideas, and in no time, the kids will come up with more challenges.
Forget the bows and arrows. See who can throw snowballs the farthest or hit a tree with a snowball the most accurately.
Snow bowling can be quite entertaining. Fill up old plastic bottles with water to make pins and have the kids throw snowballs at them to see who can knock the most over.
Read more ideas from other AMC experts in 12 Great Outdoor Winter Activities for Kids.
Kim Foley MacKinnon is a Boston-based editor, journalist, travel writer—and mom. She writes the Kids Outdoors Boston blog for the Appalachian Mountain Club and contributes to the Boston Globe, AAA Horizons, Boston Parents Paper, and many other publications.