Top 10 Boston-Area Nature Centers for Young Children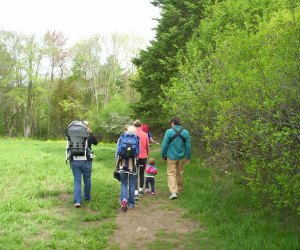 Local mom and "Outdoors with Kids Boston" guidebook author, Kim Foley MacKinnon, shares her best family outing tips and picks with you as part of our guest blog series with the Appalachian Mountain Club's Kids Outdoors Boston free online community.
Young children are insatiably curious, and nature centers offer a great way to indulge their interest about the world around them. From birding kits to aquariums, to nature-themed games and special programs, several Boston-area centers have plenty to keep youngsters engaged. Here's our pick of the top ten within an hour or so of the city.
Boston Nature Center and Wildlife Sanctuary
Displays about the animals and birds in the area are located inside. Borrow a birding kit, which includes binoculars, bird guidebooks, and a list of common birds found at the center. Two miles of trails are easy to navigate and range from grassy meadows to boardwalks through wetlands.
Habitat Education Center and Wildlife Sanctuary
Staffers and volunteers go out of their way to be helpful and informative at this sanctuary. Pick up a Discovery Booklet, which has a scavenger hunt and some other activities to engage children.
Broadmoor Wildlife Sanctuary
At Broadmoor, you can learn about the building's green features, including solar panels for electricity and composting toilets. The All Persons Trail, a 430-foot-long boardwalk along Indian Brook and over a marsh is great for spotting turtles, geese, frogs, and other wildlife.
Moose Hill Wildlife Sanctuary
Not only is this the Mass Audubon's oldest and largest wildlife sanctuary, it's also home to a nature center art gallery which hosts nature-inspired exhibits. The one-mile Billings Loop, which takes you by a sugar shack, fields, and the forest, is a perfect toddler hike.
Stony Brook Wildlife Sanctuary
Highlights include natural history exhibits, a nature play area with unique structures for climbing, hiding, and free play, plus native butterfly and bird gardens that surround the nature center.
South Shore Natural Science Center
Interactive exhibits focus on southeastern Massachusetts's wetlands, woodlands, and meadows ecosystems. Kids love the live turtles and frogs, and a tunnel underneath the turtle pond exhibit allows kids to crawl through, peer up at turtles from below, and watch them swimming.
Wellfleet Bay Wildlife Sanctuary
Exhibits include two 700-gallon aquariums with displays revealing the underwater worlds of the salt marsh and the tidal flats, plus animal and plant exhibits, puzzles, and books about Cape Cod. A number of naturalist programs are offered for children.
Ipswich River Wildlife Sanctuary
Inside the nature center, spend time watching birds at the outside feeders through a giant glass window. Outside, the Rockery Trail, part of an arboretum built in the 1900s, is composed of huge boulders. Tunnels, staircases, and bridges await exploration.
Joppa Flats Education Center
A children's education room, marine touch tanks, butterfly gardens, and interpretive displays offer a great overview of the region. The two-story center sits right on the banks of the Merrimack River, surrounded by salt marshes, mudflats, rivers, bays, and coastal waters.
Broad Meadow Brook Conservation Center and Wildlife Sanctuary
This excellent visitor center boasts several interpretive exhibits. Outside, a tiny Frog Pond is the perfect place to look for frogs, and a play area features swings and seats cut from logs that are a big draw for kids.
---
Kim Foley MacKinnon is a Boston-based editor, journalist, travel writer—and mom. She writes the Kids Outdoors Boston blog for the Appalachian Mountain Club and contributes to the Boston Globe, AAA Horizons, Boston Parents Paper, and many other publications.