Winter Coasters and Zip Lines in New England for Chilly Family Thrills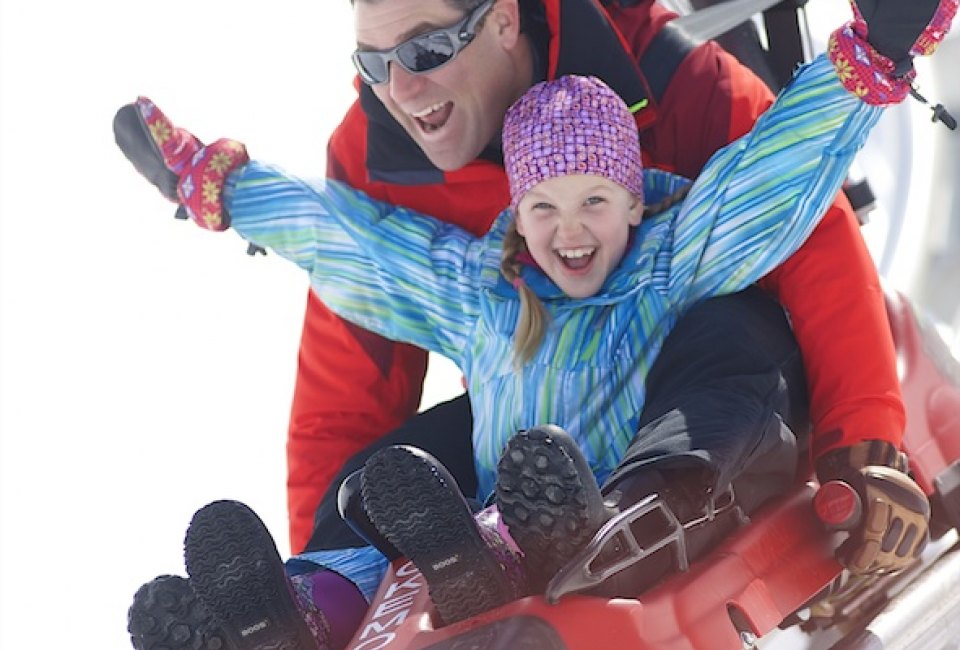 11/25/14
- By
AMC Boston
Local mom and "Outdoors with Kids Boston" guidebook author, Kim Foley MacKinnon, shares her best family outing tips and picks with you as part of our guest blog series with the Appalachian Mountain Club's Kids Outdoors Boston free online community.
There are many ways for young speed demons to get a rush outdoors in winter, from racing down mountains on skis to sledding down the highest hills around on snow tubes. But for kids looking for both speed and height, winter coasters and zip lines at several New England resorts offer some fast, chilly thrills. Make sure to call in advance as rides often depend upon weather conditions.
Massachusetts
Jiminy Peak Mountain Coaster
Jiminy Peak Resort's Mountain Coaster offers 3,600 feet of twisting, turning tracks that run through the woods. You control your own speed so you can go as slow or as fast you like, with speeds reaching up to 23 mph. Kids as young as 3 (and 38 inches tall) can ride with an adult; kids ages 9 and above (and at least 54 inches tall) can ride alone.
---
Vermont
Smugglers' Notch ArborTrek
The zip line canopy tour at Smugglers' Notch is composed of a series of zip lines, suspension bridges, and rappels that take you through the scenic Green Mountains. Two guides lead small groups through the course and talk about the local ecology and natural history, which is a nice bonus. Kids must be at least 8 years old and weigh more than 70 pounds.
Okemo Timber Ripper Mountain Coaster
The Timber Ripper at Okemo (pictured) takes riders through alpine forests and along the contours of the mountain at Okemo's Jackson Gore. You can control the speed after an initial 5-minute, 1,600-foot climb, which is followed by a 375 vertical-foot descent along 3,100 feet of track with speeds of up to 25 mph. Drivers must be 48 inches or taller; riders must be 36 inches or taller.
---
New Hampshire
Cranmore Mountain Coaster and Soaring Eagle Zipline
Cranmore Mountain Resort boasts both a mountain coaster and a zip line. The coaster lets you race along at speeds up to 25 mph, while the Soaring Eagle zip line makes you feel like you can fly while you zip 700 feet down the mountainside on a suspended cable. Side-by-side seats let you ride together. Children as young as age 3 can ride with an adult on the coaster; they must be at least 42 inches tall to go on the zip line.
Bretton Woods Canopy Tour
For families with kids ages 12 and up, this three-hour trek takes nature-lovers and thrill-seekers across a series of tree-top zip lines through a network of platforms high in the ancient hemlocks. The unique canopy tour features a dual-cable construction (you slide below two separate cables instead of just one), coated cables (to make for a quiet, more natural flight through the trees) and platforms and bridges milled from locally-harvested wood sources. On the tour, two guides describe the native flora and fauna, the surrounding area, its natural history and White Mountain lore.
---
Kim Foley MacKinnon is a Boston-based editor, journalist, travel writer —and mom. She writes the Kids Outdoors Boston blog for the Appalachian Mountain Club and contributes to the Boston Globe, AAA Horizons, Boston Parents Paper, and many other publications.
Photo courtesy of Okemo
Click Here to Sign Up!