Five Picks for Kid-Friendly Biking Trails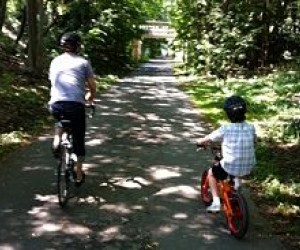 Local mom and "Outdoors with Kids Boston" guidebook author, Kim Foley MacKinnon, shares her best family outing tips and picks with you as part of our guest blog series with the Appalachian Mountain Club's Kids Outdoors Boston free online community.
This is a gorgeous time of year to take a family bike ride, which is even more enjoyable when you don't have to worry (too much) about traffic and other distractions on the road. Here are five top-notch places to take the kids, whether they are on a trail-a-long bike, using training wheels, or biking on their own.
The Nashua River Rail Trail offers 11 miles to bike with some great views. The 10-foot-wide paved trail mostly follows the lines of the river and passes through the towns of Ayer, Groton, Pepperell, and Dunstable. The trail is built along the site of former railroad tracks that ran between Worcester and Nashua. Along the route, you'll see wetlands, ponds, woods, swamps, and farms, as well as plenty of resting stops.
The Minuteman Bikeway runs from the end of the Red Line subway in Cambridge to picturesque, small-town Bedford. It's also 11 miles long, but is 12 feet wide (also paved).
It runs through Cambridge, Arlington, Lexington, and Bedford. You can gain access to the bikeway at several locations, but the end points are Alewife Station in Cambridge and Depot Park in Bedford.
Breakheart Reservation in ­­­­­­­­­­­­Saugus has more than two dozen trails on its 700-plus acres. The five-mile paved loop road goes around the park and offers a wonderful and safe place for kids to ride their bikes. (At one point, the roads were open to cars, but only rangers can use cars now.) There are plenty of places for a picnic and a great playground by the lake.
Borderland State Park in North Easton is a 1,800-acre recreational wonderland, with opportunities to bike on extensive trails. The three-mile pond loop is perfect for family biking. The property was once a country estate in the 1900s and gets its name from its location straddling the towns of Sharon and Easton.
Wompatuck State Park in Hingham is a fantastic place to take kids bike riding. Twelve miles of paved bicycle trails, in addition to miles of wooded bridle paths and hiking trails, offer lots of riding options. Kids will love to visit the Mount Blue Spring, a source of fresh drinking water where you can fill up your water containers for free.
---
Kim Foley MacKinnon is a Boston-based editor, journalist, travel writer—and mom. She writes the Kids Outdoors Boston blog for the Appalachian Mountain Club and contributes to the Boston Globe, AAA Horizons, Boston Parents Paper, and many other publications.