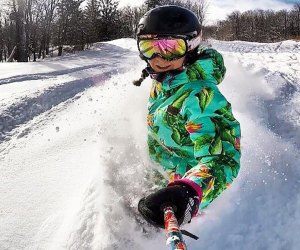 Free and Cheap Kids' Ski Programs in the Northeast This Winter
Let's face facts: No matter how exhilarating skiing and snowboarding are, they are also among the most expensive activities in which a family can participate—especially if your kids take a single run and spend the rest of the day sipping cocoa.
Thankfully, many nearby state ski associations offer free or mostly free lift tickets to grade-schoolers, even if you're not a resident of that state. Of course, there are hurdles to clear to get those benefits—kids need to be the appropriate age, apply online and, in some cases, be accompanied by a paying adult. There are also "processing fees" attached to several, but it breaks down to a very discounted ticket if you use it more than once. But for avid skiers and riders, or those who merely want to try out the sports, these programs can save you plenty of cash when skiing with the kids.
Read on for more information on how to ski for free in New York, Pennsylvania, Vermont, Massachusetts, and New Hampshire. (Note: Connecticut has a residents-only program for free ski passes for kids at Mohawk Mountain.)
Check our Ski and Snow Sports Guide for more fun on local hills and mountains.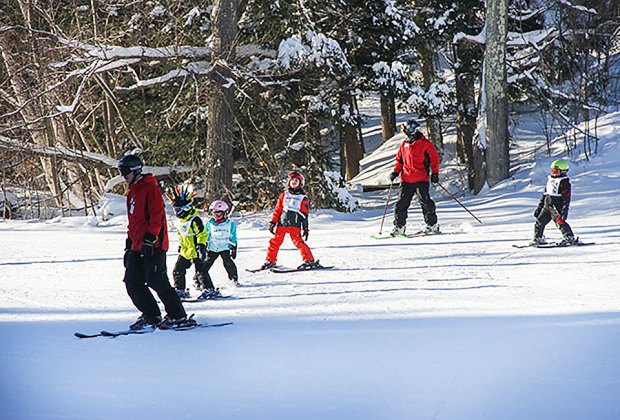 Kids can take a ski lesson while the adults ski or relax. Photo courtesy of Windham Mountain
ISKINY Free For Kids — New York
ISKINY, an association of ski areas in New York state, offers two passport programs for third- and fourth-graders that are accepted at over 20 resorts in the state, including favorite local haunts such as Windham Mountain, Mount Peter and Bellyeare. Applications are accepted online and via mail and must be accompanied by a current report card. Kids can apply for both passports, but there is a one-time fee of $27 for each.
The Free for Kids Passport enables kids to ski or ride free as long as they are accompanied by a paying adult. The passport can be used up to three times per season at each participating resort.
The Learn to Ski and Ride Passport is for first-timers and includes free equipment rentals, beginner lift tickets and a lesson in snowboarding or skiing without the purchase of an adult lift ticket.
NY Bonus: January 18, 2018 is Discover NY Ski Day. Although details weren't available yet, you can expect discounted tickets and learn to ski and snowboard packages from participating resorts.
Fourth- and Fifth-grade Snowpass — Pennsylvania
Fourth- and fifth-graders can apply for a snowpass that gives them one free learn-to-ride or learn-to-ski package, plus up to three free lift tickets to use when accompanied by a paying adult at 20 Pennsylvania Ski Area Association resorts, including the weekend-trip-worthy Camelback Mountain Resort and Big Boulder in the Poconos. The snowpass also gives the holder 50 percent off a learning pack, with a lift ticket, equipment rental and lessons for one accompanying adult. Applications are accepted online and via the mail and must include a current report card or school ID, along with a color photo of the child. Passes cost $35 and supplies are limited.
PA Bonus: For those not in fourth or fifth grades, Ski PA has a $59 first-time voucher available for purchase online that includes a lift ticket, beginner group lesson and rental equipment.
4th- and 5th-Grade Snowsports Passport — New Hampshire
The Granite State is a longer but worthwhile trip for great skiing and boarding. This passport offers one lift ticket or alpine trail pass at dozens of ski resorts and cross-country skiing centers, plus additional discounts and freebies for the pass holder, ranging from free and discounted lift tickets to lessons and rentals for accompanying parents and siblings. The passport costs $35 and can be applied for online or through the mail. It must be accompanied by either a report card or letter from the school proving the child's grade.
RELATED: Catch Some Air at These Snowboard Parks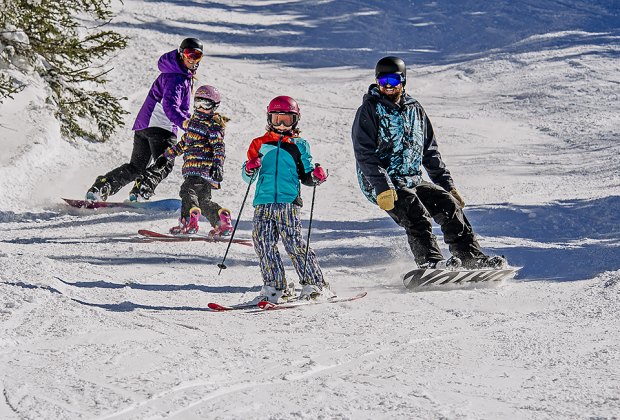 Get the whole family skiing and get big savings with the passport deal for fifth-graders. Photo courtesy of Smugglers' Notch
Fifth-Grade Passport — Vermont
Fifth-graders can apply for three lift tickets and up to three trail passes at participating centers and ski resorts in Vermont when accompanied by a paying adult. Resorts include some of our favorite Green State spots, including Smugglers' Notch and Stratton Mountain Resort. Applications must be completed online or via the mail and include a copy of the child's birth certificate or school report card.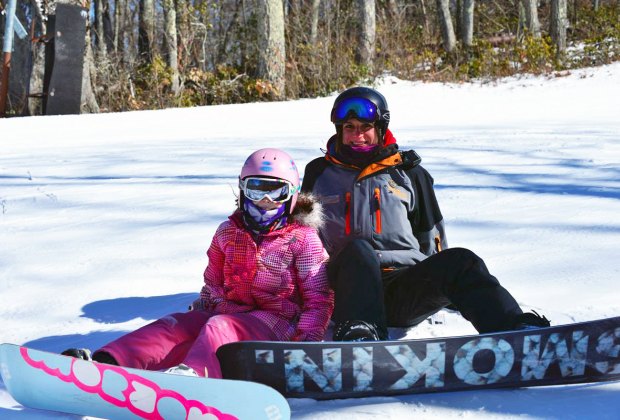 Can't beat the buy one lift ticket, get one free for your fifth grader deal at Ski Butternut. Photo courtesy of Ski Butternut
Buy One & Your 5th Grader Skis Free —​ Massachusetts
Fifth graders can receive a free lift ticket at Ski Butternut in Great Barrington when accompanied by a paying adult. Bring your child and report card to the main office, and he or she will be given an ID card to be used whenever you want to take advantage of the deal. There is a one-time $20 processing fee.
The Fine Print
You can order most of these passports or snowpasses at any time during the season, even now, but next year consider planning ahead. Quantities are limited, and some state associations offer discounts when you buy further in advance—and you'll get more free days on the mountain.
In some cases, your child will receive a card or booklet from the ski association. Don't lose it. These must be shown at the mountain to receive the free lift ticket.
Many ski spots outside of the Northeast have similar programs. It's worth a quick online search before heading out of the region.
Top photo courtesy of Stratton Mountain Resort