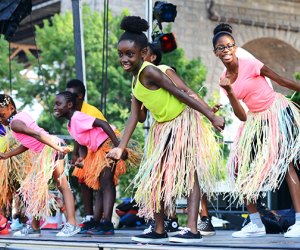 14 Free Concerts for NYC Kids This July
Thought there were a lot of FREE family concerts in June? Well, NYC's no-cost kiddie music scene really heats up as summer continues. For July, we've rounded up 14 complimentary concerts for families that are worth the time, energy, and effort. The entertainers range from big names to local bands who reflect the diversity of our city.
Most of these performances take place in NYC's attraction-filled parks, meaning you can make a day out of it. So pack a picnic, stake out a spot, lay down a blanket, and soak up some no-cost culture. You can find more family fun in our jam-packed Summer Guide or our list of 100 Free Things To Do This Summer in NYC.
Click through to our listings for all the details, including times, locations and recommended ages.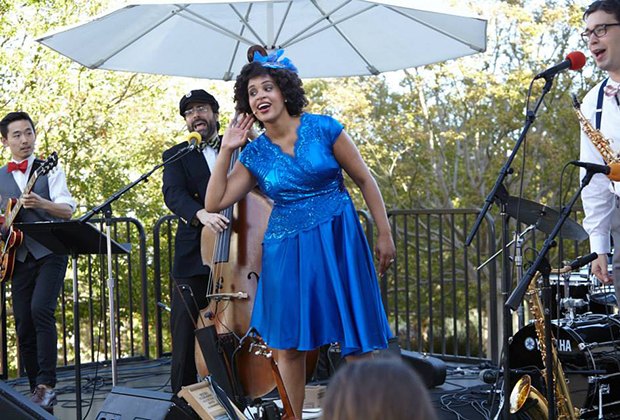 Jazzy Ash & the Leaping Lizards bring upbeat jazz to tots. Photo courtesy of the band.
Jazzy Ash & the Leaping Lizards at Mad. Sq. Kids – Flatiron District
Thursday, July 7
Join the New Orleans-style jazz band for an upbeat concert on the Farragut Lawn. Afterward, hit the park's popular playground and enjoy self-guided activities organized in six Madison Square Park themes: Art in the Park, Science and Nature, Playground Adventure, Stepping Through Time, Park Patrol, and Lawn Games. FREE
FAB Kids Concerts: Moozika – Downtown Brooklyn
Friday, July 8
Join Moozika for a funky, fun sound to kick off your Friday. The concert will be held in Putnam Triangle Plaza. Expect fans young and old to get up and groove. FREE
Rolie Polie Guacamole – Downtown Brooklyn
Saturday, July 9
Its name may sound goofy, but Rolie Polie Guacamole is serious about making quality kids' music. Enjoy whimsical, NYC-centric songs such as "Don't Poop on Me Pigeon" and "Botanic Garden" that fuse folk, classic rock and ska. A face painter and balloon artist will be on hand. Stick around after the concert to peruse the Albee Square Outdoor Market. FREE
Erin Lee and the Up Past Bedtime Band at Word for Word Kids – Midtown West
Saturday, July 9
Erin Lee and her cohorts have plenty of country rock flavor, with some funk and blues to boot. Catch the band in lovely Bryant Park and afterward go for a spin on the gorgeous carousel. FREE
Astrograss at Music in the Grove: Kids – Fort Greene Park
Wednesday, July 13
Fort Greene Park's concert series hosts Astrograss' acoustic bluegrass sound. Afterward, explore all that the lovely green space has to offer. FREE
SummerStage Family Day in St. Mary's Park – South Bronx
Sunday, July 17
Another SummerStage Kids Family Day, this concert in St. Mary's Park stars the drummers of Legacy Women, indie-pop stars Recess Monkey and Bronx-based Music with a Message. Other entertainment includes Double Dutch Dreamz, a jump-roping session open to anyone willing to learn. FREE
Play Date at Pier Kids – Brooklyn Heights
Sunday, July 17
Hit Brooklyn Bridge Park for a concert by rousing multi-culti band Hot Peas 'N Butter that plays multi-genre tunes for the preschool set. Get a taste of all kinds of music, including Latin, Afro-Caribbean, jazz, folk, and rock. Afterward, be sure to explore the Pier 6 playground. FREE
RELATED: Free Outdoor Movies This July in New York City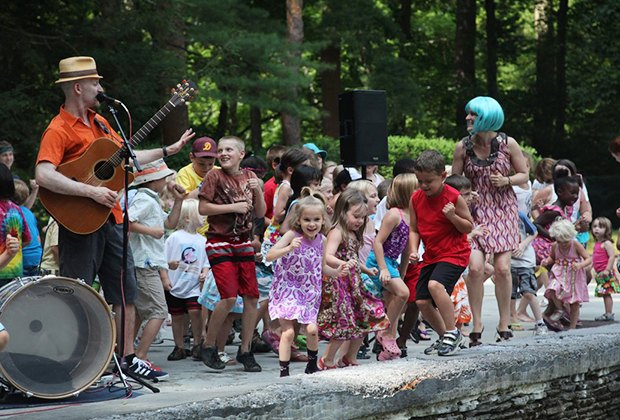 Mister G. keeps the kiddos grooving. Photo courtesy of the band.
Mister G at Hudson RiverKids – Tribeca
Monday, July 18
FREE
Latin Grammy winner Mister G. brings his bilingual rock to Pier 25's weekly series. Arrive early to enjoy all that Pier 25 has to offer, including a state-of-the-art playground and a mini-golf course. FREE
The Deedle Deedle Dees at Summer on the Hudson – Upper West Side
Thursday, July 21
FREE
Pier I's Children's Performance Series in Riverside Park South hosts The Deedle Deedle Dees and their eclectic, educational music. FREE
Morgan Taylor at Summer in the Square – Union Square
Thursday, July 21
Head to Union Square Park for a set by Morgan Taylor, who plays the infectious tunes of Gustafer Yellowgold. Arrive early for Yoga Storytime with Karma Kids and stick around to romp in the destination playground. FREE
Summer Stage Kids at Brower Park – Crown Heights
Friday, July 22
Join Preschool of Rock founder Michael Napolitano on a musical journey. During this concert, Napolitano invites little music lovers on a voyage complete with sea creatures and pirates. FREE
The Girl Group Project at Lincoln Center Out of Doors Family Day – Upper West Side
Saturday, July 23
The main event for kids during Lincoln Center's 2½-week Out of Doors fest, Family Day features a day of alfresco activities. Dancers young and old perform all day. Also, head to Josie Robertson Plaza at 3pm for a special girl-powered concert that marries the tunes of 1960s' girl groups with some of their original performers and stars of tomorrow: girls 12-18 who took a 15-week class to learn how to croon like their predecessors. FREE
RELATED: Beaches, Pools, Water Playgrounds and Water Parks Guide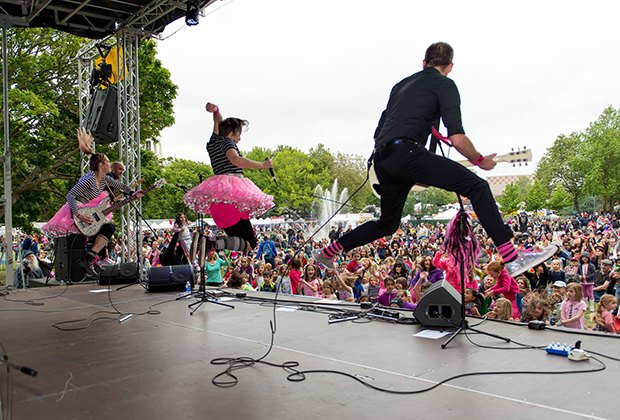 The Not-Its bring their Seattle tunes to Madison Square Park. Photo by Aliak Jenner/courtesy of the band.
The Not-Its at Mad. Sq. Kids – Flatiron
Thursday, July 28
Close out the month where you started, with another visit to Madison Square Park's popular concert series. Starring today: The Not-Its, a Seattle-based kindie rock band. FREE
SummerStage Family Day at Queensbridge Park – Long Island City
Sunday, July 31
Another SummerStage Kids Family Day, this time in Queensbridge Park, where jazz pianist Marc Cary leads off the performances. Joseph Webb brings his piece Dancing Buddhas to the stage and jazz vocalist Brianna Thomas sings some tunes. FREE
Be sure to check the New York Parks Department's calendar for even more FREE concert listings.
Top image: Kids perform at SummerStage Family Day at Queensbridge Park. Photo by Aehee Kang Asano/courtesy of SummerStage.