Insider's Guide to Sitka, Alaska: Free and Fun Things to Do in Sitka with Kids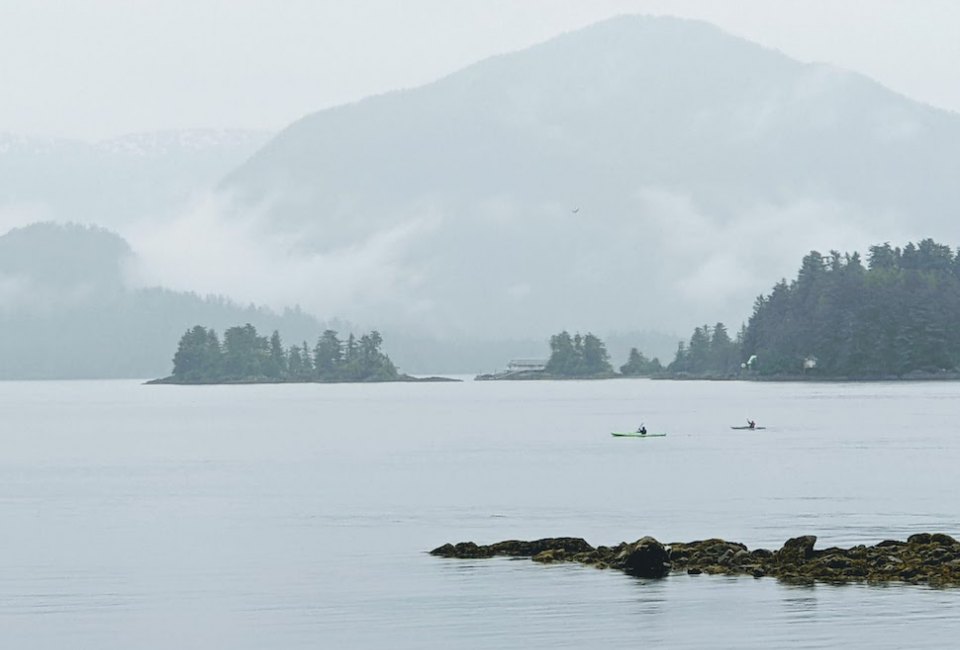 7/31/21
- By
Anna Fader
Whether you're doing an Alaska cruise or individual travel, costs can really add up on a family vacation, especially when traveling in Alaska. Luckily, if you know the area, there are actually plenty of fun and free things to do in Sitka and other SE Alaska cities, as well as affordable eats.
My grandparents moved to Alaska when I was a tot, so even though I'm not a local, I've been visiting Haines and Juneau my whole life. It wasn't until I started bringing my own kids that we started exploring Alaska's tourist attractions and also traveling as a family to other Alaska destinations. This summer we decided to visit Sitka.
Sitka is interesting because it was the center of Russia's American colony before the United States purchased it. This is a chapter of American history that, maybe, gets a paragraph in our history books, so learning about it and seeing it in real life in Sitka is cool. Sitka also has a long tradition of native artisans, an amazing rainforest park with beautiful trails, a gorgeous coast with incredible views and boating options, and is a pretty and very walkable town.
Find more places to explore in our Alaska Family Travel Guide.
The Best Free Things to Do in Sitka with Kids

Behind the visitor center at the Sitka National Historic Park, you might catch master carver Thomas at work.
The number one free thing to do in Sitka is to walk the Totem Trail in the Sitka National Historic Park. The trail is completely flat and even stroller-friendly. It winds through a gorgeous forest, along the waterfront, offering amazing views in all directions. There are 14 totem poles along the route. The park is a pretty 15-minute walk along the waterfront from downtown and the trail is a one mile loop. If little legs get tired there is a public bus that can take you back to town.
There are no plaques explaining the pieces, but you can download the free National Park Service app, which has a self-guided tour with both written and audio descriptions of each totem pole. This is a great way to learn more about the totem poles as you view them.
At the center of the waterfront area, next to the library, is Harrigan Centennial Hall. Check out the giant hand-carved canoe out front for an amazing example of a traditional Haida canoe. Inside you'll find a small visitor center, as well as some great historical photographs.

Check out the massive hand carved canoe outside Harrigan Centennial Hall.
The Sitka History Museum is also in this building. The $5 admission is worth it for an overview of Sitka history, including the transition of Alaska from Russia to the United States, a must-see in my opinion.
The iconic dome is visible from most of Sitka, but it's worth going inside to see the large collections of Russian Orthodox icons, incredible golden altar doors, and other artifacts. It's particularly interesting to see items like the icon of Saint Innocent of Alaska, a painting that includes images of the cathedral you're standing in, as well as sled dogs and other local touches in the Russian orthodox style. Admission is by donation.

The stunning interior of St. Michael's cathedral.
This is one of only four Russian period buildings left in North America,where you can learn more about the period of Russian America and the Russian Orthodox Church in Sitka. You will need free tickets to take a guided tour of the second floor, which is furnished with historic and period pieces.
It seems a bit cruel to name a site Castle Hill and not have a castle or even a castle ruin. A visit to Castle Hill involves a short climb to a park where you'll find some cool cannons, signs about Sitka history, and a nice view. It's considered a top attraction in Sitka, and free, but easily skippable in my opinion.
Sitka has a beautiful public library with a children's department, free wifi, and beautiful views of the bay. A perfect spot if you get caught in the rain, need to check email, or just want a pee break.
Whether you find you need a rain jacket or just like browsing, Tongass Threads is a huge consignment shop right in the middle of town.
A block up the hill is a little resale shop called The White Elephant. Check around the side for the free book exchange. There's a whole shelf of free children's books to keep little ones busy on long boat rides.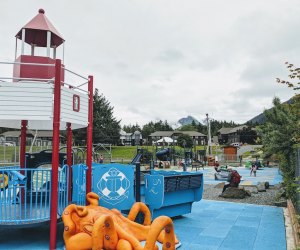 Harbor Crescent Playground has an appropriate nautical theme for its waterfront location.
9. Parks and Playgrounds in Sitka
Crescent Harbor Playground is a lovely waterfront playground at the far end of Crescent Harbor. It has swings, climbing structures and a rubberized surface, making it great for tots as well.
There is another large playground next to the elementary school with entrances on Monastery and Baranof Streets. This one is closer to downtown, but has a gravel surface, so not the best for little ones who might fall and get hurt.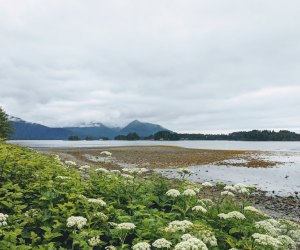 Access rocky beaches along the waterfront to search for crabs, shells and other surprises.
10. Sitka Beaches and Waterfront Park
Along the waterfront, from downtown Sitka all the way to the east end of town, is also a nice sea walk where you'll find whale and seal sculptures for kids to climb on, lots of ravens, and probably eagles. The sea walk also extends out along a stone breakwater into the harbor, which is fun for kids to explore and see all the boats.
Walking along the waterfront, the first beach you'll come to along the waterfront is just past the Sitka Sound Science Center gift shop, where you'll find picnic tables and a path down to a rocky beach. Keep walking toward the Sitka National Historic Park and you'll find more spots where you can climb down to the water to explore for rocks, shells, crabs, and, perhaps, even see sea otters or seals.
11. Hiking with Kids in Sitka
In addition to the Totem Trail there are other easy hikes that kids will enjoy. The easiest one accessible to downtown is the out and back Indian River Trail. While the whole trail is 5 miles long and takes you to a waterfall, you can turn back sooner. The trailhead is about a mile walk from downtown or take the Community RIDE bus from downtown. It runs every 60 minutes, May through September.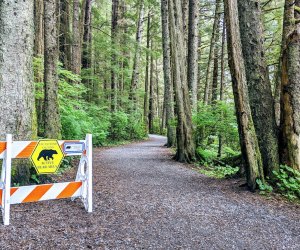 No matter where you hike, make sure you've read about bear safety. (This is the pretty Totem Trail)
Cheap Eats and Great Restaurants in Sitka
Restaurants in Alaska can be shockingly expensive, and I say that coming from NYC. Meat entrees run more than $28 at most restaurants. Luckily, there are several affordable and tasty spots to eat in Sitka.
Pelmeni are Russian dumplings and stopping at Pel' Meni restaurant is one of the things I look forward to when I'm in Juneau, so I was happy to find they have an outpost in Sitka. For $7, you get a small container of meat or potato dumplings, a slice of bread, and you can add on a $1 beverage. I recommend getting all the toppings: curry, hot sauce, butter, and cilantro. It may sound weird, but it works. This is also one of the few affordable spots that is open at dinnertime.

Delicious Russian Dumplings from Pel'Meni cost just $7.
13. Food Carts
There are a handful of food carts along Lincoln Street during the day. Ashmo's is popular for fish tacos and fish and chips. There's a taco truck in the alley near the Sitka Hotel, and Captain JuJu's serves chowder and poke sometimes behind St Michael's Cathedral.
Hidden inside the pharmacy on Lincoln Street, you'll find an old-fashioned soda fountain counter for sundaes, milkshakes, malts, and banana splits.
15. Ludvig's Chowder
The gift shop at the Sitka Sound Science Center has a lunch-only chowder and sandwich stand. Served by Sitka's top restaurant Ludvig's Bistro, Ludvig's Chowder only serves chowder and sandwiches and they often run out early. But it's a great spot to rest and have a snack at the picnic tables after the Totem Trail, museums, or playground at that end of town. Note, the chowder is a bit spicy.
The Backdoor Cafe, my favorite cafe in Sitka, has that warm college town cafe vibe and sells good coffee, pastry, and sandwiches. It also has daily specials, either soup, burritos, pizza, or quiche. It's a little hard to find behind the bookstore on Lincoln Street. Breakfast and lunch only.
The Bayview Pub has many affordable soup, sandwich, and salad options for a lighter and more affordable sit-down dinner option. And the food is good! There's also a children's menu for affordable kid plates. Don't forget to say, 'Hi,' to Maya and Walter the Boxer and Great Dane who wait for their people in a room across from the restaurant entrance. Reservations recommended.
A bit out of town, Campfire Kitchen serves great wood-fired pizzas from the back of the Harbor Mountain Brewing Company. Not open every day and can have long lines when they are, but a good option if you are visiting the Raptor Center or have a car.
Making your own or grabbing prepared food at the grocery is always an affordable option. The Market Center is on Baranof Street just a few blocks from the waterfront.

The Sitka Sound Science Center costs $7 and is mainly this room of touch tanks, plus a Salmon hatchery tour.
20. Free Public Bathrooms in Sitka
If you're traveling with kids, it's always good to know where the bathroom is located! There are free public restrooms at the corner of Lake St. and Lincoln St.
Click Here to Sign Up!
i