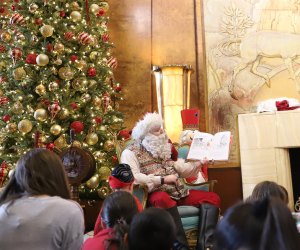 Breakfast with Santa Claus: Where LA Kids Can Share a Meal with Father Christmas
Doing lunch might work for some LA types, but Santa Claus does breakfast. So before you take a train with Santa, see The Nutcracker with Santa, do some holiday shopping with Santa, wave to Santa on a boat, call Santa on the phone, or take funky LA photos with Santa, first you, your kids, AND Santa all need a good breakfast. The holidays are a busy time of year after all.
Most (though not all) of the events below require reservations, and some fill up surprisingly early. It's worth making the effort, though, if for no other reason than to see how good some people's table manners can be when the man at the head of the table is wearing a red suit and wielding a list.
December 7, 2019
Santa Monica Place
Santa holds court—Food Court that is. Candid photos are allowed, and professional shots are available, too. Kids pay $5 and adults are free, but reservations are required.
Rancho Los Alamitos
This one is not only a breakfast—it's a hoedown. Pancakes and pony rides with Mr. & Mrs. Claus will set the family back $20 for kids and $26 for adults. Reservations are required.​
Manhattan Village Mall
At these prices, it's a wonder Santa ever eats anywhere else: Tickets are free for this seasonal treat, held this year at Islands, and are available at the concierge desk.
December 7 & 8, 2019
La Habra Children's Museum
Three different seatings are offered (reservations required) to accommodate all of Santa's friends. Everyone is free to enjoy the galleries afterward. Kids (2+) pay $13, and adults pay $15.
December 7 & 14, 2019

Nordstrom Santa Breakfast
Santa mingles and poses for photos over breakfast at several Nordstrom locations around the Southland. All proceeds go to local children's hospitals.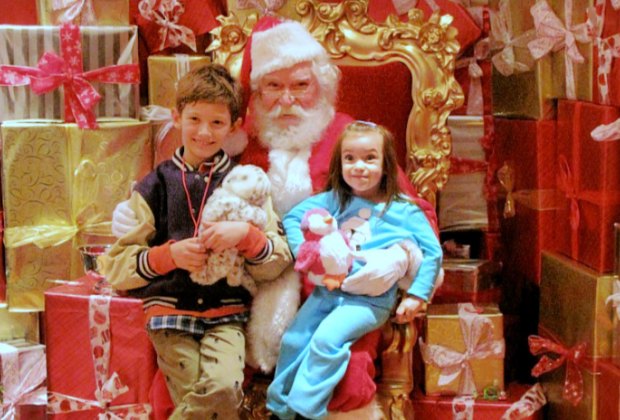 Photo by Mommy Poppins
December 14, 2019
Promenade on the Peninsula, Rolling Hills
Bucking the trend, this holiday breakfast at Good Stuff is free for kids five and under, 6-12 is $5, and adults pay $15.
Malibu City Hall
This one requires no reservation at all; Santa welcomes walk-ups. Tickets cost $5 per person or $15/ for a family of four, and there are two choices for seatings.
​December 7, 14, 21, 2019
Queen Mary, Long Beach
This Santa breakfast repeats Saturdays all season. The up-market setting and meal make this option a little pricer than some ($20-$40) but families can take as many photos as they like of their kids enjoying a relaxing meal with the man of the hour.
Photo courtesy of Terranea Resort
December 15, 2019
Terranea Resort
Join Santa for a lavish buffet breakfast at the scenic Terranea Resort (kids $32, adults $65), complete with multiple food stations, crafts, and Santa photo ops in the ballroom.
December 22, 2019
Kitchen Brunch with Santa
WP24 at the Ritz Carlton at LA Live gets a special visit from Santa, with brunch stations where kids can sip hot cocoa, decorate holiday cookies, and get in those last minute Christmas wishes. Added bonuses include visiting the man of the hour in his giant gingerbread house in the adjacent JW Marriott lobby and skating at the LA Live pop-up rink.
Originally published November 30, 2015