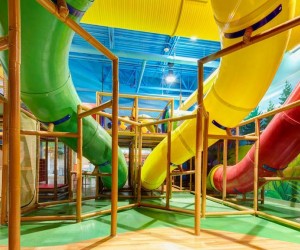 Best Places for Kids and Families to Play and Learn in Nyack
We wrap up our month-long coverage of Nyack with a look at indoor places for kids to play and learn in the area. We've already featured the top 25 things to do and taken a closer look at Palisades Center. Now we turn the spotlight to where to learn and play indoors.
Nyack offers so many fun-filled indoor experiences for kids and families, the onset of cooler weather and subsequent detour from parks and playgrounds is a bit easier to take. Read on for our picks of the best indoor places to play in Nyack.
Palisades Center
1000 Palisades Center Drive
(845) 348-1000
Palisades Center is truly an exceptional place in Nyack--so much so that we dedicated an entire post on what to do with kids besides shopping! From traditional carnival rides (indoors!) to ice skating, and indoor climbing adventure, bowling and the recent addition of Billy Beez, Palisades Center is a one-stop place for fun (and it doesn't hurt that you can cross a few errands off your list while you're there!).
Jill's Ceramics
180 Germonds Road
(845) 623-4975
For keepsakes and memories to last a lifetime, this fantastic shop is the place to bring the kids to explore their creative and artistic sides! The studio has thousands of different ceramic pieces to choose from and paint, including specialty pieces for the holidays and more. With open ceramic hours during the week and weekends (be sure to call ahead for specific hours), birthday parties and group events, it's the perfect place to spend a day indoors with the little ones.
The Nyack Library
59 South Broadway
(845) 358-3370
Nyack's own local library is a fantastic place for learning and fun. Offering children's events and programming such as story time for babies, toddlers and pre-schoolers and special events including homework help, workshops, concerts and more for children up to age 11. There is also a bilingual story time in Spanish for pre-school aged children on Tuesdays. Check out their events calendar to stay up to date on the latest events and activities.
CrossFit Momentum
256 Main Street
(845) 348-1110
This complete health and wellness facility is not just for the grown-ups anymore. Now featuring an entire division devoted to children and their health through a strength and conditioning program specifically designed for kids and teenagers, helping them to develop a lifelong love of fitness. CrossFit Kids offers classes and a summer camp with lessons tailored to each child at every skill level and ability.
Helen Hayes Youth Theater
142 Main Street
(845) 826-2049
Calling all thespians! This youth theater offers year round classes for children and young performers between the ages of 5 and 18, regardless of experience or background. Under the supervision of trained theater professionals, their mission is to not only provide rigorous theater training, but also training in life skills such as public speaking, building confidence and social skills.
Rockland County YMCA
35 South Broadway
(845) 358-0245
Like its many sister branches, the Rockland County YMCA offers a wide range of programs for kids and families. From Family Gym to aquatics, pre-school and after-school programs and more, the YMCA helps keep families stay active and engaged.
Rockland Art Center
27 South Greenbush Road
(845) 358-0877
Rockland Art Center is home to top rated art exhibitions, shows, performances and more. In addition, the Center offers classes for kids beginning as young as 3, spanning in range from cartooning to figure drawing and so much more. Their summer camp program is a great place for artistic children looking to spend their summer honing their skills and exploring their creative sides while schools are closed.
Photo courtesy of Billy Beez.