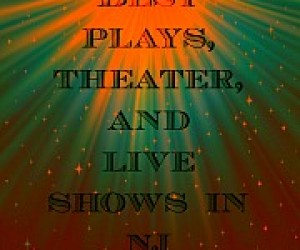 Best Kid Shows in New Jersey April 2014
There are some wonderful, family-friendly theatrical productions coming to a stage near you in April of 2014 in New Jersey. For an afternoon or evening of diversity and culture, check out live shows like Hip Hop Connection, a live performance of Sid the Science Kid, and the 75th anniversary of the film The Wizard of Oz with the New Jersey Symphony Orchestra! There's nothing like seeing theater with the kids in your life:

The classic novel Treasure Island comes to life at the Broadway Theatre of Pitman on Friday, April 11th (at 10:00 a.m.) and Saturday, April 12th at 10:00 a.m. and 1:00 p.m.) Audience members go on a theatrical journey with Jim Hawkins who travels with pirates like Long John Silver in search of Captain Flint's mysterious Pirate Chest. With the help of Billy Bones, they find the coveted island—but who will be first to find the treasure? This musical retelling of Robert Louis Stevenson's classic story is fun, enjoyable, and chock full of adventure—who can resist all that? General Admission tickets for both Friday and Saturday shows can be purchased at the Box Office in advance or the day of the show.

On Saturday, April 12th at 1:00 p.m., at the BergenPAC Hip Hop Connection will be performing as part of the theatre's Kidz Cabaret Series. Join the members of Open Thought accompanied by two professional dancers from Rhythm Impact, as they take audience members on a journey through time, showcasing the roots of Hip-Hop incorporating Jazz, Blues, Soul, Funk and Rock. Kidz Cabaret performances are located in BergenPAC's Drapkin Cabaret & Lounge; the entrance is located in the lobby of the main theater.
Also at the BergenPAC is this month is a production of Sid the Science Kid on Thursday, April 24th at 7:00 p.m. A popular PBS Kids television show produced by The Jim Henson Company, kids and parents alike will be thrilled as Sid, May, Gabriela and Gerald discover the excitement and curiosities of the world! Teacher Susie is along to keep the music flowing as the kids pursue adventure complete with audience interaction, cooperative problem solving, and tons of laughs.

Brad Ross is an award winning, International Star Illusionist who combines magic, illusion, theatricality, comedy and fun into a family friendly experience. On Sunday, April 13th at the Centary Stage Company in Hackettstown, at 2:00 p.m., he'll take the audience on an inspirational journey into a magical world. Expect world class illusions, hysterical comedy, and audience interaction.

At the Papermill Playhouse in Millburn, there are two featured children's shows this month: Charlotte's Web and Seussical. Based on the classic story by E.B. White about a sassy spider who befriends a bashful piglet, Charlotte's Web runs on Saturday, April 26th at 10:00 a.m. Suessical, a musical based on the literary works of Dr. Suess featuring "The Cat in the Hat", will be performed on Sunday the 27th at 10:00 a.m. (Note: This is an Autism/Sensory-Friendly Performance planned in cooperation with Autism New Jersey and the Douglass Developmental Disabilities Center at Rutgers University.)

At Monmouth University in West Long Branch, there will be a production of Teacher from the Black Lagoon on Tuesday, April 15th at 10:00 a.m. (Pollak Theatre) Perfect for small groups or a class trip to attend! This is a brand-new musical revue based on favorite contemporary children's books including Teacher From the Black Lagoon (by Mike Thaler and Jared Lee), Dogzilla (by Dav Pilkey), Grumpy Bird (by Jeremy Tankard), I Want My Hat Back (by Jon Klassen), Lily's Purple Plastic Purse (by Kevin Henkes), Love Splat, Splat the Cat (by Rob Scotton), The Grasshopper and the Ant. Show is approximately one hour in length, recommended for grades K to four.

Additionally, on Tuesday, April 29th at 12:30 a.m. at Monmouth University, there will be a production of Erth's Dinosaur Zoo Live. (Note: At press time, the 10:00 a.m. performance is sold out!) Direct from Australia, Erth's Dinosaur Zoo Live brings a wonderful array of prehistoric creatures to life on stage, for children and adults. From cute baby dinos, to teeth-gnashing giants, your family will observe and interact with extraordinary, life-like creatures in this imaginative, entertaining and educational live show.

At The Growing Stage in Netcong, performances of Knuffle Bunny begin on Friday evening, April 18th, running until May 18th. Performances are Fridays at 7:30pm; Saturdays and Sundays at 4:00 p.m. (Note: No performance on Easter Sunday) All tickets are general admission. Based on the book Knuffle Bunny: A Cautionary Tale by Mo Willems, the script and lyrics are by Mo Willems; music by Michael Silversher. Approximately 75 minutes; this is the perfect show for a family-friendly, evening outing.

At New Jersey Performing Arts Center on Saturday, April 26th (at 8:00 p.m.) and Sunday, April 27th (at 3:00 p.m.), there will be a showing of the classic musical (based on the beloved book series) The Wizard of Oz. Audience members will watch the famed movie starring Judy Garland as Dorothy, accompanied by music from the New Jersey Symphony Orchestra performing the Harold Arlen score. You can even dress up as your favorite character.

At Morristown's Mayo Performing Arts Center there will be a performance of The Ugly Ducking and The Tortoise and the Hare on Sunday, April 13th at 1:30 p.m. and 4:00 p.m. at the Lightwire Theatre, which utilizes dazzling visuals, poignant choreography and creative use of music ranging to bring these classic tales into a new light. Cutting edge technology, moving sculpture and dance help bring about an unforgettable theatrical experience for the whole family.
SKIT (Showkids Invitational Theatre) of High Bridge is a non-profit family community theater group that provides theater experience for children ages 5 to teens.

On Saturday, April 26th (7:30 p.m.) and Sunday, April 27th (2:00 p.m.) there will be performances of the beloved story Shrek running through early May. All productions held at Voorhees High School in Glen Gardner.