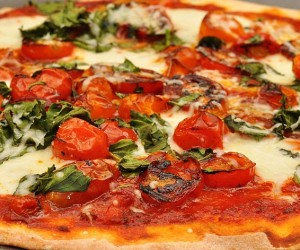 Best Family Friendly Restaurants in Yonkers
In the final post of our epic five part series covering the City of Yonkers, Mommy Poppins is looking at the best places to take the kids for family friendly meal. From breakfast to dessert, fancy to fast, Greek to Cuban, there is plenty to choose from on the busy streets of Westchester's largest city. If Italian food is what you're looking for, you're definitely in luck. Not far from Bronx's Arthur Ave, Yonkers is known for its generous pizza slices.
Carlo's Pizza
668 Tuckahoe Road
When I was nothing but a studious undergrad, Carlo's was my go-to place for gigantic slices of hot, cheesy pizza and butter soaked garlic knots. All these years later, it is still on the list of places where I MUST STOP on a trip through Yonkers. Carlo's has two dining rooms; a store-front style restaurant downstairs for grabbing a few slices of pizza or chicken parm wedge and a formal upstairs dining room for sit-down dinners and events. Kids are welcome in both places and the children's menu features authentic Italian food for little people at a fantastic price.
Louie and Johnnie's
887 Yonkers Avenue
Louie and Johnnie's is the kind of casual family restaurant that makes kids feel like they've gone out for a fancy meal. The children's menu at this traditional Italian restaurant features kid-sized portions of cultural favorites and the best kept secret of this Yonkers restaurant is the Monday-Saturday lunch menu. Dine outdoors in nice weather, in the Pizza Café or in the main dining room. Louie and Johnnie's is conveniently located across from the Yonkers Raceway--perfect for summer evening concerts. Take-out is available.
Pizza Beat
2575 Central Park Avenue
Pizza Beat is well known for its amazing sauce (rumor the secret is red wine- alcohol cooked out, of course), design-your-own personal pizzas and family friendly atmosphere. All of the traditional standard fare is on the menu, and each night of the week features a rotating special. The real deal here is that one child in each family eats FREE from a select children's menu with two dining adults.
Argonaut Diner
1084 Yonkers Avenue
Back in the day when I first discovered the Argonaut Diner, it was the site of many a late night feast on zucchini fries, mozzarella sticks, jalapeño poppers, fried potato skins, curly fries, cheese laden Baloboa sandwiches and grilled chicken sandwiches smothered in red onion, garlic mayo, and avocado (The Navajo, if you're looking to order it!). Today, it is all about the breakfast menu--since it is served 24 hours a day. The kid's menu takes up an entire page and, if your child eats something other than breakfast foods, it will come with a drink and dessert for a very reasonable price!
Alamo Drafthouse
2548 Central Park Avenue
Dinner and a movie was never so simple! At Alamo Drafthouse, both happen under one roof. Children under 6 are not generally allowed in (except during special kids events!) and all children under the age of 18 must be accompanied by a parent or guardian--no exceptions. Dining options consist primarily creative pizzas, sandwiches, burgers and salads--with buns, pizza dough and salad dressings made from scratch in-house! Thirsty? There is a plentiful beverage menu, ranging from milkshakes to craft beers, and a rotating list of specials. Need to supervise the teens out on a "date night"? Alamo Drafthouse is the way to go.
Lefteris Gyro III
242 Market Street
Frequent followers of Mommy Poppins may notice that this is the third time that Lefteris Gyro is making the list of family friendly restaurants in Westchester, but that is because the Ridge Hill establishment is third of their three locations (the others are in Mount Kisco and Tarrytown). Situated right next door to Legoland Discovery Center, it is easy to transition a hungry child from the indoor play space to Lefteris without having to carry the kicking, screaming, melting down bundle more than a few steps. Once inside, there are staples like pita pizza, French fries, hamburgers, chicken tenders available alongside more adventurous, and equally delicious, fare. The service is fast and friendly and, if trekking to the mall isn't on your list of things to do, order online and Lefteris delivers.
Already had lunch at Lefteris and now you're looking for dinner at Ridge Hill? Texas de Brazil, Elevation Burger, Bonefish Grill, BRIO Tuscan Grille and Havana Central all have kids menus!
And for dessert…
Frannie's Goodie Shop
260 Market Street
Like its sister shop in Mount Kisco, Frannie's Goodie Shop at Ridge Hill offers frozen yogurt connoisseurs about 20 flavors of frozen yogurt, gelato or ice cream to choose from on any given day and over 90 toppings with which to liven up your choice. Captn' Crunch Cereal and Sour Worms on Marscapone Gelato? Don't knock it 'til you've tried it. Be sure to ask the servers about daily deals and specials.
Anna Artuso's Pastry Shop
969 McLean Avenue
Part of a family tradition, Anna Artuso's Pastry Shop can trace its roots back to a post World War II era shop in the Belmont section of the Bronx. Today, Anna Artuso's Pastry Shop is a neighborhood go-to for cookies, cupcakes, cannoli, celebration cakes and a wide variety of baked goods. Children have been known to get FREE samples in-store.