Best Family Day Trips North of NYC
5/7/16
- By
Lisa Johnston
Whether you've a newcomer to Westchester, in town for the weekend, or just looking for a day trip, there are plenty of family-friendly destinations in Westchester and the Lower Hudson Valley that are worth the trek. We've rounded up our top five picks of places to visit with kids in this area, all of which are easy to plan and easy to reach. Be sure to check out our Event Calendar for up-to-the-minute happenings, and follow us on Facebook.
Storm King Art Center – Cornwall
Soak up some culture and burn some energy exploring this vast outdoor sculpture garden. Set on over 500 acres and impossible to take in in just one day, Storm King hosts breathtaking, monstrous artwork that's sure to spark conversation—and you don't need to worry about using your inside voice. Bring a stroller, pack a lunch and carry some crayons because you can spend an entire day wandering the grounds in search of your favorite work. Check out our full guide on visiting this destination with children.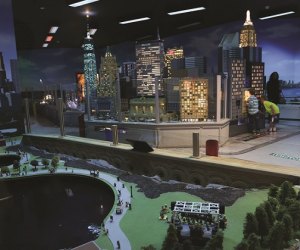 The skyscraper reproductions in Miniland are astounding. Photo courtesy Legoland Discovery Center Westchester.
Legoland Discover Center – Yonkers
Perfect for those rainy or cold days, Legoland Discovery Center is an easy and fun way to while away a few hours while your kids burn energy and hone their engineering skills. Visits kick off with a stroll through Miniland, with awe-inspiring replicas of New York City landmarks. The circular design of the Legoland's main room and play area makes it wonderful for visiting with mixed ages, allowing older kids to roam while you keep an eye on the younger set. Tots and preschoolers will love climbing in the play structure in the center of the room, while older kids build, test, design and race their creations at various spots throughout. Be sure to save time for kids to enter one of the Master Builder classes to learn advanced building techniques. Legoland holds various events throughout the year (Star Wars Day!), so don't forget to check our Event Calendar to see if a new one is coming up.
Playland – Rye
Soak in a bit of nostalgia at this extremely manageable amusement park, a solid choice for visiting with all ages. In addition to both adorable rides for toddlers and thrilling rides for teens, there's mini golf, swimming, music and entertainment shows. A special Kiddyland area is perfect for young children, allowing parents to ride with their kids. Playland features both all-you-can-ride and per-ride admission, so you're not locked into a single fee. (There is an admission fee for all non-residents ages 3 and older.) Looking to make the most of your trip? Bring your swim gear, hang out at the pool or on the beach, and grab an ice cream on the boardwalk for an all-day beach outing. Oh, and did we mention there's also an ice rink? Take note: Playland is closed on most Mondays throughout the season.
Bear Mountain State Park – Bear Mountain
With ice skating in the winter, swimming in the summer and hiking in between, Bear Mountain hosts activities all year long. While the Trailside Museums and Zoo can't compete with that big one in the Bronx, the activities centered around the resident bears are impressive and exciting for all ages. Take a spin on the indoor Merry-Go-Round with its corral of hand-carved native animals—ever ridden on a turkey or a giant raccoon?—or bring your favorite outdoor toys for playing on the vast open field. In addition to boating, paddling and fishing opportunities, multiple family-friendly festivals are hosted at the park throughout the year, such as Oktoberfest and the Native American festival. Looking for more easy hikes in New York? We've got you covered.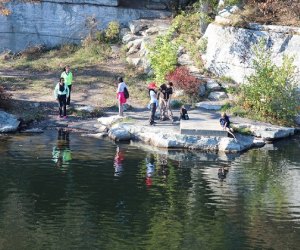 New Paltz offers numerous hiking and outdoor exploration opportunities. Photo by Shinya Suzuki via Flickr.
New Paltz
If you're in search of outdoor fun, whether structured or loosey-goosey, there are plenty of choices for every schedule in New Paltz; its proximity to the New York State Thruway gives it the added bonus of easy access for out-of-towners. Go hiking in the Gunks or Minnewaska State Park Preserve and see waterfalls aplenty, or visit one of the many family-friendly farms in the area for fruit picking. New Paltz proper is lined with cute shops and kid-friendly restaurants, but our favorite modus operandi is to grab tacos from the Taco Shack on the way into town and bring them to Hasbrouck Park. The park is home to a massive wooden playground with an awesome sandbox, endless climbing opportunities, green playing fields and (thank goodness) clean restrooms.
Looking for more day trip ideas? Sign up for our newsletters to have them delivered straight to your inbox.
Top image credit: MommyPoppins.com

Click Here to Sign Up!
i