Rye Playland Amusement Park in Westchester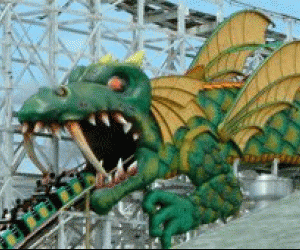 There really is no place quite like Rye Playland Amusement Park in Westchester. So close to New York City, Playland is more than an amusement park—there's also a beach on the Long Island Sound, a pool, a lake with pedal boats, a boardwalk, mini-golf, an indoor skating rink, daily entertainment and more. All those amenities just add an extra layer of fun to a day spent riding roller coasters, the log flume, the Ferris wheel, Super Flight, plus all the kiddie rides in Kiddieland.
Playland is not your glossy, futuristic amusement park. As America's only Art Deco amusement park, it has a character all its own. Nostalgic, a bit rundown but always fun, Playland is beloved as much for what it's not (think massive and corporate) as what it is. To get a feel for what it's like to visit Playland first hand, read my friend Liz's experience on her Mom-101 blog.

Although the Playland pay structure has changed in recent years, it's still fairly family friendly. Rather than worry about the cost of each ride, you can buy a wristband which gets you unlimited rides all day long. That's pretty typical, but you can buy a spectator (i.e. non-rider) band for $10 if you just want to accompany your family, and there are all kinds of great discounts for Westchester residents and discounted seasonal passes. These policies make it much easier for a family to visit the park without being forced to pay for tickets they won't really use.

The other cool thing about Playland is how close it is to New York City. It's less than an hour drive from midtown Manhattan or you can even get there by public transportation.

Find out more about Playland at ryeplayland.org
Read about other seasonal fun in our summer guide.
This article was first published in June 2009.