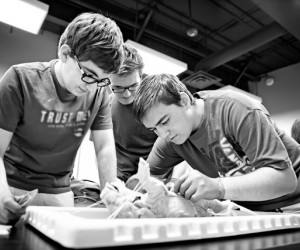 BASIS Independent Brooklyn: Redefining Education at a New K-12 in Red Hook
If there is one thing that is universally true about NYC parents, it's that we care about our children's education. A lot. Meanwhile, the world is changing fast. Technology and a more global outlook means rethinking the very core of our educational systems. One of the upshots of these changes is a multitude of new learning options. One of the schools that is rocking the educational boat is our sponsor, BASIS Independent School, opening in Red Hook this coming fall.

BASIS was founded by a mother (and educator) and her economist husband in Arizona with the goal of creating U.S. schools that are more on par with the high expectations and substance of the best educational institutions in the world. BASIS.ed now manages 12 schools in Arizona, Texas and Washington D.C., which consistently rank among the best not just in the country, but world over.

BASIS Independent Brooklyn will be a unique offering on the NYC education scene with a STEM-focused curriculum and a model that is somewhere between a charter school and a private school. We interviewed Jill McConnell, the founding Head of School, to find out more about BASIS and STEM education.
What is BASIS Independent School? Why is it different?
BASIS Independent Brooklyn features a STEM-focused Liberal Arts and Sciences curriculum far more rigorous than the typical private school, because we've learned that children can accomplish so much more than what's typically expected. Our course of study, well-proven, achieving renown in international standings, relies on a culture of mutual support between students, teachers and each other.

We know that teachers who love to teach, teach students to love learning. Therefore, we only ask passionate teachers to join our faculty. With both a Content Expert Teacher and a Learning Expert Teacher in each class, every student receives the support to achieve wonderful academic levels.
What is STEM education?
The acronym for Science-Technology-Engineering-Math is shorthand for what might also be called "Technical Literacy." Learning math and science, and understanding how their application to real-world problems can effect change, teaches the disciplines of engineering; implementing these solutions then calls for an understanding of technology and its growing impact on our day-to-day lives.

At BASIS Independent Brooklyn, discrete sciences—chemistry, physics, and biology—are taught at an early grade; our mathematics program is an advanced form of SAXON math, encouraging young students to grasp the abstract concepts, then they apply these skills in science class.
Why is STEM education important?
American education has failed recent generations of students by not emphasizing math and science. The U.S. has fallen considerably in these subjects when ranked against much of the world. Yet, technology has a continually growing impact on our daily lives, and leadership in all professional fields requires a technical literacy and an understanding of its rate of change. Even students whose love of the arts will lead them to become musicians, fine artists, composers and theater directors will need a grounding in STEM to become leaders in their fields.
How will BASIS integrate STEM into its curriculum?
Our BASIS Independent Connections Class is a great example of the many ways science and engineering help critical-thinking skills. The goal of the use of technology, basic engineering and design in the Connections Classes is to teach students collaborative problem solving, and help them design and engineer creative solutions to the assigned tasks and challenges. They use the engineering design process to generate ideas and discover solutions. They learn how to use simple tools in order to build prototypes, and construct and form various projects that require introductory skills in design.

Connections Classes use a process-oriented approach to help students establish connections across the disciplines and attain the objectives for each course. Students will use introductory technology and engineering/design knowledge and skills to solve open-ended problems and create systems.

Laboratory activities will engage students in the design process through projects that integrate mathematics, science and other core subjects. Working in groups, students build and control systems to develop solutions to the various challenges they are given.

BASIS Independent Brooklyn is accepting rolling admissions for grades K-10. Tuition will be $23,500 plus fees. Find out more about BASIS Independent Brooklyn at basisindependentbrooklyn.com.

This post is sponsored by BASIS Independent Brooklyn.