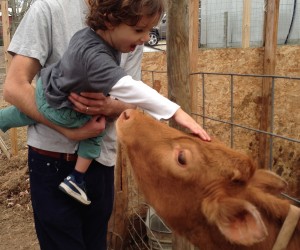 6 Places to Feed a Goat, Ride a Pony, Pet a Pig and More in the Hamptons & North Fork
With modern-day conveniences, we often forget about how we obtain the things in our everyday routine. You open the fridge and pull out a carton of milk--but who produced, collected it and bottled it? You tear open a bag of pre-cut lettuce for a salad, not really thinking about where it was harvested, cleaned and bagged.
Well, families can learn about the source of their food and get their hands dirty at one of these family-friendly farms located on the East End of Long Island. And for more fun ideas of what to do in the area, check out our Hamptons and North Fork Summer Family Guide.
Garden of Eve Farm
4558 Sound Avenue, Riverhead
631-722-8777
Garden of Eve boasts an extremely kid-friendly environment. There's outdoor animals, playgrounds and even pet adoptions (cute baby chicks). In addition to seasonal fruit picking, Garden of Eve offers a Tots Cooking program over the summer. Cost is $60 for all four sessions (four in July and four in August) or a drop-in fee. Or the Garden Sprouts! Kids Gardening With a Jewish Twist program that is offered five times throughout the summer.
Sweet Woodland Farm
45 Old Squires Road, Hampton Bays
631-594-1789
Sweet Woodland Farm uses sustainable practices and can show your family just how they do it. It offers a variety of mommy & me programs (and other learning programs) throughout the summer. The homesteading farm also boasts chickens, ducks, guineas, bobwhite quail, an angora rabbit, cats, gerbils, a leopard gecko, a Cuban tree frog and a beta fish (but the owner notes that those numbers are ever-changing). Discounts are given to siblings. Suggested donation of $5 per family to visit. Hours are 9am-12pm Monday-Friday and 9am-5pm Saturday and Sunday.
OUR LATEST VIDEOS
Goodale Farms
250 Main Road, Riverhead
631-901-5975
As you arrive at this farm, a tribe of goats greets you--loudly! Feed them for $4/bottle of milk or $2/bag of feed. Move on to the back and you'll see more goats, cows, (stray, wild-haired) chickens, pigs and a few other animals. It's free to roam the grounds. The farm also sells bottled goats and cows milk, as well as farm fresh cheese (feta, chevre).
Suffolk County Farm and Education Center
350 Yaphank Ave., Yaphank
631-852-4600
This non-profit community educational agency offers a variety of free and low-cost kid-friendly farm-related programs. This century-old farm offers unique educational programs for children pre-K through 12th grade, summer day camps, showgrounds, special events, a butterfly house, a certified Nature Explore Classroom and much more. It's open to the public year-round.
Harbes Farm & Vineyard
715 Sound Ave., Mattituck
631-365-2937
This East End mainstay has long drawn folks to its apple orchard, pumpkin picking and roasted corn. However in recent years they opened a Barnyard Adventure. For a pay-one-price admission ($12.95), families can enjoy a petting zoo, bouncy house, playgrounds, pedal car ride-ons, corn maze (fall only), pig races and more. Pony rides are $5, as is the Little Lost Sheep maze.
Benner's Farm
56 Gnarled Hollow Road, East Setauket
631-689-8172
A 15-acre family homestead, Benner's offers Mommy & Me (ages 2-3), Farm Fun (ages 4-6) and Down on the Farm (grades 1-3) programs. Upcoming events include a Fiddle and Folk Fest on Sept. 7.