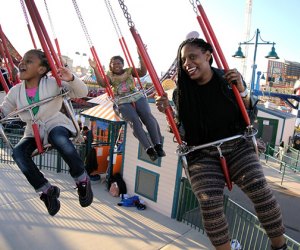 5 Things to Do on Mother's Day in NYC that Mom Will Love
Sure, a tasty Mother's Day brunch is nice, but just that word, nice. C'mon mom, you know you're more fabulous than that.
This year, Sunday, May 8 is all about you, so no simple meal, not even breakfast in bed will do. Mother's Day should be a whole-day affair that's fun for everyone in the family, especially in NYC, where options are as amazing as mom herself. You could book tickets to a kid-friendly Broadway musical—in addition to stalwarts Wicked and The Lion King, there are new tuners like School of Rock and Tuck Everlasting for which tickets are more available. If the tots are too young for Broadway, there are plenty of shows for preschoolers that are shorter and less expensive. Into museums? There are engaging new exhibits about dinosaurs, kid-lit icon Mo Willems and Star Wars sure to please all ages. Or you could splurge on a special experience such as a helicopter ride or a family spa day.
But if your ideal Mother's Day features an outdoor activity that makes the most of the spring season, we've come up with five memorable itineraries that include food and alfresco family fun that won't blow your budget.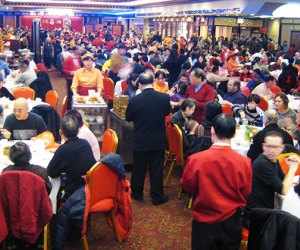 Enjoy dim sum in Chinatown for a festive spin on brunch. Photo by Nick Gray via Flickr.
Chinatown to Dumbo
Food: Trade the usual eggs Benedict and Bloody Marys for dim sum in Chinatown. Most dim sum houses are kid-friendly, though we have our favorites. Kids love picking out steaming, bite-size noshes from the carts (if they're picky, just say everything's a dumpling) and it's a great way to get them outside their chicken finger comfort zone. 88 Palace (88 East Broadway) is a great choice with its large dining hall and wide selection of dishes.
Outdoor Activity: Once you finish your feast, walk it off by strolling across the nearby Brooklyn Bridge (enter the promenade on Centre Street by City Hall). Whether it's your first time or 100th, traversing this historic bridge is a quintessential New York City experience. It's about a mile long with incredible views. You can even print out a list of notable buildings and play a landmark edition of "I Spy" along the route. Be sure to stay on the left; the right side is for cyclists, and they whiz by quickly.
End Your Day: With a few scoops of scrumptious ice cream from Brooklyn Ice Cream Factory (intersection of Old Fulton and Water Streets), which is just a few blocks from the end of the Brooklyn Bridge. With basic flavors made in small batches—peaches and cream is as exotic as the place gets—it's an old-school, homemade treat.
Bonus: Stay and explore Brooklyn Bridge Park, or hitch a ride back to Manhattan on the East River Ferry, which leaves right from that landing.
OUR LATEST VIDEOS
RELATED: Favorite Mother's Day Brunch Spots

​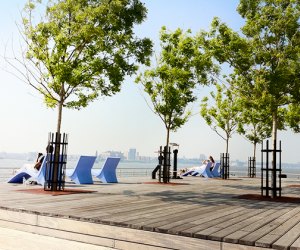 Relax—it's your day—and soak up the sun on Pier 25 after the kids enjoy the nearby playground or a round of mini golf. Photo by Teri Tynes via Flickr.
Tribeca
Food: Longtime neighborhood favorite Bubby's (120 Hudson Street) serves up classy, locally sourced comfort food (blueberry sourdough pancakes, cheddar grits, jalapeno scramble biscuit sandwiches) in a cozy atmosphere. Sides of mac and cheese or a cup of matzo ball soup satiate little stomachs. Brunch is served until 4pm, so you can sleep in and get a late start, although you may wait a while for a table. While Bubby's is famous for its pies, you'll want to save room for your sweet stop (see below).
Outdoor Activity: After your meal, stroll along North Moore Street toward the river and you'll come to the fun-packed Pier 25 in Hudson River Park, featuring a state-of-the-art playground, skate park, beach volleyball and an under-the-radar mini-golf course. This 18-hole course is easy and inexpensive—just $6 for adults, and $5 for children younger than 14, cash only. Even mini-golf novices should be able to complete the game quickly, and the holes have some cute features, including one in which your ball ends in a stream and floats back to the green.
End Your Day: With a high-end pastry at Duane Park Patisserie (179 Duane Street). Tarts, cakes, cookies and brownies abound, but we're partial to the signature magic cupcakes—chocolate with cream filling.
Bonus: Head to Hudson River Park's Pier 26 to see if FREE walk-up kayaking has started yet for the season. It usually begins in May but is weather-dependent. No experience is necessary; just sign a waiver, get a quick tutorial and start paddling.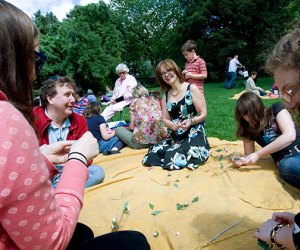 A trip to Wave Hill for its annual Mother's Day celebration makes for an especially picturesque day. Photo by Joshua Bright/courtesy of Wave Hill.
The Bronx
Food & Outdoor Activity: Both of the borough's destination-worthy gardens—the New York Botanical Garden (2900 Southern Boulevard) and Wave Hill (675 West 252nd Street)—are throwing weekend-long Mother's Day bashes complete with family fun and food. So you could hit one on Saturday and the other on the holiday itself. The NYBG's annual Mother's Day Weekend Garden Party is free with All-Garden admission and features live music and dancing, lawn games and themed crafts, plus the chance to buy eats from some of the city's top food trucks. Meanwhile, Mother's Day Weekend at Wave Hill offers birding, a nature walk and a family art project, all included with special holiday admission, plus the option of a sit-down brunch on Sunday in the Wave Hill House (reservations by May 4 required). Both bucolic green spaces are large and gorgeous enough to occupy an entire day. At 250 acres, the NYBG is bigger, but 28-acre Wave Hill boasts breathtaking views of the Hudson River and the Palisades.
End Your Day: If you've got a car, it's a short drive to the Bronx's Little Italy from either garden (though it's much closer to the NYBG). While there are plenty of swanky, sit-down Italian restaurants, exploring the more casual Arthur Avenue Market (2344 Arthur Avenue) feels like a virtual foodie trip to Italy. Its variety of vendors sell pastries, cured meats, cheeses and even cigars. Order massive, custom-made sandwiches from Mike's Deli to take home and grab a box of cannoli from the Arthur Avenue Market Pasticceria.
RELATED: NYC Spring Fun Guide: Theater, Festivals, Art and Day Trips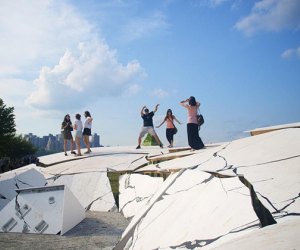 There's always something new at Socrates Sculpture Park. Last year's climbable sinkhole by Heide Fasnacht was a hit. Photo courtesy of the park.
Astoria/Long Island City, Queens
Food: When in Astoria, do as the Greeks and Cypriots do and chow down on delicious dishes such as chicken souvlaki, tzatziki, stuffed grape leaves and grilled octopus at the family-owned Zenon Taverna (34-10 31st Avenue). The popular eatery always has a special prix-fixe Mother's Day menu (this year's has yet to be finalized). For picky tykes, stick to the amazing meze plates piled high with appetizers that offer little tastes of everything, including kid-pleasers such as meatballs and hummus.
Outdoor Activity: Although it's a mile away, the funky, waterfront Socrates Sculpture Park (32-01 Vernon Boulevard) is worth the trip across 31st Avenue. Once you arrive, enjoy lovely views of Roosevelt Island and the Upper East Side of Manhattan, and explore the spot's 30th anniversary installation Landmark, which opens to the public on Mother's Day. The eight works sound intriguing, especially the brand-new, nature-based piece Concave Room for Bees, which surrounds viewers with flowers and insects.
End Your Day: With dessert at the cozy Omonia Cafe (32-20 Broadway). Yes, you have to trek back to the heart of Astoria, but you were going there for the subway anyway. Try traditional baklava or ravani (semolina-almond sponge cake with syrup). And if that's too exotic, create your own sundae.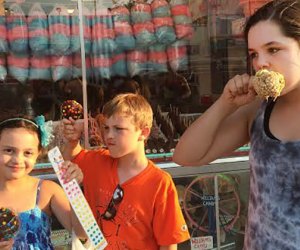 Bike or ride the subway to Coney Island to enjoy the boardwalk, aquarium and of course, a sweet treat at Williams Candy. Photo by Raven Snook.
Coney Island, Brooklyn
Food: Northern Brooklyn families: Grab your bikes and cycle down to Coney Island via Ocean Parkway. The route is smooth and picturesque, and you'll work up an appetite by the time you arrive at the 90-plus-year-old pizzeria Totonno's (1524 Neptune Avenue). The coal-fired, brick-oven pizza is legendary, and only served by the pie, not the slice. No credit cards are accepted so bring cash and be prepared to wait if you don't arrive near its noon opening time.
Outdoor Activity: How to choose? The beach may not open until Memorial Day but everything else on the boardwalk is alive and kicking. Marvel at the views from Deno's Wonder Wheel (3059 Denos D. Vourderis Place); try the family rides at Luna Park (1000 Surf Avenue); hit the sand to fly kites or sun (but not to swim yet); catch a kid-friendly magic show at the Coney Island Museum (1208 Surf Avenue); and watch the penguin, sea otter and walrus feedings at the New York Aquarium (Surf Avenue and West 8th Street).
End Your Day: Get your sugar high at Williams Candy (1318 Surf Avenue), a colorful sliver of a sweet shop dating back to the '30s. Homemade candy apples and marshmallows covered in chocolate, coconut, caramel, chopped nuts and more are house specialties. You'll also find cotton candy, popcorn, ice cream and, of course, jars of candy. Don't miss the awesome window display, which features a miniature Wonder Wheel and other famous Coney sights.
Top image: Go somewhere that lets you, and the whole family have fun, like Luna Park in Coney Island. Photo courtesy of the amusement park.