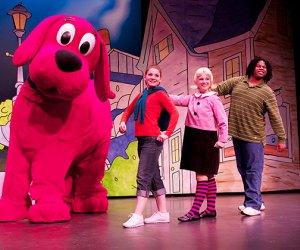 The Best Children's Theater in NYC This Spring
Beloved children's characters spring to life on stage this season. Our top theater picks for the coming months include musicals starring popular little-kid icons such as Curious George, Peppa Pig, Clifford the Big Red Dog and the Runaway Bunny. But there are plenty of cool shows for tweens, too, including an interactive adventure staged throughout Lincoln Center's grounds, a trio of offbeat circus performances and a revival of You're a Good Man, Charlie Brown starring theater pros who are still in middle school.
While there are some big Broadway shows debuting this spring, including a musicalization of Tuck Everlasting and Cirque du Soleil's first-ever Main Stem spectacle Paramour, there's no need to shell out big bucks to give your kids a memorable live entertainment experience in NYC. A dozen of the 14 shows we're highlighting are just $25—or less—per ticket.
Click through to our listings for all the details, including complete schedules and locations.
Wringer — Midtown West
Friday, April 8-Sunday, April 17
Ages 8 and older
One of the Big Apple's most engaging companies for young audiences, New York City Children's Theater, brings Jerry Spinelli's Newbery Honor-winning YA novel of the same name to the stage. The 70-minute drama Wringer explores the dilemma of Palmer, a 10-year-old who's reluctant to participate in his town's annual pigeon shoot—especially once he befriends one of the ubiquitous birds. This powerful story touches on morality, mortality and animal cruelty, and shows that even a kid can make a difference if he's willing to stand up for what he believes. $25
OUR LATEST VIDEOS
Bindlestiff Cavalcade of Youth — Coney Island
Saturday, April 9
All ages
Kids can run away and join the circus (or just watch) at the Bindlestiff Family Cirkus' biannual youth variety show at Coney Island USA. All of the performers in this one-day-only showcase are younger than age 21, and children love seeing their peers on stage juggling, hula hooping, tumbling, clowning, plate spinning and even snake charming. Is your kid more interested in being in the spotlight than sitting on the sidelines? Find out how your kid can apply to be part of the show. $15 for adults, $10 for children younger than 21, free for participating performers
RELATED: Best Events for Preschoolers in NYC This Spring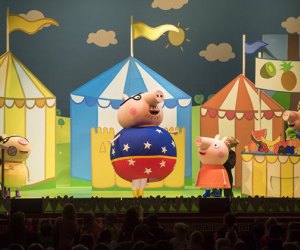 Watch out for muddy puddles in the raucous preschooler show, Peppa Pig Live: Big Splash. Photo courtesy the production.
Peppa Pig: Big Splash — Upper West Side
Saturday, April 9-Sunday, April 10
Ages 2-6
In her first U.S. theatrical tour, Peppa Pig brings her family and all her porcine pals to the Beacon Theatre for an upbeat, song-and dance-filled puppet performance, complete with muddy puddles and plenty of snorts. Our Mommy Poppins reviewer who caught it in nearby New Jersey says her daughter is still talking about going to see "Peppa's house!" $40-$60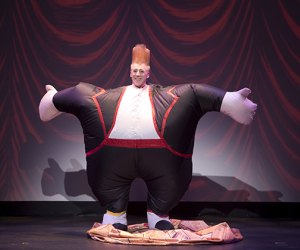 Bello Mania at the New Victory Theater shows off gravity-defying tricks and plenty of clown humor. Photo by John Powers/courtesy the venue.
Bello Mania — Midtown West
Friday, April 15-Sunday, May 1
Ages 5 and older
Another show we can vouch for: My daughter and I saw Bello Mania when it premiered in 2013, and it was such a hit that the New Vic brought it back in 2014 and now again in 2016. Equal parts comedic circus spectacle and family memoir, it's the ideal showcase for former Ringling Bros./Big Apple Circus clown/acrobat Bello Nock, who was born into a circus family. Enjoy a cavalcade of new tricks, special guests and greatest hits, including his signature feat, when he climbs all the way to the New Vic ceiling on a swaying pole right over the audiences' heads. $15-$38
Up to You — Chelsea
Saturday, April 16-Sunday, May 15
Ages 5-11
Of all the shows my daughter and I see together, those at TADA! Youth Theater make the most lasting impression. She loves watching her peers on stage. Local youngsters ages 8 to 18 perform in original musicals that are quirky and thought-provoking. This spring, the company is reviving its tuner Up to You, which is about a very timely subject: a presidential election—student council president that is. Set in 1977 at a typical American high school, the show is all peppy musical numbers and political drama as a cheerleader and a nerdy girl vie for high office. Who will win? Why, the audience, of course. $20-$25 for adults, $10-$15 for children
Clifford the Big Red Dog LIVE — Flatbush, Brooklyn
Sunday, April 17
Ages 4-8
Every preschooler's favorite oversize crimson canine hits the Brooklyn Center for the Performing Arts for this hour-long, interactive adventure with plenty of sweet songs and stories about sharing, respecting others, teamwork and responsibility. Whether your tykes love the books, the animated TV show or both, Clifford fans are sure to get a thrill from seeing him on stage and larger-than-life alongside his human friends. $18
RELATED: Best Broadway Shows for Families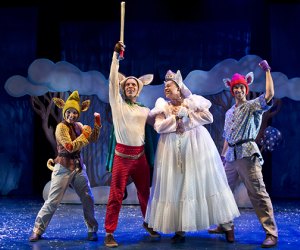 This feisty Skippyjon Jones musical is great for first-time theatergoers. Photo by Jeremy Daniel/courtesy the production.
Skippyjon Jones Snow What — Upper East Side
Sunday, April 24
Ages 4-8
This rollicking musical from Theatreworks USA is based on one of Judith Schachner's popular picture books about a quirky Siamese feline who goes on pretend adventures as his alter ego, Skippito Friskito, a sword-wielding, Zorro-like Chihuahua. My daughter and I caught the show last year and thought this feisty reimagining of Snow White and the Seven Dwarfs about being the master of your own destiny was the cat's meow. At just an hour with peppy songs, it's a great first-time theatergoing experience. $25
LC Kids Presents Meet Me at the Fountain — Lincoln Square
Saturday, April 30, Saturday, May 21 and Sunday, May 22
Ages 7 and older
Don't expect to sit down at this show—or even stay in one place. For this interactive adventure, audience members are tasked with helping a covert crime-fighting unit prevent a dastardly plot to sabotage an opera diva. You'll run all over the grounds of Lincoln Center looking for clues and criminals in this half-hour, site-specific adventure. $25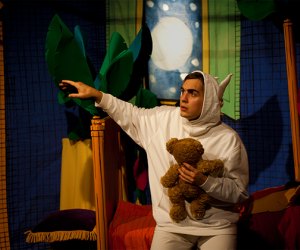 The beasts are sweet not scary in this stage adaptation of Where the Wild Things Are. Photo by Chris van der Schyf/courtesy of the Presentation House Theatre.
Unfortunately, this show sold out as of April 27.
Where the Wild Things Are — Greenwich Village
Thursday, May 5-Sunday, May 8
Ages 3-7
Maurice Sendak's iconic kids' book is heavy on emotions and atmosphere, but not so much on plot. I mean, just how long can that "Wild Rumpus!" last? That's why Canada's Presentation House Theatre decided to turn it into an intimate and interactive experience with families sitting on mats close to the performers so they can get in on the action as Max's home transforms into a monster-filled land. Don't worry, the beasts shouldn't frighten even sensitive tots because they're played by children in the audience. $25
Goodnight Moon and The Runaway Bunny — Tribeca
Saturday, May 7
Ages 2-5
The eye-popping Mermaid Theatre of Nova Scotia brings a pair of Margaret Wise Brown's kid-lit classics to the Tribeca Performing Arts Center. Both stories celebrate the special bond between mothers and their children, and feature large-scale puppets and amazing scenery that replicates Clement Hurd's memorable illustrations, especially that "great green room... with a telephone and a red balloon." $25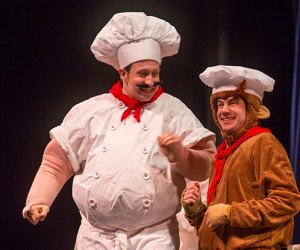 Kids will laugh their way through Curious George: The Golden Meatball at the Queens Theatre. Photo by Doug Dobos/courtesy of the production.
Curious George: The Golden Meatball — Corona, Queens
Sunday, May 8
Ages 4-9
The cheeky and inquisitive little monkey hits the Queens Theatre to help Chef Pisghetti prepare the signature treats for the annual Meatball Day. But when no one shows up, curiosity trumps George's cravings and he sets out to find out why in this Theatreworks USA musical. $14
RELATED: Best NYC Museums and Exhibits for Kids and Families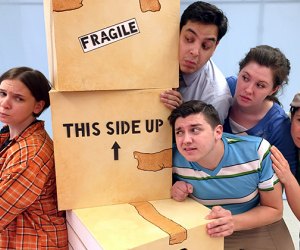 This kid says NO! to moving, a sentiment some young New Yorkers can relate to. Photo courtesy of Two Beans Productions.
Alexander, Who's Not Not Not Not Not Not Going to Move — Flatbush
Sunday, May 15
Ages 5-10
A few years back, Judith Viorst's unlucky kid-lit character Alexander got his own live-action feature film. But his misadventures didn't stop there. In this musical at the Brooklyn Center for the Performing Arts, the elementary-schooler is incensed that his family is planning to move far away from everything and everyone he loves, from his favorite babysitter to his BFF. It's a sentiment to which many kids can relate, whether they've moved themselves or lost friends to other towns. $12
You're a Good Man, Charlie Brown — Midtown East
Tuesday, May 24-Sunday, June 26
Ages 7 and older
Peanuts mania seemed to reach a fever pitch last year with the 50th anniversary of A Charlie Brown Christmas and the release of the gang's first 3D feature. But fans of the charming cartoon characters should be thrilled to hear that the venerable York Theatre Company is reviving the Broadway musical based on Charles M. Schulz's strip. A staple of high school and college campuses, the show, which is essentially a series of vignettes and songs, hasn't enjoyed a major NYC mounting in 17 years. This one includes material from both Broadway iterations (like the awesome songs "Suppertime" and "Happiness") plus new material, and is performed by Broadway "babies:" working kid actors from the casts of Matilda, Finding Neverland and Newsies. $67.50-$72.50
Charlotte's Web — Tribeca
Sunday, June 5
Ages 5 and older
Bring tissues to the Tribeca Performing Arts Center for Theatreworks USA's hourlong stage adaptation of E. B. White's classic children's novel about the unlikely friendship between Charlotte the spider and Wilbur the pig. That bittersweet ending gets us every time. $25
Top image: Clifford the Big Red Dog Live! Photo by Michael F. O'Brien/courtesy the Brooklyn Center for the Performing Arts.