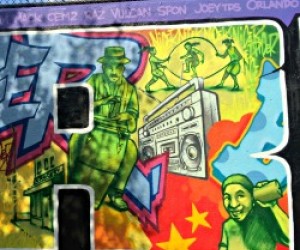 5 NYC Playgrounds with Artwork by Famous Artists: Awesome Kid Photo Ops
New York City overflows with art. From world-class museums to offbeat public art installations, you can find creativity all around town. But there's one place you might not think to look: the playground. Turns out a handful of famous NYC artists designed permanent play structures and murals for some local playgrounds. While I'll admit they're not necessarily active play destinations, these romping spots are definitely worth a visit if you want to snap a few amazing, only-in-NYC pics of your kid in front of works by the likes of late graffiti great Keith Haring and sculptor Tom Otterness.

Keith Haring's iconic Crack is Wack mural in the playground of the same name
Crack is Wack Playground – East Harlem
127th Street between Second Avenue and the Harlem River Drive
I'll be blunt, this isn't worth schlepping to if you're just looking for a place to play. It's basically a few concrete ball courts. However, I think every NYC kid should see Keith Haring's powerful anti-drug masterpiece up close at least once. Painted at the height of the crack epidemic, his Crack is Wack mural is a fascinating variation on his signature style. His kinetic figures, which often leap with energy and joy, are struggling here under the weight of addiction. Don't worry if that sounds heavy; young children won't get any of that and will just think it looks cool and colorful, which it does. Of course if you have older kids, you can use it as a jumping off point for that drug conversation we all end up having eventually. After the photo shoot, explore the rest of East Harlem, which is known for its plentiful street art.

Keith Haring's mural alongside the outdoor pool at the Tony Dapolito Recreation Center; photo courtesy of the NYC Parks Department.
Bonus: There's another, much more upbeat, Haring mural alongside the outdoor pool at the Tony Dapolito Recreation Center in Greenwich Village that was just restored in 2014. However, since the rules forbid you from bringing cell phones, cameras or other electronic devices into the pool area, taking a pic of it is next to impossible. But, it is fun to swim by!

Tom Otterness' The Real World installation is nicknamed Penny Park due to its plethora of oversize 1-cent coins.
The Real World in Rockefeller Park – Battery Park City
West of River Terrace between Warren and Chambers Streets
Brooklyn artist Tom Otterness' playful bronze sculptures can be found all over NYC, from down in the subway to out in the East River to corporate lobbies. Kids always get a kick out of looking at his work, but they love it more when they can play on it. Otterness' massive The Real World installation in the north end of Rockefeller Park is one such piece. Young kids enjoy following the twisty trail of oversize pennies (which is why local parents call it Penny Park), and scaling the kooky figures. After you snap a some pics, head a few blocks south to the park's traditional playground featuring climbing structures, a self-propelled merry-go-round and a water play area.

Tom Otterness' sculpture in Silver Towers Playground is equally fun to look at and climb on.
Silver Towers Playground – Midtown West
42nd Street between Eleventh and Twelfth Avenues
More Tom Otterness! Sandwiched between the Silver Towers high-rises, this unique playground (which is really more of a public plaza) is a must-see thanks to its centerpiece: a giant Tom Otterness play structure. Whimsical and surprising, with little figures doing funny things in various hard-to-find locations, the sculpture has slides for arms and legs, and ladders and hiding spots galore. Kids just light up when they see it. Take note: the plaza isn't fenced in, so you have to keep a very careful eye on toddlers to make sure they don't run out into the busy street.

You can get great pics of your kid all over this thing!
If you're an Otterness completist, you can also check out his frog sculpture in the ABC Playground on the Lower East Side, or head up to Yonkers to check out his Big Girl Playground in Westchester's Ridge Hill shopping complex.

Check out an ever-changing graffiti canvas at the Graffiti Hall of Fame
Jackie Robinson Educational Complex Playground – East Harlem
106th Street and Park Avenue
Located in and around the playground of an East Harlem public school complex, the Graffiti Hall of Fame was founded in 1980 by Sting Ray Rodriguez as a place for artists to practice their skills. Today, the scene's biggest names (Tats Cru, The Ghost Writers, etc.) are invited to update the walls about every six months or so, although upstarts sometime tag over these masterworks. The playground itself was recently renovated and features climbing structures, swings and ample space to run around. Its hours are odd—it's not open to the public when school is in session, but it's sometimes shuttered after hours, too. Regardless, come to snap great pics (much of the graffiti is outside the playground, so you can get good shots even when it's closed), and then head to Central Park, which is just two blocks east.

NYC artist Mimi Gross designed much of this anatomy-themed playground; photo courtesy of the NYC Parks Department.
Robert E. Venable Park – East New York
Belmont to Sutter Avenues between Sheridan and Grant Avenues
Mimi Gross may not be a household name, but she's a veteran NYC-based artist and the ex-wife of Red Grooms, whose walk-in subway car installation obsessed me as a child. Gross designed some unique, anatomy-themed play equipment for the NYC Parks Department's $8 million 2010 overhaul of Robert E. Venable Park. The highlight is a pair of slides that offer rides through larger-than-life nostrils, but you'll also find oversize feet, a climbable spinal column and colorful panels that teach about various body parts.

Read about other awesome green spaces in our Parks & Playgrounds Guide.