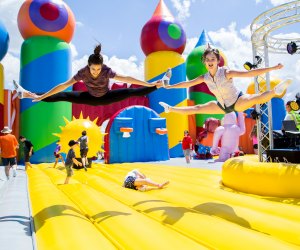 World's Biggest Bounce House Returns to Houston This Fall
The world's largest bounce house is coming back to Houston in October, and tickets are on sale now! Last year's event sold out, so you'll want to secure your tickets now so you can see what new and exciting bounce houses and activities the event has in store for 2018.
The Big Bounce America makes its third stop in Texas Oct. 26-28, 2018 in Houston at Houston Sportsplex. Tickets range from $12-$17 depending on how long you're looking to jump and play.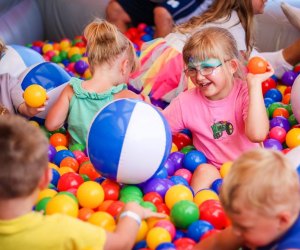 Inside the 10,000-square-foot inflatable castle, there are sections and activities for kids (and adults) of all ages. You'll find ball pits, slides, and basketball hoops, to name a few. And outside the massive bounce house, there are games and competitions and music from the company's resident DJ.
What's new for 2018: A dedicated tot spot for kids ages 4 and under, and the sprawling Bounce Village, which can be enjoyed outside of your paid sessions. Here you'll find attractions like the Ninja Run and Monster Ball Pit.
Your tickets buy you entry to a one-hour session inside the house (entry to the grounds is free), which includes access to the entire bounce structure including its interactive elements and games. The games and attractions that take place outside the bounce house - from sack races to corn-hole - are FREE.
Session Breakdown from The Big Bounce America:
Toddler Sessions are for children aged 3 and under accompanied by parents/carers.
Junior Sessions are slower paced sessions aimed mainly at kids aged 7 and under.
Bigger Kids Sessions can be a bit more boisterous and are aimed at kids 15 & under.
Adult Sessions are for anyone aged 16+. Anyone aged 15 or under will not be admitted.
Food and drink vendors are available on-site and note that socks are required - no bare feet! (But no shoes, either.)
The World's Biggest Bounce House from The Big Bounce America on Vimeo.
All photos courtesy The Big Bounce America
This post originally published in 2017.