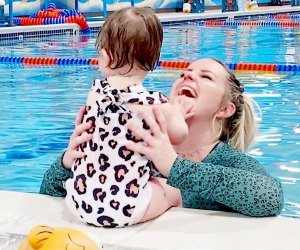 Best Parent-Child Classes for Babies and Young Toddlers in Houston
If you're looking to spend a little extra one-on-one time with your favorite little person, parent-child (also known as Mommy and Me or Baby and Me) classes are the way to go. Houston is home to a variety of different programs for babies and toddlers, ranging from the classic Baby and Me swim classes, gymnastics classes, and art/music classes to parent-child yoga and more.
Why take a parent-child class? The benefits are numerous, and include socialization, bonding, learning new skills, and meeting new parents with kids the same age. From big box businesses to mom and pop shops, we've rounded up a variety of Mommy and Me classes that you're sure to love. And these classes aren't just for moms and their kids; dads and other caregivers are welcome to jump in the mix, too.
Find more kids' programs and activities in our Houston Classes for Kids Guide.