Top 10 Things to Do in Pearland, TX with Kids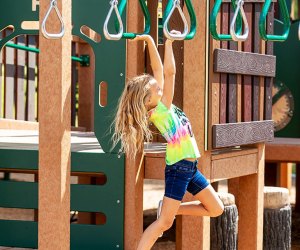 7/23/21
- By
Jessica Stautberg
Houston has no shortage of sprawling suburbs to explore. Located about 20 miles southeast of downtown Houston via Highway 288, the city of Pearland is home to some of the area's best family-friendly playgrounds and parks, indoor activities, and stellar shopping. Take a look at our list of the top spots to play and explore with kids in this quaint community.
For more fun things to do in towns around Texas, check out our Weekend Getaway Guide.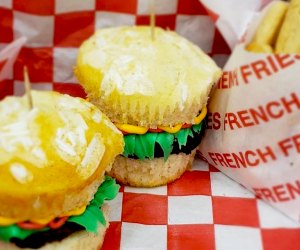 Pearland Town Center Small Cakes. Photo courtesy of Smallcakes
Take a stroll around the area's premier open-air mall, Pearland Town Center. This shopping center offers a plethora of brand-name shops to choose from and is home to several local festivals throughout the year. Fans of Legos will love Bricks & Minifigs, a shop specializing in selling, buying, and trading used Lego sets and pieces. And fans of sugar can enjoy a treat at Smallcakes after shopping.
Head over to Pearwood Skate for an unbeatable retro roller rink and arcade experience. Pearwood Skate offers birthday party packages, private lessons, and even holiday camps for kids. Flooding during Hurricane Harvey prompted a renovation of the skating surface, and now the skating is even better than before!
Conveniently located near SH 288, Southdown Park boasts a giant shade cover to keep the slides—and you—cooler in the summer heat. And for the hottest days, there's a splash pad right next to the play area, with plenty of fountains and a fire hydrant feature. This park is also home to Pearland Westside Library's story times, which began meeting here during Covid. Currently, the library offers Toddler Time at 10:30 AM on Mondays, and Story Time at 10:30 AM on Wednesdays.
Enjoying the huge splash pad at Centennial Park. Photo by the author.
Go for a ride at Bay Area Equestrian Center. This full-service equestrian facility offers horseback riding lessons, show training, riding camps, and hosts customized parties. Get up close and personal with their beautiful horses with a private horseback riding lesson for first-time visitors for only $35.
What kid doesn't like wandering around Bass Pro Shop? From a large selection of boats to an over-sized fish tank and large animal displays, there is so much to see. This huge store even has a toy section. The Pearland location hosts several free family-friendly events throughout the year including Halloween, Easter, and Christmas celebrations.
Kids can explore this indoor playground venue filled with kid-friendly activities to inspire creative play. Intricately designed mock city stations feature areas where kids can pretend to be hairdressers, chefs, and doctors. The venue also includes a two-story play structure with slides and tunnels, as well as an area made just for toddlers. This fun indoor play center is currently moving locations, and we can't wait to visit the new one because it is truly one of the best places to take little kids in Pearland.

Kids get hands-on while engaging in pretend play at Kid N Play/ Photo Courtesy City of Kid N Play
7. Parks and Trails
When your kids need to burn off some energy outdoors, visit one of Pearland's many parks and trails. On the east side of Pearland, try Centennial Park, where kids can climb over a large playscape, then head to a splash pad to cool off. Community favorite Independence Park is also located on the east side, and has a newly renovated playground, tennis courts, and a basketball court. And Tom Bass Regional Park, located in central Pearland, offers fishing, nature trails, several playgrounds, and an exercise obstacle course (that kids can play on, too).
If trails are more your speed, head on over to the Shadow Creek Ranch Nature Trail on the west side of Pearland to explore paved trails through natural vistas. The observation tower lets kids look out over the marsh through binoculars.
Looking for snakes at the Shadow Creek Nature Trail / Photo by the author
Once kids get inside this massive trampoline and adventure park, it's hard to get them to leave. In addition to trampolines, Urban Air has go karts, a ropes course, climbing walls, and more. Most of the attractions have height requirements, but littler kids can enjoy their big tubes playground.
Known affectionately as just "Snow Cone Lady," this dessert shop has a long menu of snow cones, ice cream, and even hot food. The restaurant offers ample outdoor seating and has fun events, such as painting and tie-dye workshops.
Take the kids on a uniquely Pearland scavenger hunt when you follow the Pearscape Trail around Pearland. Find each of the four-foot painted fiberglass "pears," located all around town at landmarks such as Pearland Town Center, City Hall, and Independence Park. They make for awesome photo-ops and help to beautify the community.