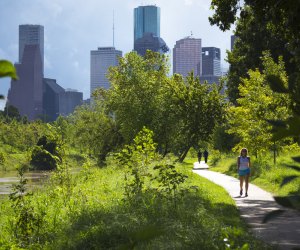 18 Things to Do With Out-of-Town Guests in Houston
Entertaining visitors can be a daunting task because, if you're like me, you want to show them the best time EVER and impress with your insider knowledge of your home city. And if you are also like me, this quickly becomes overwhelming because Houston is just. so. big. No fear, we've put together a list with 18 of the best things to do.
However, if you just want some ideas for activities, you can always spend a few hours at a trampoline park, ice skating rink, or test your family's skills at an escape room. And if the weather is appropriate, check out an area splash pad.
1. Buffalo Bayou Park
1800 Allen Parkway and Memorial Drive
It's only fitting to show your guests the birthplace of Houston. Spend an afternoon at the 160-acre park where there are bike and boat rentals, stunning views of the city's skyline, and the cistern - which is a must-see. The massive underground cavern (87,500 square feet to be exact) was among the city's first drinking-water reservoirs, and now you can tour it. During your visit, you may even be able to catch special art exhibits that roate seasonally in the Cistern. Note: Children under 9 years old are not allowed in the Cistern. You have to walk down flights of stairs to enter the space and it is fairly dark.
OUR LATEST VIDEOS
2. The Galleria
5085 Westheimer Road
Spend some time browsing some of the best shopping Houston has to offer. The ice skating rink is open daily, and the Little Galleria is a fun play space for small children. Plus, there are tons of delicious restaurants nearby and a perfect photo op at the Houston Waterwall Park.
3. San Jacinto Monument
3523 Independence Parkway, LaPorte
For the history nuts coming to town, you can make a day of touring the San Jacinto Battleground State Historic Site. The views from the monument observation deck are stunning and the museum offers free admission. You can also enjoy a picnic on the grounds, or play on the playground at nearby Juan Seguin Memorial Park. Depending on where you are in town it can be a bit of a drive, but it's well worth it - especially if your kids (or your guests' kids) are a little older and enjoy museums.

The iconic San Jacinto Monument is breathtaking against the Texas sun. Photo by Ashley Jones.
Houston is near to several fun locales perfect for day trips. Whether you want to follow your sweet tooth to the Blue Bell Ice Cream Creamery in Brenham, which is just a short 45-minute drive away, or get in touch with nature at Brazos Bend State Park (also where you can show your guests how you live on the wild side and get up and close with some gators), there are plenty of options. Huntsville State Park is another great option, and the drive takes you past the larger-than-life Sam Houston on I-45 for a perfect photo opportunity.
5. Houston Zoo and Hermann Park
6200 Hermann Park Drive
You can't go wrong with a nice visit to the zoo, especially if you time it right and make it on a day with free admission. Plus, if it's a nice day and assuming the weather isn't it's usual humid-like-an-armpit self, Hermann Park is right next door and is perfect for a picnic, train ride, paddle boating, or just relaxing.
6. Kemah Boardwalk
215 Kipp Ave., Kemah
If you aren't up for an entire day trip to Galveston, Kemah is a great spot near the water with tons of activities for families and kids. We definitely recommend a trip on the Boardwalk Beast - a boat tour around Galveston Bay - as well as a stop at the Stingray Reef and Rainforest Exhibit. Of course, there are the carnival rides and midway games, and there are fun events hosted throughout the year as well so definitely check the calendar when considering where to take your guests.
7. Family-friendly Houston restaurants
It's just kosher that as the host you have to introduce your guests to the best cuisine Houston has to offer, and if you're toting the kids along it's best to leave the steakhouse for another night. Luckily, Houston has some fantastic kid-friendly restaurants with room to play that boasts playgrounds or spacious areas where kids can stretch their legs. And if brunch is more your style, check out our list of kid-friendly Houston brunch spots as well. If your guests are up for a visit to a local brewery, many Houston area breweries are kid-friendly. Just make sure you leave room for dessert at one of Houston's frozen dessert spots.
8. Snap an Iconic Houston Photo
From the Lawndale Art Center to the many crazy and unique murals around town, there's no better way to show visitors around Houston than hunting down fun places to take Instagram-worthy photos. Our list linked above is the perfect place to start. Some great signature spots include the Move One Place On, Alice In Wonderland-themed interactive sculpture at Evelyn's Park and Cinderella's Carriage in River Oaks Park.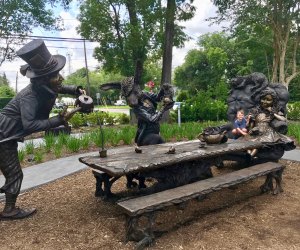 The Move One Place On Sculpture in Evelyn's Park is a must-see. Photo by Ashley Jones.
9. Miller Outdoor Theatre
6000 Hermann Park Drive
There are fun shows, movie screenings, and events year-round at the Miller Outdoor Theatre. While summer may not be the ideal time to visit this local spot, winter and fall are perfect - bundle up, bring a blanket and enjoy a holiday movie, a children's performance, and more. This would be the perfect way to end a day spent at the Houston Zoo or relaxing in Hermann Park.
10. Space Center Houston
1601 NASA Road 1
Unless you leave in Southeast Houston, I'm willing to bet you're like my family and have not been to the Space Center in a while. Well, here's your opportunity! The force behind Houston's epithet "Space City" has tons to offer for adults and kids of all ages. And you won't want to miss the center's recent (and massive) addition, Independence Plaza. Presented by Boeing, it is a tour-able replica of the shuttle Independence mounted on the original NASA 905 carrier.
11. Houston Arboretum and Nature Center
4501 Woodway Drive
The nature sanctuary inside Memorial Park is heaven for nature lovers. There are miles of trails, an activity center, and playgrounds for the kids. Check out the event calendar to see if there are any fun goings-on when your guests are in town. And if you happen to be closer to the south side of Houston, the Armand Bayou Nature Center in Pasadena is a wonderful alternative.
12. Discovery Green
1500 McKinney
If you are short on time, Discovery Green is the perfect spot to take guests especially after a morning of touring the sights of Downtown Houston. The 12-acre park has a playground for kids, various shows and screenings throughout the year, and traveling art exhibits.
13. Planes, Trains, and Automobiles
While plenty of museums in Houston's famed museum district offer a wonderful experience for out-of-town guests, the Houston area also boasts several museums for motor-enthusiasts that are unique in nature. The Galveton Railroad Museum and Rosenberg Railroad Museum are perfect for train lovers, while the Lone Star Flight Museum and 1940 Air Terminal Museum are ideal spots to take those fascinated by aviation.

See amazing airplanes at the Lone Star Flight Museum. Photo by Ashley Jones.
14. See a Game
Depending on the season, going to a Texans or Astros game is always a good choice when company is in town. But for a similarly fun experience with a smaller price tag, you can always check out the Sugar Land Skeeters. The team plays in Constellation Field which is equipped with several family-friendly amenities.
15. Museums
Houston is home to a vast variety of museums from the obvious (Children's Museum of Houston and Houston Museum of Natural Science or the Bayou Bend Collection and Gardens) to the more eclectic (ArtCar Museum and the Twilight Epiphany Skyspace). Make as many stops as you can in the museum district - your guests will leave impressed! Oh, and if Uncle Joe is a real art snob, the Orange Show for Visionary Art, which operates the Orange Show Monument, Beer Can House, and Smither Park, is always hosting art shows, tours, and more.
16. Schlitterbahn Galveston
2026 Lockheed Road
Houston's best waterpark's Galveston installment is a destination for every month of the year! There is an indoor and outdoor section with water slides, wave pools, a lazy river, and more. Plus, you can make a day of it in Galveston if you have time by touring Moody Gardens, visiting the Pleasure Pier, or taking a dolphin tour on the bay.
17. Houston Premium Outlets
29300 Hempstead Road
Even though Houston's largest outlet mall isn't as sprawling as the installment in San Marcos (which all of you shopaholics should visit if you haven't already), it still has lots to offer, like a Nike outlet, Saks Fifth Avenue OFF 5th, and several children's stores. There's an outdoor play area for kids and a food court, but if you don't want to eat there a bunch of new fast-food restaurants recently opened nearby.
18. Explore The Suburbs
Houston is home to some amazing suburbs with plenty to do with guests. Take a trip to the bayside community of Seabrook, or head to Pearland where you'll get a small-town feel just 20 minutes from downtown. Tomball and Conroe are two other great areas to explore with guests if you're looking for some off-the-beaten path adventures. And there's no shortage of things to see and do in The Woodlands as well.
Photo courtesy of the Buffalo Bayou Partnership
This post originally published in 2016.