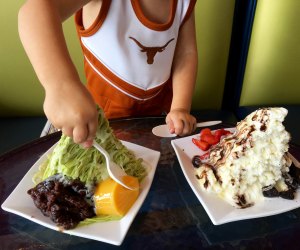 Best Spots to Cool Off with Frozen Desserts in Houston
One of the few bonuses to Houston's almost nonstop hot weather is that you can pretty much indulge in frozen sweets year-round. Whether it's an after-school treat or an after-dinner outing while savoring those last rays of sunlight, these 15 spots have the best ice cream and frozen desserts in Houston.
Petite Sweets
Known for its macarons, frozen custard (best sandwiched between two chocolate chip cookies), bite-sized cupcakes and Whoopie pies, this dainty bakery located in the Upper Kirby area recently debuted a full line-up of ice cream from Lee's Creamery. You'll find crowd-pleasers like Birthday Cake and Nutella Rocky Road, but unexpected flavors such as Sweet Potato Caramel Marshmallow and Black Pepper Goat Cheese Honey Walnut are sure to be hits with adventurous eaters. You'll also find plenty of indoor and outdoor seating.
Steel City Pops
This Heights popsicle shop has a little something for everyone. The locally-sourced ingredients are all-natural or organic, and the menu boasts fruity,non-dairy options as well as creamier delights. If you just can't make up your mind, fill a cooler box with up to 12 flavors. A large glass window lets customers peek inside the operations, and a spacious room allows for large groups or rowdy kids to run around and enjoy their paleta-inspired pops.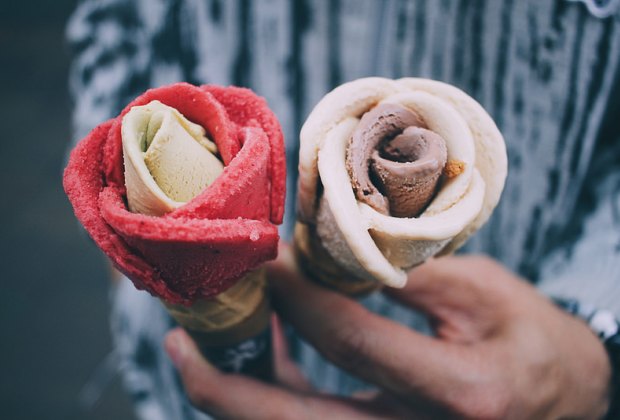 Rose-shaped ice cream cones at Amorino. Photo courtesy Bobbi Vie via Flickr

Amorino
Authentic Italian gelato from a Parisian import in Houston? It might sound crazy, but Amorino, located in the River Oaks District, is the real deal. Ordering is made easy when the cups and cones are priced from small to maxi and the number of flavors you can choose is unlimited. But because there are so many flavor options and those Instagram-worthy menu items (like those stunning roses above) means the line can move slow. Also, if you plan to sit outside on a warm day, opt for a cup instead of a cone (or have your wet wipes at the ready).
Smoosh
The name says it all - a big scoop of ice cream between two warm, freshly baked cookies. Pick your ice cream flavor, two cookies (mix and match for the ultimate combo), and finally, toppings! Most days, you'll find this food truck in Rice Village, but look for it at festivals or hire it for your own party. The food truck is parked on Morningside, which is a a not too busy, but not altogether quiet street, in the Rice Village Shopping Center, and no seating is available.
MAM's House of Ice New Orleans Style Snoballs
Not to be confused with snocones, New Orleans-style snoballs are fluffy confections of shaved ice topped with flavored syrup and, often times, condensed milk. In other words, the perfect light treat. The menu at MAM's has all of the classic flavors, as well as concession-like snacks. Request a "flat top" for those particularly messy eaters (the ones who order Tiger's Blood with Cream) and sit outside on the umbrella-covered picnic tables. There's even a yard with a swing set.
Fat Cat Creamery
With homemade waffle cones, seasonal flavors like pumpkin cheesecake and bunny bait, and plenty of outdoor seating, it's no wonder this small-batch Heights creamery is so popular. Try a Root Beer float with the Cat's Meow Mexican vanilla.
Nu Ice & Drinks/Nu Cafe
It's advertised as "snowflake ice," and with the first bite, you can taste why. The Taiwanese ice confections only found at Nu Ice and Drinks are intensely cold, instantly dissolve in your mouth, and light as air. The presentation and flavors are like no other - a plate of ribbon thin shaved ice in flavors such as Matcha Green Tea, Lychee, or Vanilla Milk, garnished with toppings such as red bean, flan pudding, or even Oreos. Portions are generous, coming in sizes hill or mountain, and can easily be shared. This place is a must try.
Creamistry
Calling all mad scientists and Top Chef enthusiasts. Creamistry is equal parts fun and flavor. The super creamy concoctions are made literally before your eyes as liquid nitrogen is poured over the ice cream base. There are toppings and syrup galore.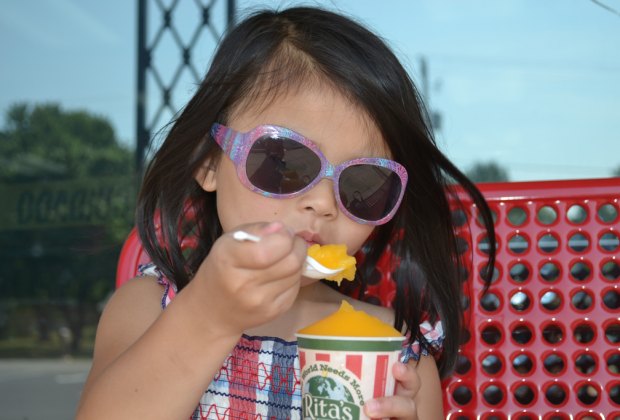 Enjoying Italian Ice from Rita's. Photo courtesy of Cathy Stanley-Erickson via Flickr
Rita's Italian Ice and Frozen Custard
For many, frozen custard is nostalgic and evokes memories of small-town fairs or seaside boardwalks. Lucky for you, Rita's frozen custard is a tad more accessible (it can even arrive on your doorstep via certain food delivery apps) and tastes just the way you remember (or imagine it would). Opt for a classic cone or sundae, or mix things up and try the custard layered with Italian Ice.
Cafe Dolce Gelato
The barometer for authentic pistachio gelato is color - more brown, less green (basically, the less appetizing-looking, the better). Cafe Dolce Gelato passes the test. Located in the Galleria outside of Nordstrom, this place has your well-deserved reward for navigating a shopping mall with kiddos in tow.
Amy's
This Austin transplant is famous for its creamy concoctions that have been tickling the taste buds of Austinites since the mid-1980s. You can also get delicious flavor combinations like Almond Armaretto and Blackberry Coconut Lime along with famous staples like Mexican Vanilla and Tiramisu in the Bayou City at Houston's Amy's location. Among the more unique Amy's flavors are Avocado and Sweet potato (both made with the real thing), as well as several seasonal flavors that are available during certain times of the year.
Sweet Bribery
At Sweet Bribery, dessert connoisseurs will find artisan ice creams in multiple flavors served by the scoop as well as part of spectacular plated desserts including banana splits and house favorites like a Chocolate Thunder Sundae. Their selection of ice cream sandwiches and ice pops are also worth the visit to this Heights establishment.

Chill out with a visit to Sweet Cup. Photo courtesy Sweet Cup
Sweet Cup
If your family enjoys cooling off with gelato or sorbet, Sweet Cup is the shop for you. The business boasts over 200 flavors of gelato and sorbet which are always in constant rotation at their two Houston area shops in Montrose and Oak Forest. And if you want to enjoy Sweet Cup's icy flavors at home, you can find their sorbets and gelato in the freezer section at multiple Whole Foods and Central Market locations throughout Houston.
Cloud 10 Cremery
With three Houston-area locations, you can cool off with handcrafted ice cream delights at Cloud 10 Cremery. Sophisticated flavors like Earl Grey Lemon and Red Currant Mascarpone are available alongside classics like Butter Pecan and simple yet delicious combos like banana cinnamon. Nutella Cloud Bars and Push Pops are among kid-friendly crowd favorites.
Gelazzi
Using a family recipe for creamy gelato that dates back to the 1950s, Gelazzi boasts a variety of flavors made in small batches to ensure quality and flavor consistency. If you don't absolutely love the offerings of the 40 different flavors made daily, Gelazzi encourages fans to suggest their own flavors that they can work to create. In the meantime, get ready to fall in love with existing flavors like Birthday Cake and Green Apple.
Top photo by the author
This post originally published in 2016.