5 Things Kids Will Love About Going to a Sugar Land Skeeters Game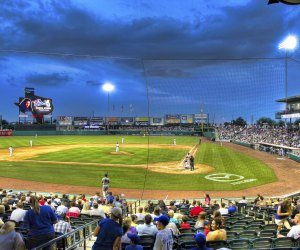 Hailed as "America's pastime," baseball games are often a favorite way to spend a day or evening as a family. Houston may be famous for its major league team, the Houston Astros, but they aren't the only team in town. In 2012, the city of Sugar Land entered the baseball scene by bringing in its own minor league team, the Sugar Land Skeeters, along with Constellation Field, a stadium fit to please fans of all ages.
My family loves baseball, and this year we decided to introduce our 2-1/2-year-old son to the game. During its season, which runs April-September, the Skeeters play almost every night of the week, and we opted for a weeknight game to avoid weekend crowds. And it turned out to be a great choice - he loved watching a live baseball game. Everything from the front row seats to the ballpark hot dogs to the sound of the baseball cracking against the bat left him utterly enraptured, but as toddlers do he started to squirm after an hour or so. Luckily, Constellation Field delivers in the children department and provides a multitude of ways to keep little ones entertained when they need to take a break from sitting in the seats.
Children's Memorial Hermann Play Land
The Play Land is an expansive playground for the kids. It has a variety of features, including slides, seesaws, spinning seats, and balance beams as well as ample space for running around. It's also divided into two different sections. One section has smaller versions of slides and play equipment, which makes it perfect for toddlers, and a second, larger area more suited for older children.

Photo courtesy the Sugar Land Skeeters
Carousel
Sandwiched conveniently between the smaller playground and the larger one is a carousel, and it costs $1 for a ride. My toddler couldn't get enough and rode it multiple times throughout the night.

Photo courtesy of the Sugar Land Skeeters
Splash Pad
Houston is notoriously hot, and the splash pad offers multiple water features and fountains for the kids to cool off and get rid of some energy.

Picnic Plaza
The Wells Fargo Picnic Plaza is a shaded area with seating for up to 500, and it houses the Premier Pools and Spas Pavilion. The pool has a water wall and fountains, and the area includes a two-hour, all-you-can-eat buffet. The buffet features smoked barbecue chicken, hot dogs, burgers and other Texas favorites. Pricing for this area of the field is separate, and tickets are $26-$36 dollars per person depending on the day.

Grass Land
One of my son's favorite places in Constellation Field is the Grass Land, which is essentially a big, grass-covered hill. General admission tickets get you seating on the Grass Land, but since we were there on a weeknight the hill was virtually empty. This meant my son was able to run up and down the hill repeatedly while watching the game, effectively wearing himself out before we headed home.
Overall, we can't wait to go back and watch some more minor league baseball. My husband and I were able to share our love of baseball with our son, and he was able to play to his heart's content when he needed a break from sitting, which makes taking him to a Skeeters game a grand slam in my book. If your family is interested in checking out this suburban gem, do so soon as the team plays its last 2016 game on Sept. 18. Games resume in April 2017, and you can find a full calendar here.
Ticket Information:
Children ages 3 and under are free if they sit on a parent or guardian's lap
Children in a youth uniform are eligible for a free Grass Land ticket
General Admission/Grass Land Tickets: $9
Field Box Tickets: $14
Diamond Deck Tickets: $20
Wells Fargo Picnic Plaza Tickets: $31 (youth, Fri.-Sun.), $36 (adults, Fri.-Sun.), $26 (youth, Mon.-Thurs.), $31 (adults, Mon.-Thurs.)
Insperity Club/Imperial Box Tickets: $55
All ticket prices are per game and do not include tax
Be sure to check the Sugar Land Skeeters website for the current game schedule and up-to-date game information
Photo courtesy of the city of Sugar Land