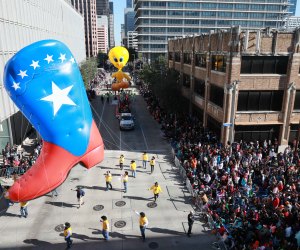 Guide to Viewing Houston's Annual Thanksgiving Parade With Kids
Houston's annual Thanksgiving is back with its larger-than-life floats and entertainment. The 2018 69th Annual H-E-B Thanksgiving Parade begins at 9 a.m. in Downtown Houston on Thanksgiving Day (Nov. 22, 2018) with two grand marshalls who own our hearts: Jose Altuve and James Harden. Plan on joining the thousands of Houstonians and visitors who will line the streets on parade day? We have you covered with everything you need to know. But before getting into all of that, know that despite the large crowd, it's not as stressful as you might think to grab a good spot and enjoy the festivities.
Getting a good spot
Having a good view of the Thanksgiving parade should be your goal that morning: it will make or break your experience. If it's scheduled to be a beautiful day, plan to leave even earlier to beat those crowds. Don't forget to pack a blanket or a few chairs to make yourself comfortable. But know if you bring chairs, people will sit on the ground in front of you. This is not an affair for those who have issues with sharing their personal space! If you bring blankets, you can set up in front of the curb for a front-row view.
Street-side viewing is free, but you can pay $25 per person for a chair and a guaranteed seat. For these, you will need to be seated by 8:15 a.m. Regardless of where you choose to sit, plan to have staked your spot at least an hour before the parade begins.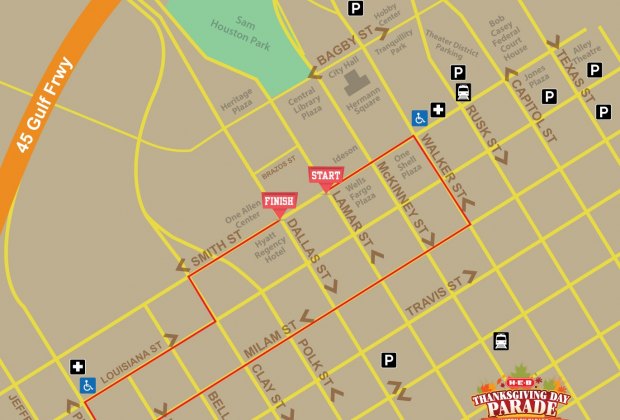 Parking
Check out the parade route above, and for more information visit the City of Houston's website, and plan your route into downtown accordingly. Rest assured parking is actually very easy to find; you can park on the street as well as any open parking garage.
If you want a specific spot to put into your GPS, the Theater Center Parking Garage and Hobby Center for Performing Arts have open lots available. You can bring your strollers and wagons along to make any long walks easier with little ones.
Enjoying the parade
The parade begins with the classic turkey float, and for the next hour you are treated with huge inflatables of your kids' favorite characters and entertainment by various Houston-area performing arts organizations.
If you and your crew look especially enthusiastic, some floats have crews that throw candy and treats out to viewers, and many entertainers love to interact with street-level attendees. It can get loud, so bring along a pair of those handy toddler noise-canceling headphones if need be. Santa always comes at the very end, and that's your signal to pack it up.
In terms of concessions, there are local food trucks parked around the route. Most accept credit cards, but note there are no ATMs available near the parade.
Even though the drive can be tough depending on where you are located, Houston's annual Thanksgiving parade is a great addition to any family's turkey day traditions.
All photos courtesy the City of Houston