Music, Games and Shopping Galore at the Houston Children's Festival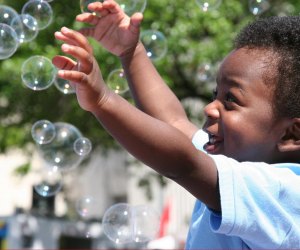 Even though the Houston Children's Festival has been around for longer than I have been on this planet - it celebrates its 29th anniversary in 2017 - I had never made the trek to see what all the fuss was all about. My family and I attended this year and I can happily say it was well worth the trip from our corner of the metroplex. The country's largest children's festival features live entertainment, booths for parents, local food trucks, games, and (so) much more. It can be an overwhelming weekend if you do not plan ahead, so check out our breakdown of how to maximize your festival fun.

Photo by Carrie Taylor
We arrived when the gates opened on Saturday and the crowd was pleasant and manageable, which meant we could push a stroller without dodging ankles every two steps. Our son had just turned 2, so many of the activities were geared toward older children, but there was still plenty for him to do. If you have younger children and feel hesitant about attending, you can breathe easy.
There is a toddler zone with sensory activities - when we attended, there were old pots and pans strung up on racks for the kids to bang on to their hearts' content. The noise wasn't as bad as you are probably imagining - the festival is downtown, after all. There is also a small petting zoo and a toddler tent with water and sand activity tables for the little ones as well as a festival staple, a carousel.
Here's a breakdown of what else you can expect to see at the 29th Houston Children's Festival currently scheduled for April 1-2, 2017.
1. Zones
The festival is divided into various sponsor-named zones that feature hundreds of activities, booths, and games. Maps are handed out at the entrance, and it makes the festival easy to navigate.
2. Live music and shows
Each year, the festival weekend has ongoing music and shows on its various stages. Performances range from celebrity appearances to magic shows, and there is at least something for kids of all ages to enjoy. Our toddler personally enjoyed a hip-hop themed dance party where the kids were invited on stage to "dance," which really translated into lots of running in circles and jumping up and down.
3. Vendor booths
While there are many booths set up to sell merchandise, much more are representatives from area museums, mom groups, and other family-oriented organizations. I mention this because we left the festival with a bag full of brochures and coupons for area attractions we normally would not have heard of. It's a great way to learn more about what the greater Houston area has to offer for families and kids.
4. Food and drink vendors
Expect typical festival fares like corn dogs and funnel cakes, but there is a variety of other options to choose from. Some of the vendors for the 2016 festival included B's Roasted Corn, Fried Goodness, and Mainely Sandwiches, the latter of which served us some mouth-watering lobster rolls and a side of mac-n-cheese for the little one. However, you do need to purchase tickets to get food or drinks, and in 2016 it cost $10 for nine coupons. Most food and beverages cost between 2-14 coupons, so you don't have to spend too much.
5. Activities and rides
It's pretty much guaranteed your kids will not get bored at this festival. In every zone, there are crafts, games and activities for toddlers to pre-teens. There are also carnival rides and attractions that cost tickets, such as the petting zoo, laser tag, a Ferris wheel, and giant swings.
6. Parking
Easily accessible parking can make or break an experience for me, so it was important that a parking garage was open right around the corner from the festival. However, the festival does not control the cost at nearby garages and lots, so you may end up paying anywhere from $6-$15 dollars for the day. Here is a list of nearby lots:
Theatre District Parking Garages
Garage No. 2 off Rusk between Bagby and Smith Streets
Two Shell Plaza Garage
777 Walker (the corner of Walker and Louisiana with an entrance on Louisiana)
1100 Smith Garage
Corner of Smith and Lamar
Heritage Clay Parking Garage
1200 Bagby at Clay
And in case you need another reason to get out to the festival, it benefits a fantastic organization, Child Advocates. The group uses volunteers to work with abused children who are often stuck in the foster care system, and to date, the children's festival has raised more than $5.2 million for their cause.
General information:
It is located in the heart of downtown Houston near City Hall and the Houston Public Library Plaza.
In 2016, general admission at the gate was $12 a person, and children ages 3 and under were FREE. The hours were 10:30 a.m.-6:30 p.m.
Guests can purchase tickets online for $10 a person.
There is a military discount of $10 per person with a valid military ID.
An All-Day Fun Pass costs $30 and includes unlimited visits to rides and inflatables.
Top photo courtesy the Houston Children's Festival