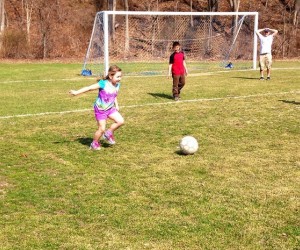 Soccer Summer Camps in the Hartford Area
If your child is a soccer fan dreaming of winning the World Cup, he or she will gladly spend the summer developing or honing athletic skills while chasing the familiar black-and-white ball. For children inspired by David Beckham or Mia Hamm, take a look at one of these great summer camps in the Hartford area, and set them up to score the victory goal.
Connecticut Soccer School & Star Goalkeeper Academy - Simsbury
The internationally recognized soccer coaching organization helps athletes increase their tactical skills, tactical knowledge, and fair play. The academy is devoted exclusively to training goalkeepers. Three four-day sessions are offered at Ethel Walker School in July and August 2017, accommodating boys and girls ages 10 and up. A residential option for these sessions is offered.
230 Bushy Hill Road, Simsbury, CT 06070 860-408-4467
OUR LATEST VIDEOS
Challenger British Soccer Camps - multiple locations
In July and August, choose from 1.5-hour mini soccer camp for ages 3-5, or half-day and full-day camp for ages 6-16. Experienced staff will teach players all the key techniques they need to be successful on the field and beyond. Children learn lessons in respect, responsibility, integrity, sportsmanship, and leadership. Camps meet all over the area including Windsor Locks, Manchester, Enfield, Canton, Rocky Hill and Cromwell.
Oakwood Soccer Academy - Glastonbury
The academy prepares players in four key areas: physical fitness, technique, tactics, and psychology. For younger players, the focus is on having fun while developing individual soccer skills and being introduced to team concepts. Residential camps are offered in several sessions for both boys and girls. A junior program for ages 10-12 is also offered as well as a Goalkeepers Academy.
40 Oakwood Drive, Glastonbury, CT 06033 860-633-3689
Hartford Soccer Academy - Plantsville
Day camp for boys and girls ages 5-15 will take place in June in Southington. The program is dedicated to improving individual technical skills, including dribbling, passing, shooting, heading, tackling, and tactical awareness. A half-day program designed for children 5-7 introduces soccer within a fun learning environment that allows for enhancement of social skills.
Recreation Park, Maxwell Noble Drive, Plantsville, CT 860-471-2056
Challenger Sports - Avon
The philosophy of this program centers on positive reinforcement while challenging students with new skills, greater knowledge of the game, and increased self-esteem. Camps take place in July and August at Avon Old Farms School in Avon, Loomis Chaffee School in Windsor, and Burnt Hills Fields in Hebron. For ages 10 and up. Call 800-878-2167, ext. 239 for more information.
Avon Old Farms School, 500 Old Farms Road, Avon, CT 06001 860-404-4100
Soccer Plus Camp - Avon
This camp, offered in July, is taught under the methodology of Tony DiCicco. The Field-player camp gets players on the field by 8:45 in the morning, and will run them through technical, tactical, mental and physical exercises through out the day. This program is for boys and girls, ages 10 and up.
Avon Old Farms School, 500 Old Farms Road, Avon, CT 06001 860-404-4100
Farmington Sports Arena - Farmington
Half-day camps for ages 5-14 will take place in July and August, and team camps or high school prep camp is available for more experienced players. All students will receive instruction from qualified trainers and coaches who are committed to creating an enjoyable, positive learning experience that teaches fundamentals, team play, and sportsmanship.

11 Executive Drive, Farmington, CT 06032 860-677-2543
Originally Published 1-28-2016