BRIC House Party: Free Family Fun the Second Saturday of Every Month in Brooklyn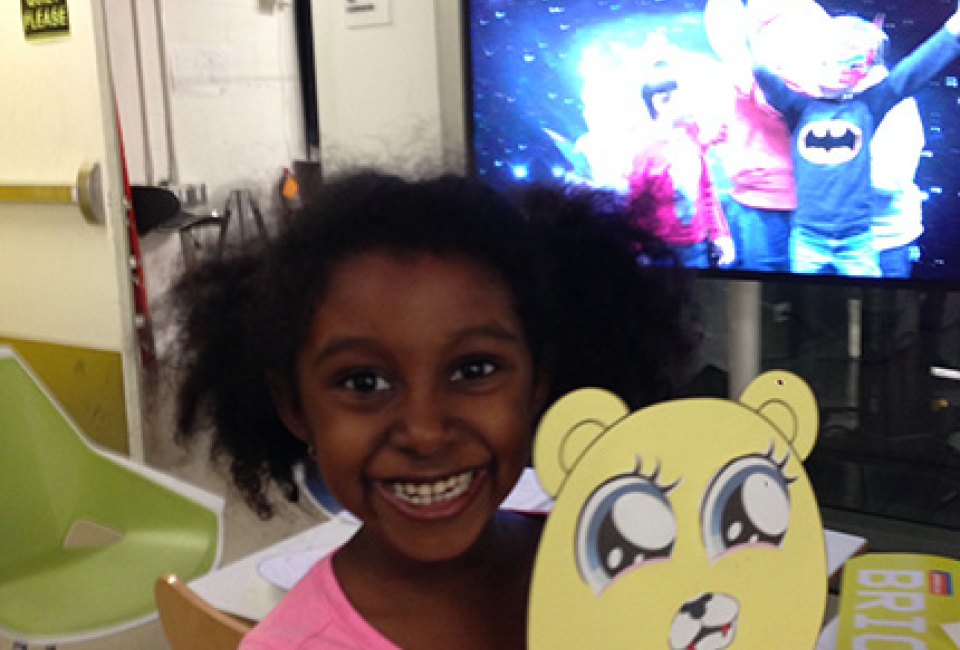 3/3/14
- By
Karlyn Ferrari
There's a new FREE monthly family party in town at Brooklyn's newest culture spot: BRIC House. Last fall, BRIC Arts Media (the nonprofit organization behind annual summer favorite Celebrate Brooklyn!) moved into its cool new Fort Greene digs: a 40,000-square-foot interdisciplinary art and media center featuring a performance space, an art gallery, a public access television studio, a cafe, classrooms and The Stoop, a gathering place for no-cost events. Although most of the programming is aimed at grown-ups, on the second Saturday of every month, BRIC House hosts a FREE afternoon all-ages party. While the theme changes for each edition, there are always a nice variety of hands-on activities like art projects, performance workshops, games and scavenger hunts, and free time for kids to horse around in front of the TV cameras.

My sons and I went to check out the BRIC House Party last month and we all had a blast. It's usually hard to convince my boys (a six-year-old and 19-month-old) to play together because of their age difference. But when the folks at BRIC House say it's an all-ages party, they mean it. We found plenty of fun things we could do as a family.
We started our BRIC House Party experience by decorating face masks, and then we hit the television studio to use them on camera. Both of my boys really enjoyed hamming it up in front of the green screen. Later, we stopped by the front desk to pick up a few board games (there's a good selection) and we also went on a Where's Waldo?-themed scavenger hunt. That was definitely one of my kids' favorite activities and they were psyched when they won small prizes at the end for spotting all of the items on the list. My older son also enjoyed authoring his own book with educators from nonprofit writing program 826NYC. Before we left, we stopped by the on-site Hungry Ghost Cafe for a couple of croissants and a big cup of coffee for me. It's a cute place with an awesome curated mural that changes a few times a year.

The lineup of activities changes at each BRIC House Party, but there is usually some kind of art project and an interactive workshop, and the gallery and TV studio are always open to explore. The family activities take place from 2 to 7pm. At 8pm, there's an all-ages dance party with a live band or DJ, but that costs $10 in advance, $13 at the door per person, and is probably best for adventurous teens.

One word of warning if you're bringing a toddler: The cement steps of The Stoop are a big attraction... and a big pain. Although they're really meant as a place to hang out and chill, I had to escort my 16-month-old up and down the handrail-less stairs a bunch of times, so wear comfortable shoes.

The all-ages BRIC House Party is held on the second Saturday of each month. The next edition takes place this Saturday, March 8 and features a hip-hop family dance class, digital fun in the TV studio, collaborative mural painting and karaoke. For future editions, check the BRIC House calendar. BRIC House is located at 647 Fulton Street between Rockwell and Ashland Places.

Looking for a place to have dinner afterward? There are lots of family-friendly restaurants nearby and plenty of other fun things to do with kids in Fort Greene.
Places featured in this article: