Top Swimming Lessons in Connecticut for Kids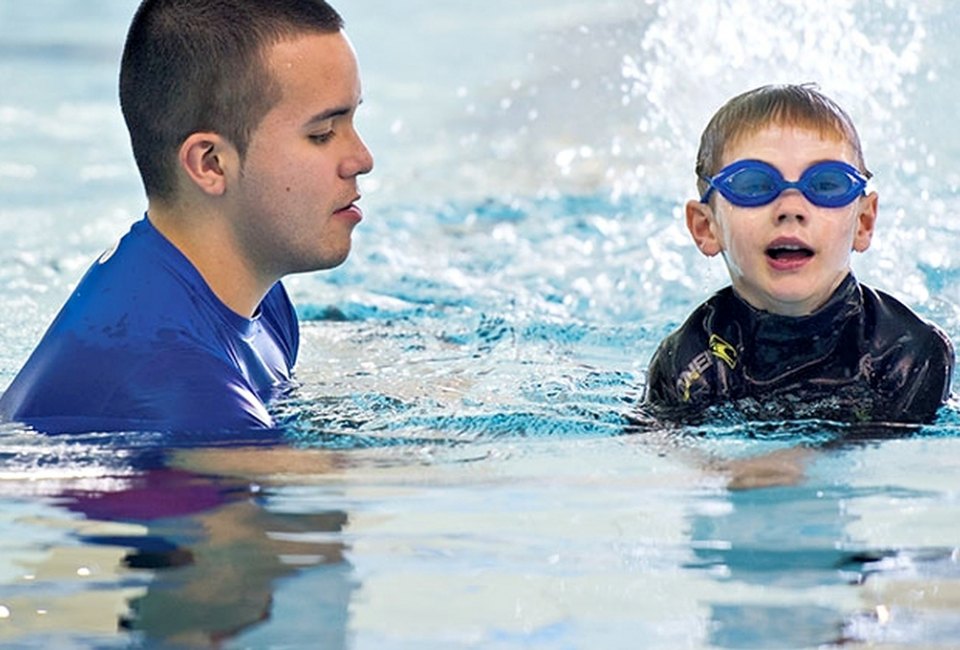 8/1/21
- By
Clementina Verge
Whether you have a little fish or a child who is scared around water, swimming lessons are important for teaching kids to be comfortable and safe at Connecticut's many pools, lakes, and beaches. The Nutmeg State is full of pools offering mommy-and-me, parent-child, and independent swimming classes that develop kids' confidence, survival skills, and individual strokes.
Check out our Connecticut Classes and Activities Guide for even more sporty and aquatic fun.
Swimming Lessons Near Fairfield
Boasting the title of "the largest swim school in Fairfield County," Children of the Sound offers private, semi-private, and parent-tot classes for children ages 6 months through 3 years. The classes focus on water safety and comfort and are offered most weekday and weekend mornings.
YMCA, Various Locations
The YMCAs in Wilton, Westport, New Canaan, Greenwich, and Darien all offer 30-minute Mommy and Me swim classes. Some of these YMCAs require memberships to participate; others do not.
The Chelsea Piers Swim School is designed around a progression-based curriculum for children ages 3 to 11 years old. The multi-sports complex offers parent-and-child swim classes, stroke discovery, and stroke development courses in 18-week sessions running from January through June. All classes are taught in the facility's 87-degree teaching pool with a low student-to-teacher ratio.
Choose from Parent & Child classes, group lessons, or early afternoon class for children ages 3-5. Flotation devices are not used, encouraging children to swim with the power of their own bodies.
Using the 'Swimplicity' method of instruction, Wings Over Water offers programs ranging from Parent & Tot to Olympian Excel. Most classes last 30 minutes and are offered seven days a week. Wings Over Water also offers family swim, lap swim, and birthday parties.
Goldfish Swim School focuses solely on children's swim lessons. The swimming pool is heated to a comfortable 90 degrees, with kid-friendly hair drying stations and large private changing rooms. Goldfish provides swim instruction for kids aged 4 months to 12 years, as well as family swim, birthday parties, and a swim team for students who have progressed through the Pro-Level swim classes.
The JCC has been providing quality swim lessons for children for generations. Using a step-by-step approach, children are encouraged to feel safe around the water as well as learn new skills. The JCC offers Parent & Me swim lessons for children beginning at 6 months old.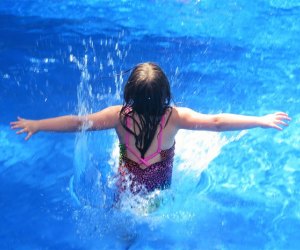 Photo Courtesy of C. Verge
Swimming Lessons Near Hartford
Located at the Westminster School, Farmington Valley's newest indoor swimming facility features an Olympic-size 8-lane pool, lots of natural light, and an architecturally delightful natatorium. The swim center offers local memberships that allow participants to swim independently during any of the scheduled hours of operation. Members are also eligible for a discounted rate on swim lessons, water fitness classes, and other programs. Memberships are available on a monthly basis, with no long term contracts required. Discounts are offered for seniors, families, and adults living within the same household.
Choose from a 11-lane lap pool set at 79 degrees, a zero-depth entry, a multi-purpose pool that is heated to 86 degrees, and a large hydrotherapy pool. The multipurpose pool has a large area where children can play and which gradually deepens; a channel connects this area to swimming lanes around the corner. Memberships operate annually and members can swim during scheduled hours. Swimming instruction is offered for all ages to both members (at a discounted rate) and nonmembers. The facility also has a small gym open to members.
At the Hartford JCC you will find a wide variety of aquatics programs for children of all ages. Swim laps in the 6-lane, 25-yard lap pool, splash around with the family in the local training pool with a moveable floor that allows instructors to adjust depth, or relax in the whirlpool. Swim classes are available for all levels.
Pope Park offers a youth swim program, swim lessons, a swim team, and open swim.
The facility offers a lap pool, a multi-purpose pool for family recreation and fitness, and a whirlpool, in addition to other facility amenities such as a fitness center, walking track, sauna, and preteen and teen centers. Swim classes for all ages are available, as well as water fitness classes. The Y offers family, youth, and adult memberships. In addition, membership at any Greater Hartford YMCA grants free access to any Y Membership Facility in New England.
East Hartford Pools, East Hartford
East Hartford's pools are open and free of charge to residents (must show proof of residency), as well as to nonresidents for a fee. The town offers two indoor pools throughout the year and five outdoor pools during the summer.
The indoor pool is free for residents for a minimal fee (must show proof of residency). Out of town guests are admitted while accompanied by a resident over the age of 18. Adult swim, recreational swim, and lessons are available. Every night the schedule changes. A season pass to this pool purchased through the Parks and Recreation Department also grants entry to the indoor pools at Newington and Rocky Hill High School.
The pool is available to residents for a small fee, or with a season pass purchased through the Parks and Recreation Department. The pool is open from September through May and offers hours on Monday, Wednesday, and Friday (subject to change). In addition, swimming lessons are available in the summer, as well as fall/winter seasons for children 6-17 years old.
The fitness and wellness facilities in Avon, Glastonbury, Newington, and Bristol each have a lap pool and whirlpool and offer many swimming instruction and aqua fitness classes for all ages (including in Avon, JAWS, the Junior Aquatic Workout Session class designed to help kids ages 7-13 develop stamina, balance, strength, and flexibility while working in the water). In addition, all facilities offer many kids programs (kidZONE) out of the water. A variety of membership options are available yearly or monthly -- check the website for details.
Plainville residents and their families can take advantage of the pool free of charge. Open swim is available Monday through Thursday. On Saturdays, Red Cross Swimming Instruction is available for ages 6 months and up.
Originally published April, 2012 and updated annually