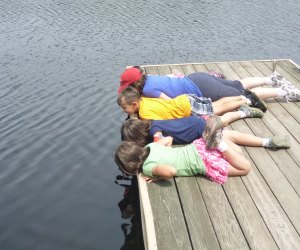 25 Free and Inexpensive Summer Activities in Fairfield County
I'm no mathematician, but 3 little girls x2 weeks of summer camp x3 weeks of swimming lessons x3 new bathing suits = a whole lot of money. So I'm on the hunt for summer activities that won't (further) break the bank. Happily, there are lots of options here in Fairfield County for summer fun that aren't prohibitively expensive! And, here's a list of 100 free things to do across the state this summer.
1. Summer Concert Series - New Canaan, Stamford, Trumbull, Danbury, Stratford
Amongst our favorite summer activities are the summer concert series that many area towns sponsor. Bring a picnic, a blanket, and spend an evening with friends and family enjoying music in some lovely venues. Concerts are held weekly in New Canaan, Stamford, Trumbull, Stratford and Danbury and feature a variety of musical styles including jazz, country, pop and classical.
2. Summer Reading Programs - Multiple Locations
Reading is a must for all - and lots of local libraries have great summer reading programs for kids. Check out the programs offered via the libraries of New Canaan, Brookfield, Ridgefield, and Darien.
3. Farmers' Markets - Multiple Locations
We love visiting nearby farmers' markets-- it's fun to pick out produce for the week and try new foods. And I can usually be talked into buying a lemonade for the kids...happiness all around! We've found that the markets in Ridgefield, Darien and Greenwich have all been fantastic.
4. Camping Under the (Falling) Stars - Your Backyard
Family outdoor fun doesn't just have to happen under the sun either...what's better than a summer night under the stars?! Consider camping out in the backyard for one of two massive meteor showers. The kids will never forget it (unless the streetlights interfere...it'll be fun to try anyway)!
5. Gone Fishin'! - Multiple Locations
Of course, there's the Sound, but if your little ones would like to see what can happen with a $10 Spiderman or Barbie pole, hit up the Trumbull VFW youth fishing pond. You'll catch some sunnies or small bass -- it'll be thrilling! Or enjoy the shade, bring a picnic and check out river fishing at Indian Wells State Park in Shelton.
6. Bowtie Cinemas Summer Kids' Series (Free Movies) - Stamford
Every Tuesday and Wednesday at 10 a.m., Bowtie Cinemas at Landmark 9 in Stamford offers a free movie.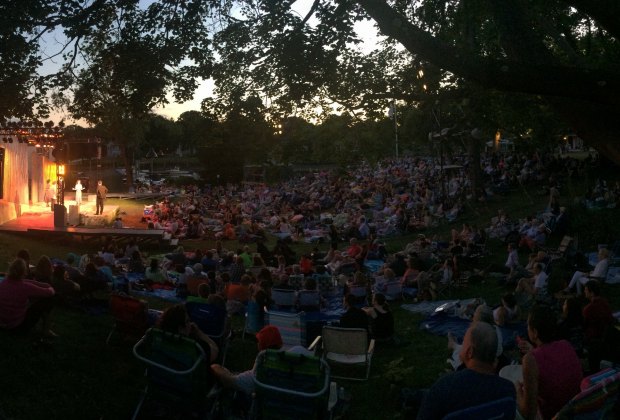 Photo courtesy of Shakespeare on the Sound.
7. Shakespeare on the Green - Stamford
Curtain Call presents their 15th annual free, outdoor Shakespeare production, Hamlet. This traditional staging is performed at 7:30pm each night.
8. Fairy Tale Theater - Bethel
​Each show is interactive with song and movement, and many of the children in the audience join the actors onstage to become part of the story. Seating is on the lawn.
9. CT's Beardsley Zoo - Bridgeport
This zoo is the perfect size for a family outing. After meeting the animals, unpack your lunch and chill out while the kids climb around the popular playground area.
10. Sport Hill Farm - Easton
​Feed the chickens and take in the pure beauty (smells!) of this sustainable family farm.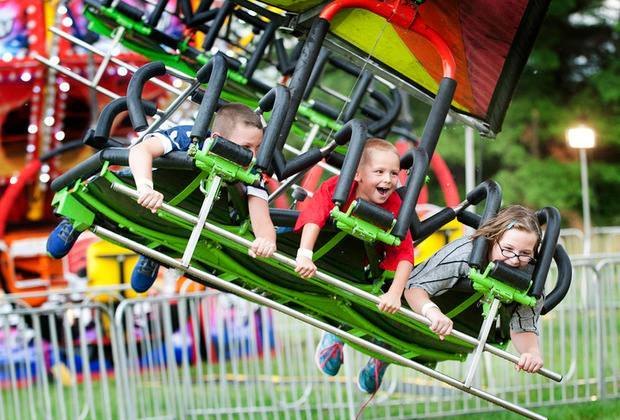 Photo courtesy of the Norwalk Seaport Association
11. Oyster Festival - Norwalk
At the tail end of summer, head out to Norwalk's Oyster Festival, which is a a fantastic carnival offering Ferris wheels, roller coasters, and carnival games, as well as tons of fair food.
12. Stories in the Park at Bruce Park Gazebo - Greenwich
This drop-in story time meets in the gazebo in Bruce Park playground.
13. Sand, Jam and Family Movie Nights - Fairfield
Kick off your evening at 6:30 p.m. with music and dancing on the beach, followed by a family friendly movie when the sun goes down. Whose kids wouldn't sleep well after an evening like that?
14. Peanut Butter Jam Concerts Picnic Performances for Kids - Fairfield
The younger kids (and you!) will enjoy interactive musical foot stompin' performances on the Sherman Green every Wednesday this summer. Pack a picnic! All shows start at 10 a.m.
15. Fun Saturday Morning at Mill River Park - Stamford
​All ages are welcome to start of their Saturday mornings with some free fun at Mill River Park!
16. Outdoor Family Movie Night - Shelton
One of my kids' all-time favorite things to do on a summer night is head to an outdoor movie. Several Fairfield County towns offer outdoor movie screenings in the summer. The Shelton Youth Service Bureau sponsors a weekly outdoor summer movie starting July 14th. Movies start around 8:30 p.m.; bring blankets and food!
17. Captain's Cove Seaport - Bridgeport
Do a little shopping, eating, and dancing with the live music at Captains' Cove this summer. They've added Saturday afternoon entertainment, and while strolling the boardwalk, you'll feel like you've been teleported to Key West!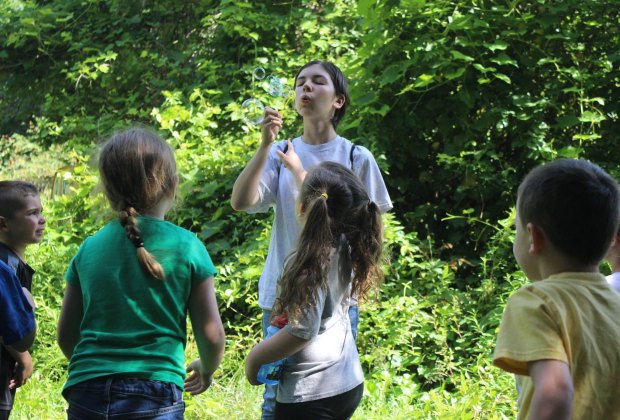 Photo courtesy of Webb Mountain Discovery Zone
18. Webb Mountain Discovery Zone - Monroe
For when you are ready to spend some time outside, the nature center and trails at Webb Mountain are good for all ages.
19. Pequonneck River Valley State Park - Trumbull
If you're after a mellow afternoon outside, head to the tranquil Pequonneck River Valley State Park. For those who love to fish, you may just reel in a nice trout or two. And if fishing ain't your bag, enjoy the beautiful, shady hike and bike path instead. Perfect for a hot day.
20. Summer Fun at the Library - Bethel
Up in Bethel, the library offers free story times for the little ones and even design and create drop in classes for teens. Dates on website (registration required).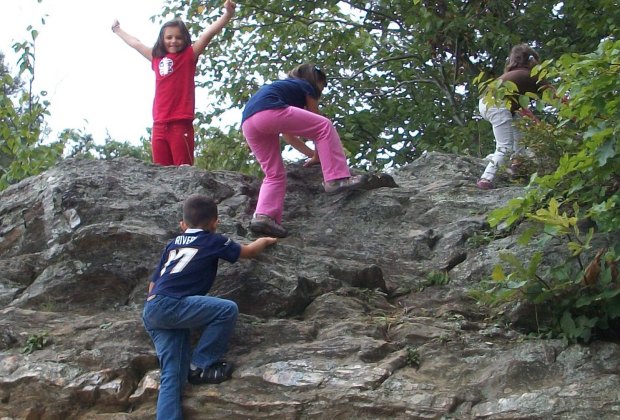 Kids love hiking... and it's free! (photo by Elizabeth Howard)
21. Hiking Local Trails
-
Danbury and Shelton
If you enjoy wildflowers, lake views, and bird watching, follow the orange trail at the beautiful
Bear Mountain Reservation
. Or try out one of the six color-coded trails have been developed and mapped with difficulty ratings from moderate to advanced at
Tarrywile Park.
In Shelton, there are multiple trails, everything from an easy stroll to sweat-inducing challenges.
Visit the Shelton Trails website for maps
.
22. Boothe Memorial Park and Museum - Stratford
This hidden gem in Fairfield County, Boothe Park is an idyllic spot for the kids to play, explore, run and picnic. Visit the playground, put on your own play in the sunken garden, and stroll through the rose gardens. The historic buildings are open summer afternoons for tours, with the Boothe Railway Society open summer Saturdays from 1 to 4 p.m.
23. CT Free Shakespeare - Bridgeport
Since 2000, Dandelion Productions has produced Connecticut Free Shakespeare in Connecticut. See "The Tempest" at Bridgeport on July 19 and 20th.
24. SummerStage at The Danbury Fair Mall - Danbury
Every Tuesday morning, July through the middle of August, the Danbury Fair Mall offers the best in CT children's entertainers.
25. Melissa and Doug Free Concert Series at Levitt Pavilion - Westport
Every Wednesday, kids rule at the Levitt Pavilion! Kids are welcome to visit the Melissa & Doug Hospitality tent for kids and enjoy complimentary face-painting while supplies last. On-site activities begin at 6.
So there you have it...some free and inexpensive events to enjoy this summer in Fairfield County. Happy summertime!
--
Main image courtesy of the writer - Elizabeth Howard.
Originally published June 15, 2017.