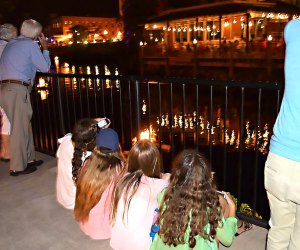 Weekend Fun: Carnivals, River Glow, and Waterskiing
It is hard to believe but August is here, which means it's time to start maxing out on weekend fun before school-year activities and sports take over. With the state agricultural fairs still a few weeks away, this weekend would be a great time to head out to some fun on-the-water activities like a waterski show in Litchfield, a model yacht regatta in Mystic, and the annual floating bonfires of River Glow in Pawcatuck. There are also fundraising carnivals in Easton and Orange, and an outdoor circus performance in New London.
Don't forget to bookmark our Summer Fun Guide for even more ways to enjoy the heart of the season. The heat seems to be sticking around, but plenty of great low-cost swimming pools and no-cost spraygrounds are just a drive away.
We update our Events Calendar frequently so be sure to check back for even more great suggestions. To keep up with the latest family-friendly events and activities, sign up for our free newsletter, and follow us on Facebook, and Instagram. Have a fantastic weekend!