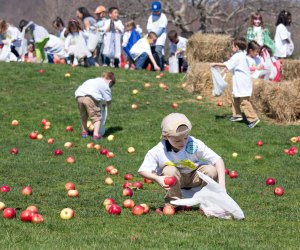 Weekend Fun: Bunnies, Fairies, and Egg Hunts; April 13-14
There have been widespread sightings of a certain bunny hopping around Connecticut! The Easter Bunny sure is making his rounds! Just about everywhere has a brunch, breakfast, train, or hunt this weekend. Now that the weather has warmed up a bit, you can get the whole family outside and explore more. Our Spring Guide is loaded with seasonal fun from fairy signings in Putnam to Spring Play Dates in Greenwich.
This weekend also kicks off Spring Break for many public schools in the Nutmeg State. If the kids are home from school, make sure to check out our 20 Fun Spring Break Events and Family Day Trip Ideas. We update our Events Calendar frequently so be sure to check back for even more great suggestions. To keep up with the latest family-friendly events and activities, sign up for our newsletters, and follow us on Facebook, and Instagram. Have a fantastic weekend!