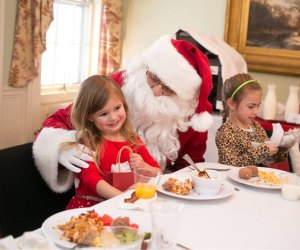 Things To Do in Connecticut this Weekend: Santa Breakfasts, Heights and Lights, Tree Festivals
So you survived the annual Thanksgiving gatherings and our first winter storm! Now we begin the holiday season in earnest, and what a wonderful season it is for families. If you haven't seen the reindeer in Greenwich or taken advantage of free ice skating in the park in Hartford, it's time to get out there! Marvel at a skyscraping Santa at Height and Lights in Stamford or gorgeous greenery at Christmas tree festivals in Hartford or Fairfield. Finally, when night falls, head out to one of the many light displays in the state with this handy list of our favorite home Christmas light displays.
To make sure that you don't miss any of the fun, subscribe to our free weekly newsletters and follow us on Facebook and Instagram. Read on for our highlights of events happening this weekend, and check our frequently updated daily event calendar for even more ideas.